Snapchat's New Custom Stories Feature Is Changing The Game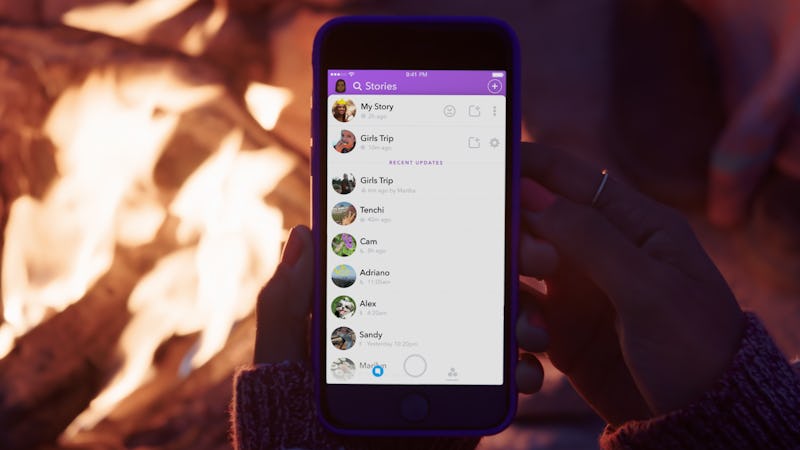 Courtesy of Snapchat
Craving to create an amazing snap story about that road trip you're planning, but know for a fact that your friends are kind of more of an expert at Snapchat than you are? No need to compete for the best Snap story anymore when you can now create custom stories on Snapchat. Just think of a clever name for your story, add your friends as contributors, and voila! All your friends can contribute to the same feed. You are officially in story-making heaven.
On May 23, Snapchat announced their Custom Stories feature, allowing users to create a story based on a particular event, trip, or much more. To try it, all you have to do is click the "Create Story" icon located on the top-right corner of your page. Insert your super clever name — like that wedding hashtag you've been brainstorming for months — and add any contributors that you want. For a more personal experience, you can even distinguish who sees these stories instead of making them fully public to every contributor's feeds. If no one has contributed to the story in 24 hours, then it will disappear.
Looking to have more than just a few contributors? You can add a Geoface to your story by turning on the "Geoface" while creating your snap story. Once you determine the location, you can decide either having just your Snapchat friends in that designated area to contribute, or friends-of-friends (for larger parties, obviously).
This new Snapchat features seriously changes the game when it comes to events, parties, conferences, vacations, and much more. Get ready to see some family vacation snap stories, some bachelorette party nonsense, and a whole ton of award show or sports game watching parties with people who are itching to show off all of their custom made photo booths.
So if you have a new event or trip coming up where you know for a fact that your friends are way more crafty at that Snapchat game than you are, these new Custom Stories are bringing your personal Snapchat following into a whole new world.