Snapchat Just Released New Spectacles & You Can FINALLY Take Photos With Them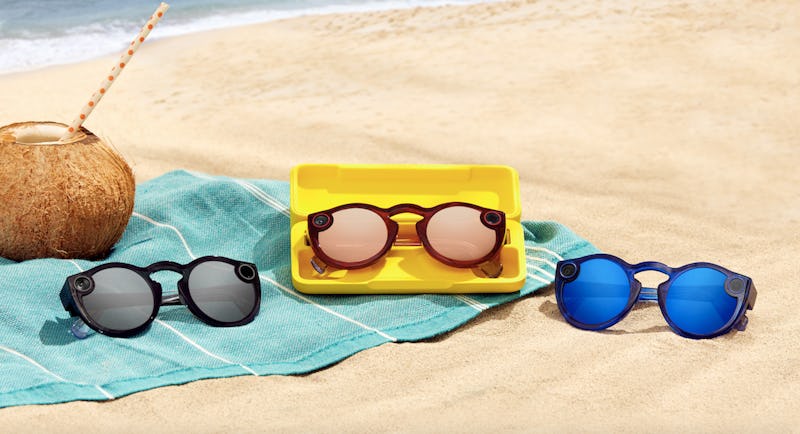 Snap Inc
If you're wondering what the deal is with Snapchat's new Spectacles, then allow me to set the scene for you: in the 2002 film Spy Kids 2: Island of Lost Dreams, Juni Cortez spots another group of spy kids from afar. Rather than go over there any try to figure out who they are up close like we norms might, Juni employs advanced specialized technology only available to spies. In the moment that has since made rounds on the internet as a GIF, he can be seen making a lens on his glasses multiply, allowing him to get a better look.
While glasses technology for non-spies has yet to reach that level, glasses are not just for reading anymore. Nothing makes this more evident than the latest version of Snapchat's Spectacles. Launched today by Snap Inc. (the folks behind the Snapchat App) the new and improved version will allow you to capture the world from your most natural point of view: your eyes.
Here's how they work, if you weren't already clued into the OG version that came out in 2016: when you are wearing the glasses, you can simply press a button above your left eye to record a continuous, 30-second video. In this new version, though, you can also hold it down to capture a circular photo. And using the new version, you can then upload what you capture to Snapchat faster than ever before, and always in high-definition.
When crafting the new Spectacles, Snap Inc. made a point of including features most often requested by users. According to a spokesperson for the company, the three most important areas of focus were adding water resistance, improving image and audio quality, and increasing transfer speed.
The glasses are now water-resistant, affording wearers the freedom to snap photos and videos by the pool or even in shallow water. Grainy, subpar photos and videos are a thing of the past with the new Spectacles. All photos and videos taken by the device are HD. The addition of dual microphones allows users to capture clearer, higher quality sound as well by reducing background noise and balancing the conversations in Snaps. Finally, developers created a Wi-Fi only import flow that completely eliminates the need for standard definition content. With the original Spectacles released in 2016 there was a nine second per video average transfer time, with the latest version that drops to below three seconds per video.
Plus, with improved transfer speed, users can see their Snaps in the Snapchat Memories folder four times faster. The addition of a "home wifi" memory option allows photos and videos to transfer automatically to a user's Snapchat account when they return home. When you don't want to transfer your creations quite yet, the device will store up to 50 videos or 3,000 photos.
Another improvement on the Spectacles is purely aesthetic; the new-and-improved version of the glasses comes in three new colors with an additional two choices for lens color. A spokesperson for the company adds that the size of the electronics attached to the glasses have also been reduced, making the specs more lightweight and sleeker-looking. Its lenses also pass UVA and UVB rating, so at the end of the day, Specs are also just a quality pair of eyewear.
When asked about the idea for Spectacles, a spokesperson from Snap Inc. notes while nearly all of the 3.5 billion moments captured every day on Snapchat are done so using a phone, chances are this will not always be the case. They believe cameras are becoming more than just tools for taking photos and videos; Cameras provide an understanding of the outside world by integrating digital elements into the physical world. They believe hardware will soon follow this trend.
Spectacles are available for purchase on Spectacles.com in the US, Canada, Great Britain, and France today, April 26, with availability spreading to more countries next week. The item retails for $149.99 and includes a charging case and cable. Happy snapping!