'Snatched' Isn't As Far-Fetched As It Seems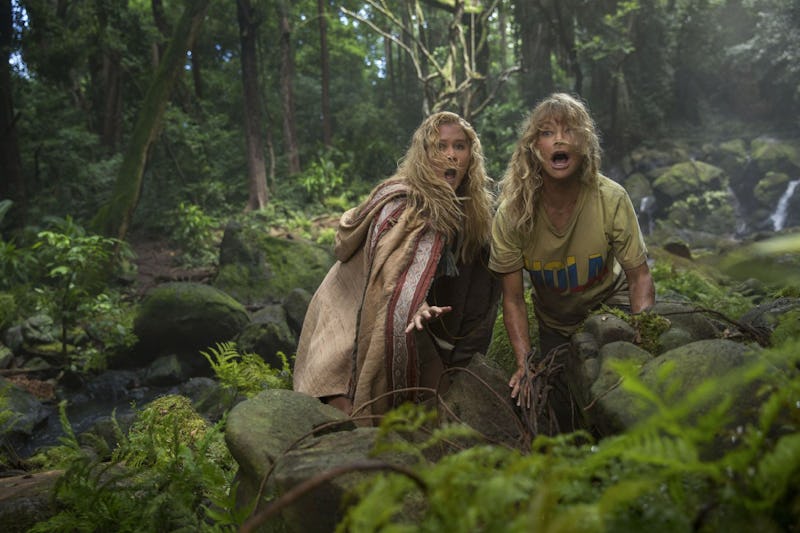 20th Century Fox
Amy Schumer is back on the big screen with her second starring role, and she's accompanied by Goldie Hawn, who is also making a long-awaited return to film after starring in 2002's The Banger Sisters. Their new movie is Snatched, is about a mother and daughter who travel to South America and end up getting kidnapped. Given that Schumer often bases her comedy, onstage and onscreen, off of her own experiences, it's not impossible Snatched is based on a true story from Schumer's own crazy life. But that's not exactly the case for the new film.
Though certain character elements of the film are inspired by real people and events, the plot itself is not based on a true story, as Snatched screenwriter Katie Dippold explained in a Facebook Live interview with Yahoo Movies. "I did not get lost in the jungle with my mother, but..." the writer explained, adding that her mom's life was a major inspiration for the movie. Dippold told Yahoo Movies that her mother, who once was the wild and crazy one in her mom friend group, lost her sense of adventure after her divorce. The writer's wish to see her mm come back out of her shell and regain some of her spirit is what inspired the plot of Snatched.
"What would it take to kind of shake that up again, take her off the beaten path?" Dippold recalled wondering, and let that question guide her as she crafted the Snatched screenplay.
So, there is likely a kernel of truth to the story on a character level, and that's pretty heartwarming. Schumer, who co-wrote the script, has also noted in an interview with the Chicago-Sun Times that "a lot of moments in the movie are taken right from my own life." The star said she has a very overprotective mother, which inspired some of the behaviors and actions of Hawn's character.
Overall, though, this story of two financially comfortable white women being kidnapped in South America while on vacation is fiction, which might explain why the film has garnered some criticism for stereotyping its Hispanic characters. It certainly seems like this portrayal of South American countries and people may be lacking in realism in that regard, with its focus on white women tourists and their fears. Ultimately, we'll have to wait until it's released to determine just how true-to-life Snatched feels, and to whose life.