36 Women At 'SNL' Sign A Letter Supporting Al Franken Amid Sexual Misconduct Claims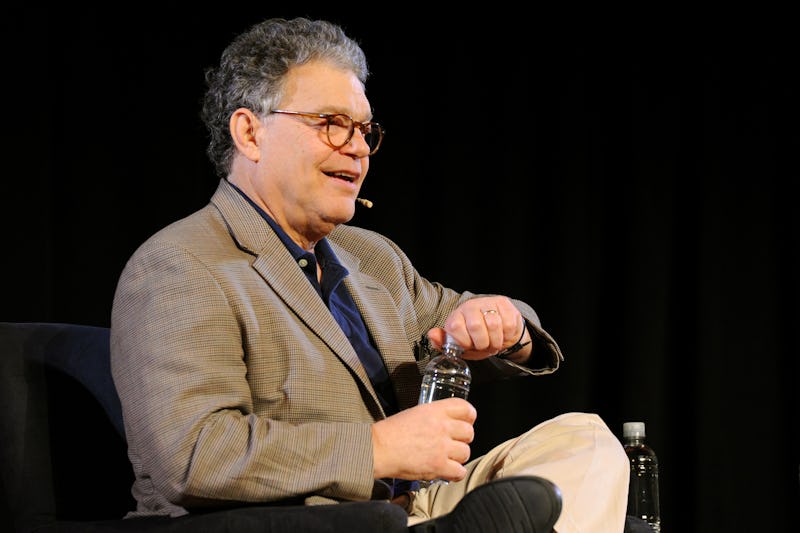 Craig Barritt/Getty Images Entertainment/Getty Images
Former female coworkers of Sen. Al Franken at Saturday Night Live have spoken out about the sexual misconduct allegations against him in a statement on Tuesday morning. Thirty-six women from the show signed a letter noting that he erred in his treatment of Leeann Tweeden, but that the women from SNL had been treated with "the utmost respect and regard" during his time on the show.
During a USO Tour in 2006, Franken appeared in a photo with Tweeden placing his hands over her breasts while she slept and allegedly forcibly kissed her while rehearsing a skit. He has since apologized and said he welcomed a full ethics investigation in the Senate. On Monday, a second woman claimed he touched her butt while taking a photo. Franken said he did not recall their meeting, noting that he takes thousands of such photos, but felt "badly."
Thirty-six Saturday Night Live female staff signed the letter that stated they feel "compelled to stand up for Al Franken." They acknowledged his "stupid and foolish" behavior, but added that they know him as a good man.
What Al did was stupid and foolish, and we think it was appropriate for him to apologize to Ms. Tweeden, and to the public. In our experience, we know Al as a devoted and dedicated family man, a wonderful comedic performer, and an honorable public servant. That is why we are moved to quickly and directly affirm that after years of working with him, we would like to acknowledge that not one of us ever experienced any inappropriate behavior; and mention our sincere appreciation that he treated each of us with the utmost respect and regard.
This is the second group of women Franken has worked with that has spoken out. On Friday, eight former female staffers who worked have worked with him since his election in 2008, both in D.C. and Minnesota, penned a letter defending him as a "champion for women":
In our time working for the Senator, he treated us with the utmost respect. He valued our work and our opinions and was a champion for women both in the legislation he supported and in promoting women to leadership roles in our offices.
Tweeden has also responded publicly since she went public with her experience with Franken. She said the senator contacted her and that she's willing to meet him to discuss the allegations in person.
In an appearance on ABC's The View, Tweeden said:
I'm not calling for his resignation, nor am I calling for his career to end. I just want to shine a light and stand on the shoulders of these other women to say, "This is not right, and this is not what should be happening in our society."
Before joining politics, Franken was a comedian who worked on the staff at SNL. He joined the show as a writer when it began in 1975, staying until 1980, and returned as a performer and writer from 1985 to 1995. From there he went on to write TV shows and movies. Franken also hosted his own political radio talk show, The Al Franken Show, and wrote several books, including political satires. He ran for Senate in 2008, beating the Republican incumbent.
The allegations against Franken come at a time when many politicians and powerful men in various industries are being held accountable — often for the first time — for their behavior towards women, particularly female colleagues. The senator has said repeatedly that he regrets what has happened.
"I respect women. I don't respect men who don't. And the fact that my own actions have given people a good reason to doubt that makes me feel ashamed," Franken said in a statement after Tweeden went public with her allegations. "I understand why we need to listen to and believe women's experiences."