You Need To Watch Natalie Portman In 'SNL's 'Stranger Things 3' Parody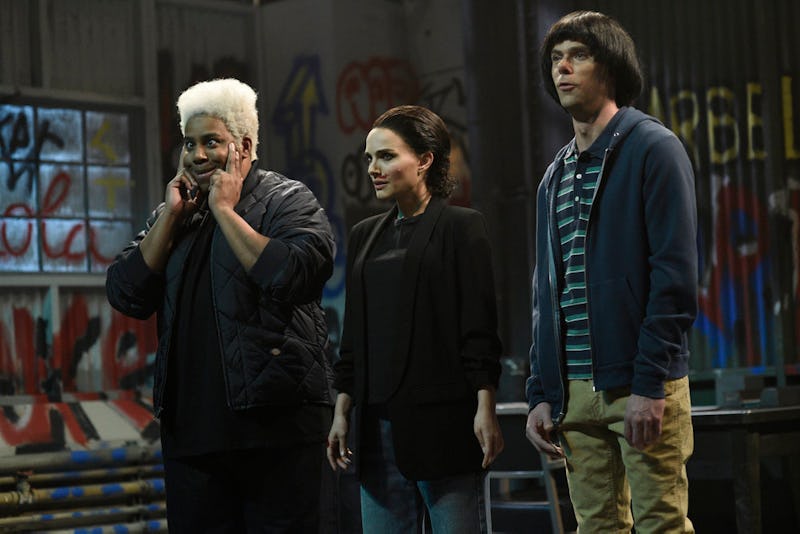 Will Heath/NBC
Stranger Things fans are awaiting Season 3 to premiere on Netflix, but Saturday Night Live's Feb 2 episode had an idea of how it might go. SNL's Stranger Things 3 parody followed punk-styled Eleven (played by SNL host Natalie Portman) and Mike on a mission, in which they find some of Eleven's kindred spirits. It was basically like an extended version of the Season 2 episode where Eleven goes to Chicago and meets her sister Kali. In the SNL sketch, Portman's Eleven meets many of her brothers and sisters with their own special superpowers.
The sketch begins with Eleven leading the way in a rundown house and Mike asking her for a kiss, but not because he's "crazy horny or anything." He continues to hope/beg for a kiss, but then a guy with a gun comes up to them. Eleven telekinetically removes the firearm from his hands and the man introduces himself as Fourteen. She tells him that her superpower is telekinesis that's usually accompanied by nosebleeds. They realize that they may be from the same lab and Fourteen says his superpower is: "I can start fires with my mind but in makes me throw up in my mind a little." And then he goes onto demonstrate it. Nine (played by SNL cast member Cecily Strong) introduces herself and her own superpower, too: "I can read peoples' minds, but it makes me fart."
When Eleven asks Nine what she is currently thinking, Nine says, "You're scared that I'll fart" — and then she does. More of Eleven's lab brothers and sisters include Five ("I can run really fast, but it gives me a boner"), an unnumbered man ("I make fantastic chili, but my brain starts bleeding"), and Eighteen ("I can do a pretty good Borat impression, but then I go into a coma for 2 days," even though the character didn't exist in the 1980s). "What sick twisted man created us?" Eleven asks no one in particular. "These people might scarier than the Shadowmonster."
And some of the superpowers seemed to be based on real life. SNL cast member Leslie Jones then enters as Fifty and Eleven asks what her superpower is. Jones says, "I'm just 50 years old, I have good credit, and I own my own home and I can leg press 375 pounds." If you follow Jones on Twitter, you know she is gym master.
Kenan Thompson then enters as Three, whose superpower is "thinking of good ways to end sketches." This is also kind of based on Thompson's real-life contributions to the show. SNL writer Bryan Tucker wrote in a 2014 article that the SNL writers lean on Thompson and often insert a spot for Thompson to react in sketches to get an extra laugh from the audience — and it always seems to work.
So how does Thompson end this sketch? By throwing to scary end credit and another mystery to solve: "Was Winona Ryder evil all along?" appears on the screen. Uh-oh.
Netflix renewed Stranger Things for a third season, but the streaming service has not yet publicly announced a release date for the highly-anticipated Season 3. In the meantime, this sketch is a fun viewing for Stranger Things fans wanting to return to the SNL version of Hawkins for a laugh or two.
Check out the sketch in the video below to see for yourself how it compares to the real Stranger Things.
Fans may have to wait awhile for the next season of Stranger Things, but SNL just made the wait a little more bearable with a funny take on the Netflix hit show.