Society6's New Furniture Line Will Turn Your Apartment Into Pure Instagram Whimsy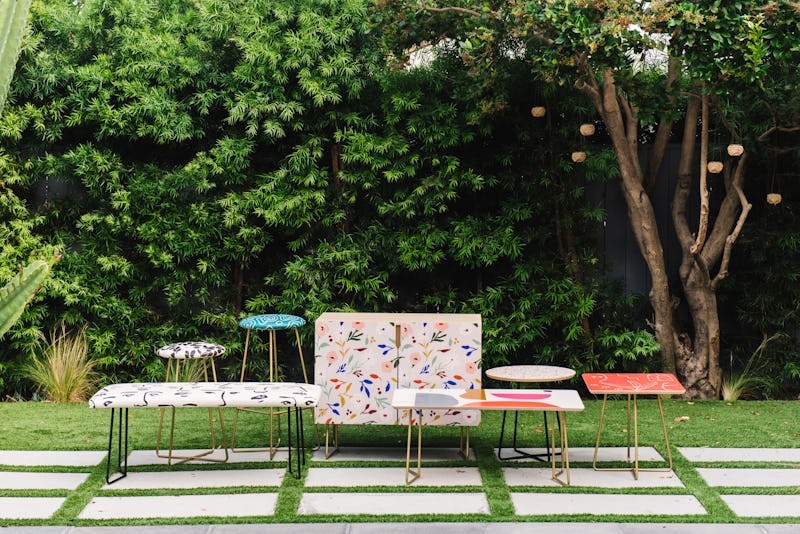 Courtesy of Society6
If you're looking to redo your room or just want to add a pop of something new to your living space, look no further than Society6's new furniture collection. It's cute. It's colorful. It's relatively affordable, and did I mention it's cute?
In case you aren't familiar, Society6 is essentially a one-stop shop for all things unique and artsy. It's an online market where artists and designers around the world can upload their work and customers can put it on goods from throw pillows to iPhone cases to wall prints. Essentially, if you wanted your entire life to be covered in an avocado pattern, you're a click away from that becoming a reality.
Now, Society6 is adding furniture to their already extensive collection of available home goods and decor. The collection features pieces in six different categories: coffee tables, side tables, benches, counter stools, bar stools, and credenzas. It's basically a curated collection of accent pieces that will turn your living space into a Pinterests board.
The style of the pieces in the new collection range from minimalist to mid-century modern. There's pieces with colorful geometric patterns, pieces in a chic black and white. Basically, there range offers something for everyone and every style of living space.
While perhaps not quite as inexpensive as what you might find at an IKEA, the price range is comparable to what you might find in an Urban Outfitters furniture section and likely more affordable than the offering in Anthropologie's home goods areas. Society6's new furniture range is ideal if you're looking to add a new accent piece or two and don't want to entirely break the bank.
The designs are unique, memorable, and will definitely be standout pieces in your home. If you're looking for a side table with a little bit of flare, this one by Susana Paz will add a pop of color to your space. Looking to change up your coffee table? Check out this one by Mind Over Pattern. All the furniture is high quality, using birch or walnut wood. Many of the printed patterns have a satin finish, giving the furniture a glossy glow. Not only do they look good, they're long lasting, too. So you won't be spending money on a piece only to have it break with regular use.
Furniture shopping is all fun and games until you get home and are faced with the reality of having to build the dang thing. Society6 doesn't want you leave you hanging and has helpful online tutorials for their trickier pieces. Check out how to build their credenza rather than spending hours screaming at various screws and disassembles pieces of wood.
Perhaps the most exciting component of the furniture collection is that you can find your favorite prints and patterns on pretty much any home good design. If you love the Ibiza design by holli zollinger but don't want to fully commit to a credenza, no worries! Maybe an Ibiza stool is more your style. You could also tie the room together with accent pieces like an Ibiza patterned clock or bring the pattern into your kitchen with Ibiza pattern mugs. If you find a pattern that speaks to you, Society6 likely also has it available on a dozen other products. So, you could test out the pattern as, say, a laptop sticker before you decide on whether you want a whole bench with the same pattern.
Society6 also recently launched a art print collection with Target.com. The exclusive designs are available online only and come in a range of styles and designs, from landscape photography to cute and whimsical illustrations. In very Society6 fashion, the art prints are also incredibly affordable. Just another excuse to revamp your entire living space without going entirely broke.