Solange Thanks BET For An Important Reason In Her Speech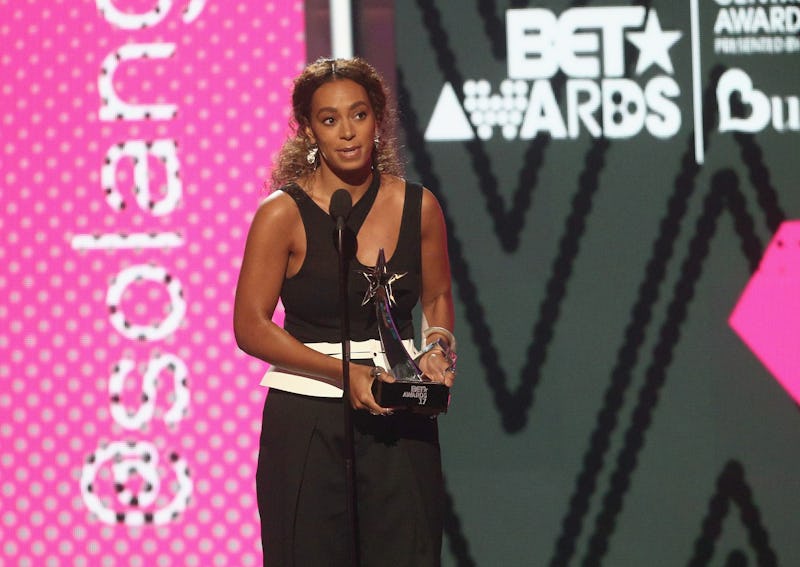 Frederick M. Brown/Getty Images Entertainment/Getty Images
When Solange won the Centric Award at the BET Awards on Sunday, June 25, for "Cranes in the Sky," I was already prepared for some profound truth bombs to be dropped in her speech. Of course, she did not disappoint. In keeping with the black girl magic message of her Grammy Award-winning album, A Seat at the Table, Solange thanked BET for showing her the images of black women whom she aspired to be like as a teenager.
"I just want to thank BET for my teenage years for giving me images of queens like Missy Elliott and Lil' Kim and Aaliyah and Erykah Badu and Lauryn Hill," Solange said. "And showing me those images and letting me know that the sky's the limit." The 31-year-old's poignant speech affirmed the importance of positive representation of young women of color on television, film, and music. Much like the soul singer, all of Solange's predecessors were game-changers in their respective genres.
Missy's revolutionary music videos upped the ante of creativity. Lil' Kim remains a hip-hop fashion icon. The late Aaliyah made having a signature swoop a lasting trend. Erykah Badu was a trailblazer for neo-soul songstresses. Lauryn Hill proved she could stop the world with just one album. And so on and so forth.
Without seeing these images of black women making names for themselves in the predominately white and male dominated entertainment industry, many young girls wouldn't dare dream of reaching for their goals.
For the next generation of young black girls, seeing Solange credit her foremothers will resonate more than watching her collect another award. Her real win is her authenticity and staunch resolve to remain true to herself and never forget where she came from. BET provided her with the visuals she needed to believe that she could not only raise her voice but also be heard and accepted.
Solange's win is a win for all women of color who have felt unrecognized by the mainstream media. On a night that celebrates the accomplishments of black entertainers, activists, and athletes, Solange continued to show why being seen as an accomplished black girl makes such an impact.