Solange's 2017 BET Look Was Simple & Chic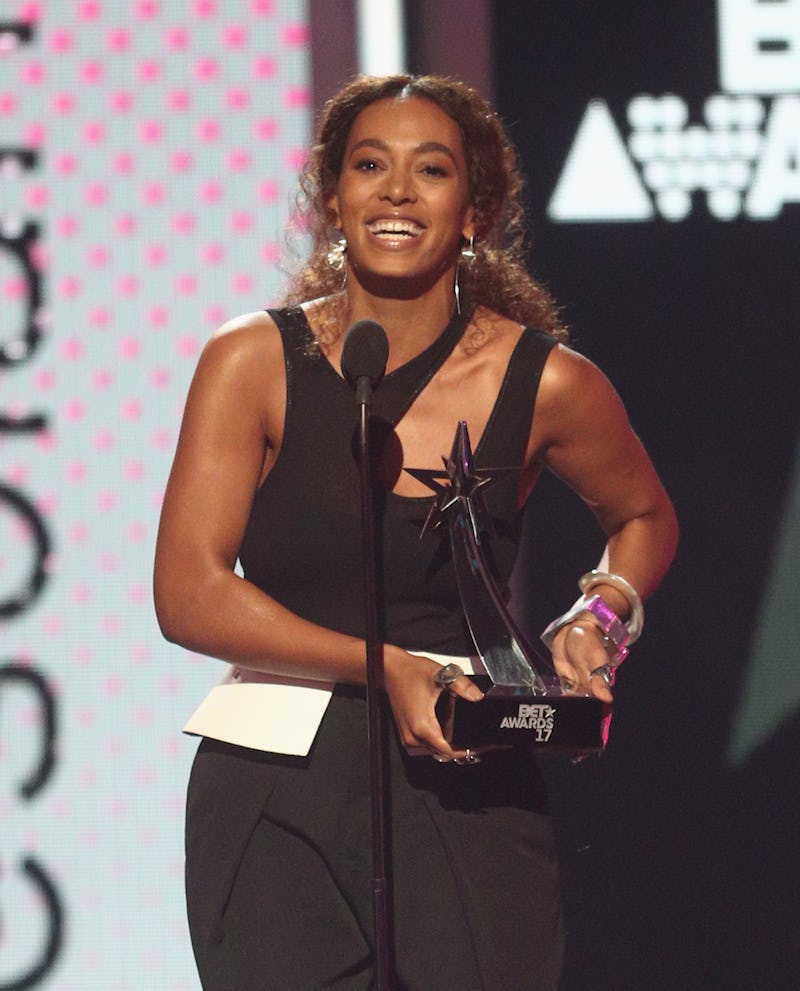 Frederick M. Brown/Getty Images Entertainment/Getty Images
No matter the award ceremony or red carpet, you can trust Solange Knowles to bring it sartorially. Nominated for a slew of different awards — including Video of the Year, Album of the Year, Best Female R&B/ Pop Artist, and the BET Centric Award — Solange on the 2017 BET Awards red carpet came to slay. Knowles has a reputation for trying on outfits that are out-of-the-box and 100 percent creative, choosing to be artistic and playful rather then simply trendy. If you look at her past red carpet looks you'll see exactly what that means — from rocking a gold, structured pleated dress to the Grammys to a layered, salmon-colored jumpsuit to the Oscars, the woman has vision when it comes to her wardrobe.
And this BET look is no different.
While some might have expected her to do something flashy and geometric (as she's prone to do,) Knowles did a 180 on us at the BET Awards and arrived in an understated and minimalist black and white pantsuit. However, it wasn't completely predictable — it still had those quirky details the artist is prone to. The neckline had a series of cutouts and three straps instead of the usual two. To give the pantsuit some more drama, she had a white peplum belt that added an architecture-like structure to the ensemble.
Her hair was put into a middle-part ponytail and accented with doorknocker earrings — the whole thing was very reminiscent of a modern '80s look; like if the Dynasty era got a fresh 2017 update.
It was unexpected for Knowles, but that's pretty on brand for the "Cranes in the Sky" singer — whether she's rocking structured, clam-shaped dresses or unexpectedly switches over to sleek pantsuits, she constantly keeps us on our toes. And that's part of the appeal. She always brings it.