A Woman Stabbed Her Friend At A Haunted House Thinking She'd Been Handed A Prop Knife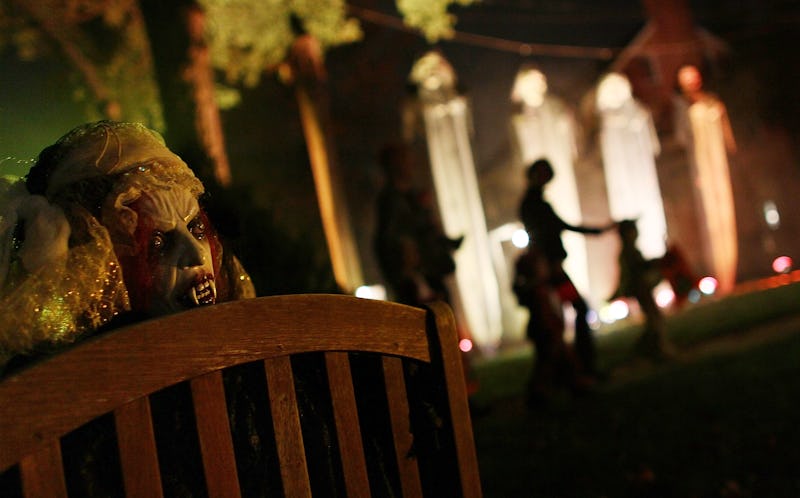 Win McNamee/Getty Images News/Getty Images
In what sounds like a horror movie come to life, a woman stabbed her friend at a haunted house after she mistook a real knife for a fake one. Metro Police are investigating the incident, which took place Friday night. As reported by a local Fox affiliate in Nashville, the incident started when the woman and her group of friends were approached by an unknown man outside a Tennessee haunted house called Nashville Nightmare. According to the police report, the woman and her three friends assumed the unknown man who approached them was a character at the haunted house. The man, who police are still unable to identify, allegedly asked the woman if one of her friends (James "Jay" Yochim) was "messing around with her." Assuming the man was part of the haunted house they'd just participated in, the women played along and said "yes." The unknown man continued to goad the woman, allegedly handing her what she believed to be a prop knife and saying, "Well here, stab him." Still believing this was part of the haunted house, the woman stabbed her friend with the knife she assumed was fake. It wasn't fake. Yochim's arm immediately started bleeding and medics were called to treat his injuries. The unknown man ran away from the scene after the stabbing.
While police have yet to confirm the identity of the unknown man, Nashville Nightmare believes it may have been a member of their staff.
"We have robust safety and security protocols in place, including metal detectors and onsite medical and security staffs. As we have continued to review the information, we believe that an employee was involved in some way, and he has been placed on leave until we can determine his involvement," a spokesperson for Nashville Nightmare told Business Insider in a statement. "We are going over all of our safety protocols with all of our staff again, as the safety and security of all of our patrons is always our main concern."
(Bustle has reached out to Nashville Nightmare, and will update upon response.)
The Tennessean describes Nashville Nightmare as a "horror-thrill campus," as it includes four different haunted house experiences, an escape room, and outdoor attractions like carnival-style games and food vendors. A warning on the website states the haunted house isn't recommended for children under the age of 12 as it may be "too intense." According to a Facebook post on the haunted house's page, Nashville Nightmare was ranked in the top 13 scariest haunted houses in the country and number one in Tennessee. However, this recent incident is putting it in an entirely different category of scary.
The woman told police she had not meant to hurt Yochim. Again, she assumed the unknown man, who was dressed and spoke "in character," was an employee of the haunted house. "Keep in mind, we'd been chased by chainsaws, holding other weapons, all kinds of stuff all night, and it was all fake," Yochim told the Tennessean. "So she stabs at me with it, and everything got really black." The other two friends who were part of the group corroborated the woman's story.
"No one wants to stab their friend," Yochim said. "I've been stabbed and I still can't even imagine what it's like to accidentally hurt your friend like that."
That is exactly the kind of friend you want to have in horror movie-like situations and in life in general.
If all of this sounds like a literal scary movie, you're probably thinking of Hell Fest. The recently released scary movie set in a haunted house where people assume the killer and the people who have been killed are just part of the amusement park. If the actual news isn't scary enough for you, you can go watch that, I guess.
If you need me, I'll be curled up with a bag of fun-sized Halloween candy and watching Mary Kate and Ashley's only minorly spooky antics in Double, Double, Toil and Trouble.