This 'Hell Fest' Clip Will Make You Even More Terrified Of Haunted Houses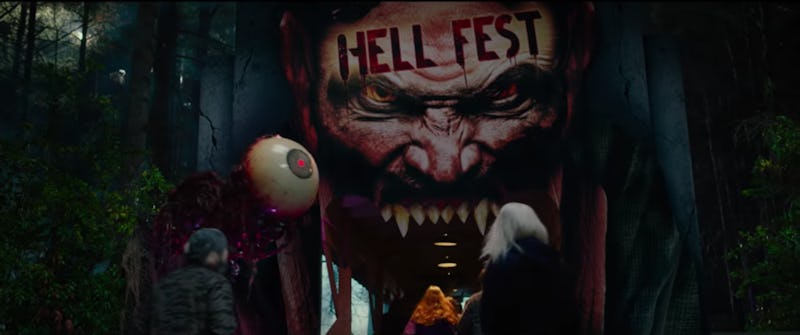 Lionsgate
One of the best things about the fall is when amusement parks adopt spooky themes for Halloween. But what if those haunted houses like the ones at Universal Studios' Halloween Horror Nights were real? That's the nightmare that the new slasher movie Hell Fest takes you on. In the film, out Sept. 28, a masked killer blends in with the horror themed amusement park, making everyone believe it's all part of the acted out horror. Natalie (Rise's Amy Forsynth) visits her childhood friends just in time for Halloween, and the trio and their boyfriends head to the amusement park's Hell Fest night, knowing of a legend behind a young woman becoming a real victim during a past Hell Fest event. But they brush it off until they come face-to-face with the masked killer and must find a way to escape.
In the exclusive clip from the movie below, the group of friends are seen ecstatically awaiting entering Hell Fest, with Gavin (Roby Attal) handing them VIP wristbands. Once they enter, they're greeted by masked monsters trying to spook them as they approach a party area complete with a DJ dressed up as a punk skeleton and a caged, sultry skeleton, who playfully whips Asher (Matt Mercurio) as he grinds on the cage. It seems like an incredibly fun time — that is, until the masked killer makes his first move of the night.
Watching Hell Fest might make your haunted house experience feel extra scary this year, but amusement parks have long served as the ultimate spooky setting for horror flicks. One of the most memorable is the first installment of the Final Destination flicks. It might not have had a masked serial killer on the loose, but it definitely contributed to make many even more terrified of roller coasters.
But perhaps most akin to Hell Fest is 2006's Dark Ride. College students Cathy and Liz take a road trip with three male friends and decide to stop by an amusement park for Dark Ride's re-opening. One of their friends reveals that his cousins were killed on the ride years before, but the group is skeptical. But they soon realizes the killer is on the loose again and must find a way to survive.
Unlike these flicks, though, Hell Fest is the first to connect its storyline with the real fear that many feel while going to these haunted houses. Much like in the film, many of the most popular horror theme park events and haunted houses feature serial killer characters, rather than supernatural beings. In fact, this year's Universal Studios' Halloween Horror Nights include a haunted house based on the upcoming Halloween movie.
The great thing is that in case Hell Fest leaves you too spooked to attend one of the real haunted houses this year, there are strict rules in most parks that nobody with a mask or costume is allowed to enter the houses. But if you're a thrill-seeker who loves haunted houses and think watching Hell Fest will heighten the experience, this is the perfect movie to watch during Halloween time.