One Of Trump's Golf Courses Was Vandalized Again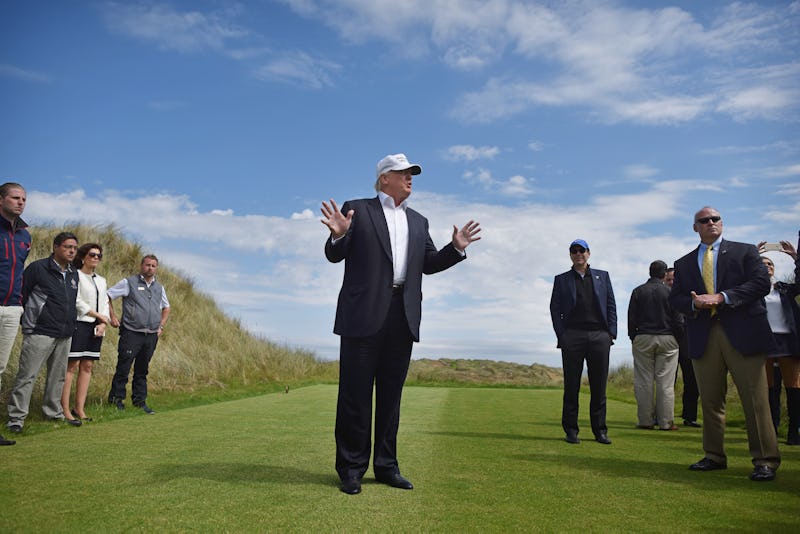 Jeff J Mitchell/Getty Images News/Getty Images
Law enforcement says that the president's National Golf Club was vandalized over the weekend, with the word "Resist" spray painted on the Trump golf course grass in Sterling, Virginia. According to NBC Washington, the vandals also dug holes into the ground and may have poured bleach into the grass, as authorities discovered several empty bleach containers at the scene. In addition to the text, what appears to be a small anarchist logo was also spray painted on the green.
The Loudon County Sheriff's Office is investigating the vandalism, which occurred at the 13th hole of the Championship Course. Although the perpetrators didn't explicitly state their motivation, it's fair to say that this was a political statement, given that "Resist" has become an unofficial motto of Trump opponents. In addition to the bleach, spray paint, and holes, the vandals also painted the rocks on the fairway orange and red.
This isn't the first time one of Trump's golf courses has been vandalized. Just three weeks earlier, environmental activists filmed themselves defacing the Trump National Golf Club in Rancho Palos Verdes, near Los Angeles, carving the words "No more tigers, no more woods" into the green in six-foot tall letters. They released a statement afterwards, explaining that they acted in response to President Trump's "blatant disregard" for the environment.
In addition, the Virginia course itself was previously vandalized the night before the presidential election. A month before that, somebody spray-painted "Black Lives Matter" and "No Justice, No Peace" on Trump International Hotel in Washington D.C. shortly after it opened.
Although he frequently criticized President Obama for golfing too much during his presidency, Trump has spent ample time on the golf course since taking the oath of office. He made no fewer than six golfing trips during his first month as president, and by the time week nine of his presidency rolled around, he'd hit the greens 13 times. That's roughly 1.44 golf trips per week on average.
On Sunday, the day after this most recent instance of vandalism was reported, Trump came to the course to play golf with Sen. Rand Paul. The two reportedly discussed renewing the Republican push to repeal the Affordable Care Act, and after the meeting, Paul tweeted that he and the president "are getting closer to an agreement on health care!" (During the campaign, Trump likened Paul to a "spoiled brat without a properly functioning brain," and implied at a debate that the Kentucky Senator is ugly.)
Given his tendency to say such things, it's only a matter of time before Trump speaks out against the vandalism.