Someone Wore A 'MAGA' Gown To The 2017 Grammys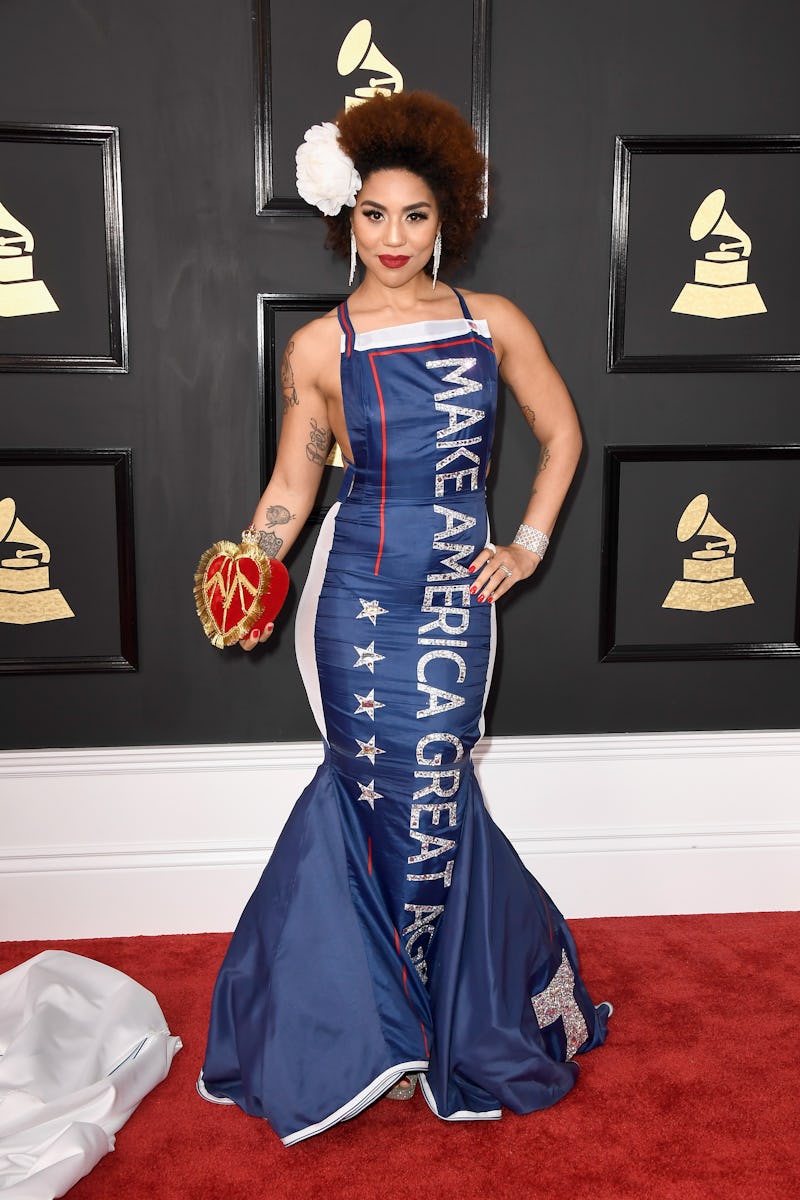 Frazer Harrison/Getty Images Entertainment/Getty Images
It was only a matter of time before the red carpet got egregiously political — after all, what is fashion for if not for making a statement? On the 2017 Grammys red carpet, someone decided to take President Donald Trump's campaign slogan all the way to the next level and turn the message into, well, her entire look for the night. That's right: Someone wore a "Make America Great Again" dress on the red carpet.
The woman in the gown is none other than Joy Villa, who describes herself on her website as "is an internationally touring singer, songwriter, actress and amazing performer who reaches her audience on a one to one basis." She also reaches her audience with her outlandish red carpet choices — simply put, this ain't Villa's first wild fashion rodeo. At the 2016 Grammys, she wore something just as eye-catching — but admittedly without the glaring political assertions.
This year, Villa hit the Grammys red carpet, seemingly with one goal in mind: To make people's heads turn, and to let everyone know exactly who the hell she voted for. After seeing this gown, you probably won't have any other questions.
There was some ceremony to the gown as well. At first, Villa arrived on the red carpet in a dramatic white cape, carrying a clutch shaped like a heart.
Then, she whipped off the cape and, well...
...here it is in all of it's glory — interpret "glory" however you like.
Naturally, Twitter was having exactly none of it, and immediately began to fire back at both the gown and the woman wearing it.
Admittedly, their jokes were pretty clever.
And some simply couldn't get it out of their minds.
Of course, there were a few Twitter users who let Joy Villa know exactly what her red carpet choice means for the future of their relationship.
Simply put, it's always great to make a statement — but sometimes, you've got to wonder which statements are really worth making. For Villa, it's likely only time — and several thousand Twitter reactions — will tell.