'GoT' Star Sophie Turner Shared A Must-Read Message On World Mental Health Day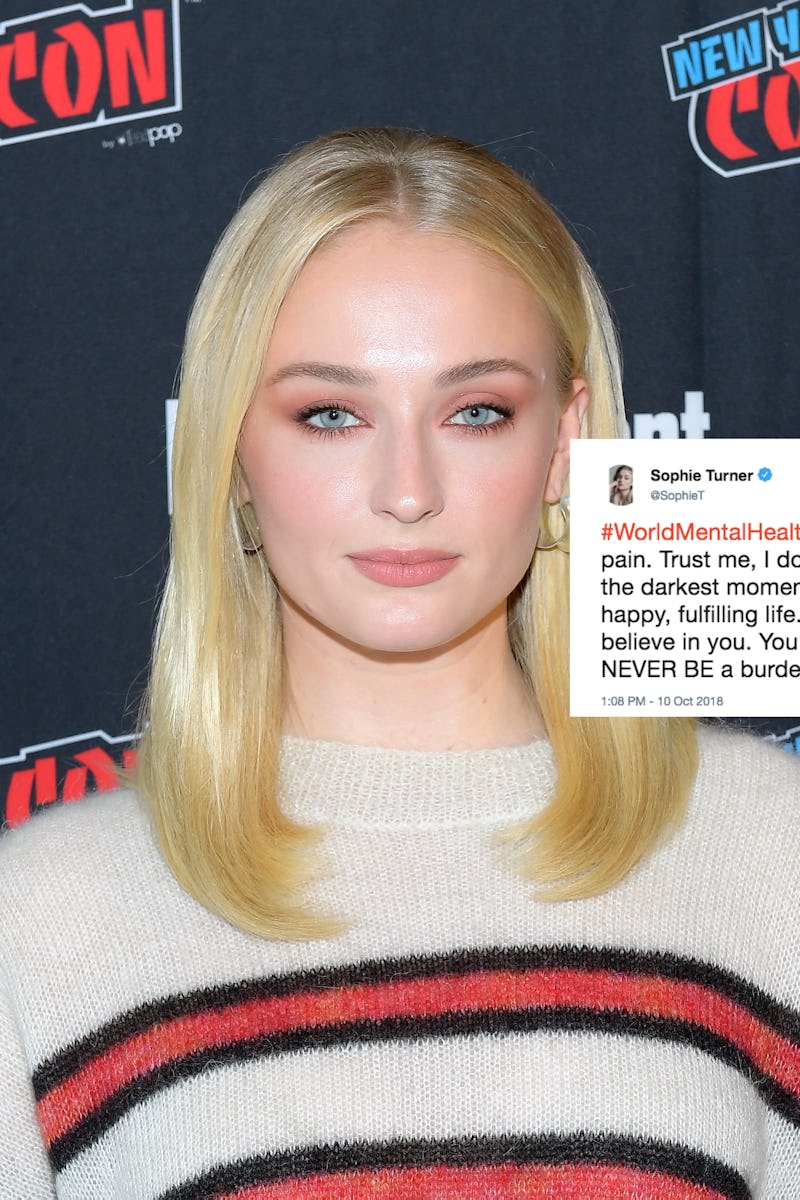 Roy Rochlin/Getty Images Entertainment/Getty Images; Sophie Turner/Twitter
Mental health awareness is essential for everyone, but the topic often doesn't get the attention it deserves. Fortunately, plenty of people, including celebrities, are working to change that fact. On Wednesday, Sophie Turner's tweet about World Mental Health Day shows her passion for mental health awareness, and other stars have tweeted about it, too.
In her message, Turner wrote that she's "seen people go from the darkest moments in their lives to living a happy, fulfilling life." As difficult as things can seem, there's always the possibility that things can change. Turner added in her tweet,
"You can do it too. I believe in you. You are not a burden. You will NEVER BE a burden."
Fans responded to Turner's tweet by thanking the Game of Thrones actor for her message of support. "Thank you so much for this. Means the absolute world to read this," one person wrote.
Turner also spoke out earlier this year for Mental Health Awareness Week. "Suicide is the single biggest killer of men under 45 in the UK," Turner tweeted in May. "Let's rid ourselves of the taboo of depression and start working towards ways to recognise and to manage mental illness." The actor also has a pinned tweet from September about World Suicide Prevention Day — it's clearly a topic that's near to her heart.
Turner has also addressed mental health during the promotion for her upcoming X-Men movie, Dark Phoenix. At the New York Comic Con this month, the actor teased that the movie will address mental health issues. "My family has a history of mental health, and this story deals with it in a non-gimmicky way that's awesome to put on the screen," Turner said at the event, according to SyFy.com. That sounds like a welcome change from many movies and TV shows, where mental illness is often stigmatized or portrayed inaccurately.
Other celebrities shared messages of support for fans, as well as their own experiences, on Twitter too. Sierra Burgess Is a Loser actor Shannon Purser tweeted that she suffers from "anxiety, depression, and OCD." Though the disorders have been difficult for her, Purser explained in her tweets that scientific articles helped her better understand the symptoms of OCD. She also shared information about the Crisis Text Line and the National Institute of Mental Health with her followers.
Crazy Ex-Girlfriend co-creator and star Rachel Bloom also shared a personal experience in recognition of #WorldMentalHealthDay. Bloom posted a New York Times article about the show, revealing that she "was at the end of my mental rope" when the accompanying photos were taken.
"The last thing I wanted to do was look pretty for a photo shoot. So, I asked if I could keep on a comfy sweater and just lean into the fact that I felt depressed from being so drained," Bloom tweeted. "I'm glad to have some pictures that kinda capture what doing this job sometimes is, which is feeling drained and panicked and still having to perform."
Everyone's mental health experience is different, and self-care can take plenty of different forms. What's most important is reaching out if you need help, and being there for friends and family. And stars like Turner, Purser, and Bloom want their fans to know that help is there if they need it. There's no shame in asking for help, and things really can get better.
If you or someone you know is experiencing suicidal thoughts, call the National Suicide Prevention Hotline at 1-800-273-8255 or text HOME to the Crisis Text Line at 741741. You can also reach out to the Trans Lifeline at 877-565-8860 or the Trevor Lifeline at 1-866-488-7386, or to your local suicide crisis center.