80 Percent Of Men In South Korea Admit To Abusing Their Girlfriends In A Horrifying New Study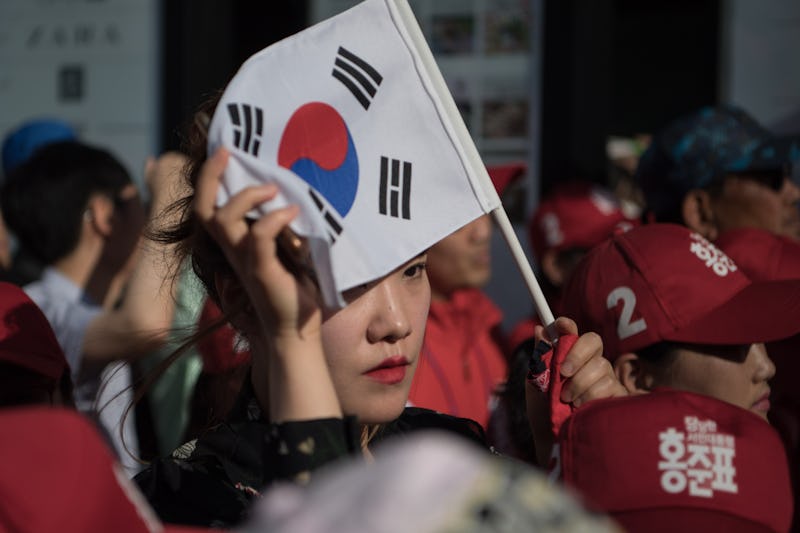 ED JONES/AFP/Getty Images
According to a new study by the Korean Institute of Criminology (KIC), nearly 80 percent of South Korean men have abused a girlfriend. According to The Telegraph, KIC surveyed 2,000 men in South Korea, and 1,593 admitted to physically or psychologically abusing a girlfriend while dating.
The majority of those who said they abused a partner were found to have set certain boundaries for a girlfriend. 71 percent of those with a history of dating abuse told researchers that they had controlled a girlfriend's activities, like who she spent time with, including friends and family, according to the Korea Herald. Controlling behavior also involved repeatedly calling to check in on a girlfriend until she picked up the phone and imposing restrictions on how their girlfriend dressed.
About 38 percent of those who admitted to abuse told researchers that the it involved sexual harassment. Nearly 37 percent classified the abuse as psychological, about 22 percent said they were physically violent (with almost 25 percent of them admitting to touching their partner's breast, bottom, or genitals without permission. Nearly 18 percent they were sexually abusive, and about 9 percent said they had inflicted injuries, the Korea Herald reported.
23 percent of abusers said they had slammed a door or stomped their feet around their girlfriend, and about 100 of the 2,000 men said their physical abuse had resulted in bruises or small scars.
In July, South Korea launched a 100-day campaign to combat violence against women after a video went viral that depicted a man assaulting his ex-girlfriend and running her down the street in Seoul with a truck. According to the Telegraph, another study by the Korea Women's Hotline showed that 61.6 percent of women surveyed said they had been abused while dating.
These findings in the KIC study are especially worrying considering South Korea has the third highest female homicide rate in the world, according to a report published in 2014 by the U.N. Office on Drugs and Crime (UNODC). South Korea's rate of female homicide is just behind Hong Kong and Japan at 52.5 percent, according to TIME magazine. For reference, the homicide rate for females in the U.S. was found to be 22.2 percent in the same survey, and the world average is 21.3 percent.
According to the Korea Herald, KIC researcher Hong Young-Oh cited the deep-rooted patriarchal norms in South Korean men as a influence on their abusive actions. Hong told the Korea Herald, "The high number of such actions show that the abusers themselves were not aware of or did not recognize their actions as dating abuse."