Ashley From 'Southern Charm' Just Posted A Very Lengthy Apology To Kathryn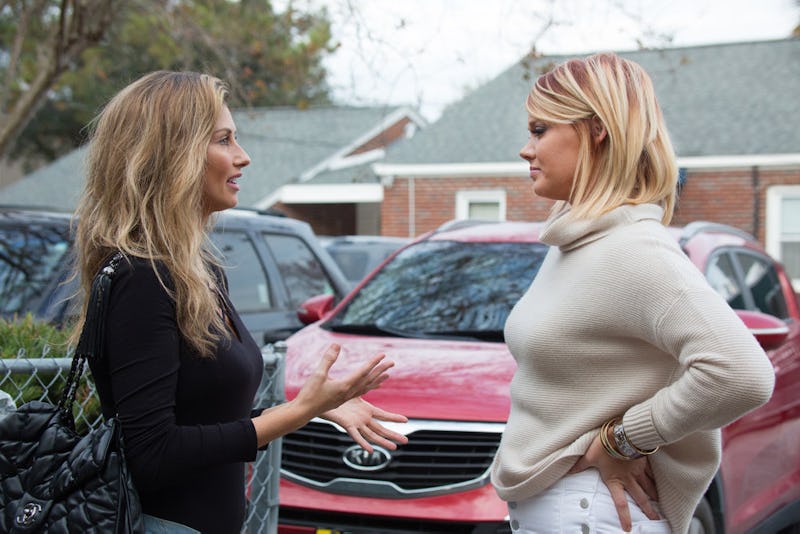 Paul Cheney/Bravo
Season 5 of Southern Charm was all about the feud between Kathryn Dennis and Ashley Jacobs. Ashley appeared on the show because she was dating Thomas Ravenel, the father of Kathryn's children. After many digs at Kathryn's expense, Ashley apologized for criticizing Kathryn's parenting via an Instagram post late Tuesday/early Wednesday.
As fans know, Ashley stuck to her guns all season, really going for the jugular. She didn't even let up or show any semblance of remorse during the reunion episodes, so what did she say in her apology post? To start out, she didn't just address Kathryn — she also included the viewers, writing, "To all of the Southern Charm fans, in general. And to Kathryn, in particular." She swallowed her pride and admitted,
"I owe you an apology. I'd like to apologize for how I treated Kathryn, and how badly I disrespected her. I'm not sure what made me think it was OK to speak to a mother that way. It wasn't."
The registered nurse continued, "It was not my place to say anything at all, much less the reckless comments I made. I crossed a line and hurt people who don't deserve it."
Ashley's words have received plenty of backlash from the fandom and her costars, but apparently her own friends and family were displeased with her comments as well. Ashley shared,
"After many chats with my friends and family with children, I never understood the unbreakable bond a parent has with their child. I can listen and learn and be far more respectful in the future but until I'm blessed with a child I can never truly understand the sacrifices a parent makes on behalf of their children."
Her message continued, "Some children may not truly get it until they have their own baby. It makes me feel horrible that I may have taken my own parents for granted and thus I have learned a tremendous lesson from all the great parents out there." Before signing the post, "Yours Truly, Ashley," she concluded, "I can't rightfully describe how sorry I am, but I'd never forgive myself if I didn't at least try."
That is quite the lengthy apology. So what warranted that? Unfortunately, quite a lot. Ashley picked and picked at Kathryn throughout Season 5. During the cast trip to Hilton Head, Ashley told Kathryn, "I see those children more than you see them," leaving everyone at the table shocked and offended.
In that same scene, Ashley told Kathryn, "You don't see how they come back after the weekend with you. I see it."
The Southern Charm cast members couldn't believe Ashley said that, and they shared their opinions during an episode of the Southern Charm After Show. An off-camera producer asked if Ashley "went too far questioning Kathryn's parenting" and Craig Conover answered, "Yes, that would be the understatement of the century."
Meanwhile, Danni Baird admitted, "I just felt sick to my stomach." Naomie Olindo chimed in to add, "What she said was disgusting."
That Hilton Head blow-up wasn't the only time that Ashley was out of line. During the season finale, she took her insults way too far. Again. Ashley had the audacity to say, "You're a baby mama" and "You're nothing but an egg donor." She also told Kathryn, "Don't forget your kids were taken away from you."
After the episode aired, Ashley did not exude any remorse. Instead, she defended herself and continued to go after Kathryn's parenting during another episode of the Southern Charm After Show.
She actually said, "Just because you push something out of your vagina, it doesn't mean you're a mother. I'm sorry. Mothering is loving, caring, and protecting these children. Kathryn is all talk. I want to see her actually do what she's saying she's going to do." Wow, that really was a low-blow.
The timing of Ashley's apology post is interesting. On Aug. 14, Thomas reportedly announced he was leaving the show in a post on his private Twitter account, according to People. The publication reported that Thomas tweeted (and deleted), "I'm not doing the show anymore. In the contract they have the right to fictionalize your story. They took advantage of me. I decided I've got too much to lose and informed them I'm not coming back." (Bravo had no comment when Bustle reached out about whether Thomas is leaving. Bustle also reached out to the law firm representing Thomas for comment, but did not hear back.)
The next day, Ashley revealed that she and Thomas split during a video she posted on Instagram Live. According to an article from People, Ashley said,
"I'm still trying to work it out, not work out getting back together, but I'm still trying to figure it out. I think everyone's been through breakups before but it's hard. It's not easy … Sometimes you just want to stay quiet and figure out what the next move in your life is going to be … I'm just trying to take care of myself the best way that I can."
It's worth noting that Ashley has never been an actual cast member on Southern Charm. Since she's not dating Thomas any more, it's unclear if this will be discussed on the show, or if the Kathryn vs. Ashley feud will get left behind next season.