'Southern Charm' Star Ashley Jacobs Just Confirmed Her Split From Thomas Ravenel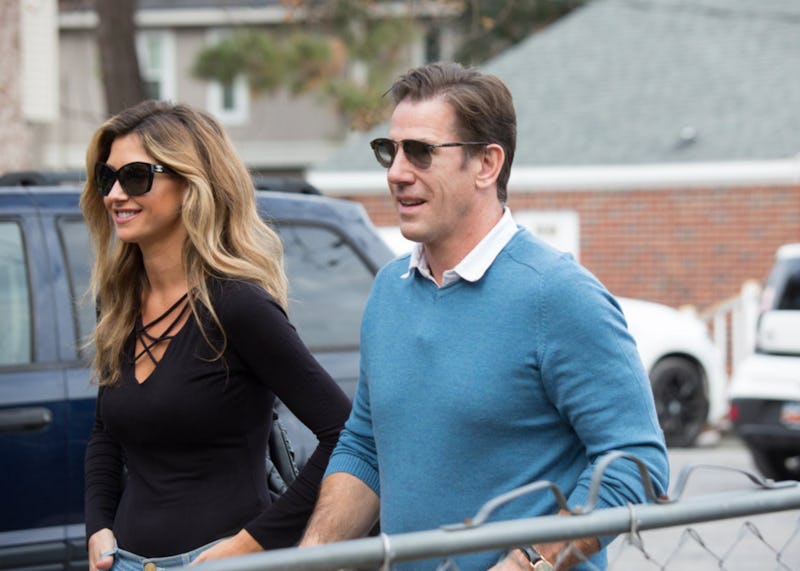 Paul Cheney/Bravo
This Southern Charm couple is no more. A little over a week after she sort of addressed some breakup rumors, Ashley Jacobs revealed she and Thomas Ravenel have split up. As People reported, Ashley shared the news on Instagram Live on Wednesday, Aug. 15.
According to People, Ashley said in the Instagram Live:
"I don't want to comment but there are just some things I'm trying to handle privately. Before I say too much, I love Thomas and I'll always love Thomas. I'll always care about him."
She continued,
"I'm still trying to work it out, not work out getting back together, but I'm still trying to figure it out. I think everyone's been through breakups before but it's hard. It's not easy. … Sometimes you just want to stay quiet and figure out what the next move in your life is going to be. … I'm just trying to take care of myself the best way that I can."
In the Instagram Live video, Ashley also asked her followers to set her up with "eligible bachelors," according to People. She added, "They don't have to have money. I'm okay with that. I just want someone to love me for me. It's never been about money."
In addition, Ashley and Thomas seemed to have wiped every picture of each other from their respective IG accounts.
Ashley and Thomas first met in Santa Barbara in May 2017, and Ashley moved to Charleston in August of that year. Her first season of Southern Charm was intense. Ashley repeatedly insulted the mother of Thomas's two children, Kathryn Dennis, and thanks to the way she treated Kathryn, she failed to get along with the rest of the Southern Charm cast.
The Southern Charm Season 5 reunion filmed on June 12, which was a few weeks after two sexual assault allegations were made against Thomas. Thomas's attorney, Richard P. Terbrusch, released the following statement to People regarding the allegations:
"My client enjoys a certain degree of fame, which has unfortunately made him a vulnerable target for such claims. The person this woman describes is simply not the man that I know. My client is a loving father, successful businessman, and upright member of the community. He is appalled and hurt by these allegations — and is committed to defending his reputation in the appropriate legal forum."
Several days before the cast got together to tape the post-season sit-down, Bravo confirmed to People that Thomas would not be at the reunion. Instead, the following statement from Thomas's attorneys appeared at the top of the two-part special:
"Along with Bravo, our client made the mutual decision not to attend today's reunion taping as there is a pending investigation. Our client is fully cooperating with authorities on this investigation. He expects to be completely vindicated once the investigation is concluded. He sends his best regards to his fans and his fellow castmates."
When Andy Cohen brought up the sexual assault allegations to Ashley at the reunion, she defended Thomas and she said she believes he will be cleared. (Back in May, Bravo told Bustle that Southern Charm's production company, Haymaker, was investigating the allegations.)
And when the reunion rolled around, Ashley attended the taping without her then-boyfriend Thomas. She said she's seen a change in Thomas since two sexual assault allegations were made against him, attempted to downplay an argument she had with Thomas in public, questioned Kathryn's accountability, and continued to stand by the hurtful comments she lobbed at Kathryn during the Hilton Head trip. (She did acknowledge that her timing was not great). All in all, it was an uncomfortable showing.
And now, the post-Thomas chapter of Ashley's life has begun.