Southwest Airlines Has $49 Flights On Sale RIGHT NOW But They Won't Last Long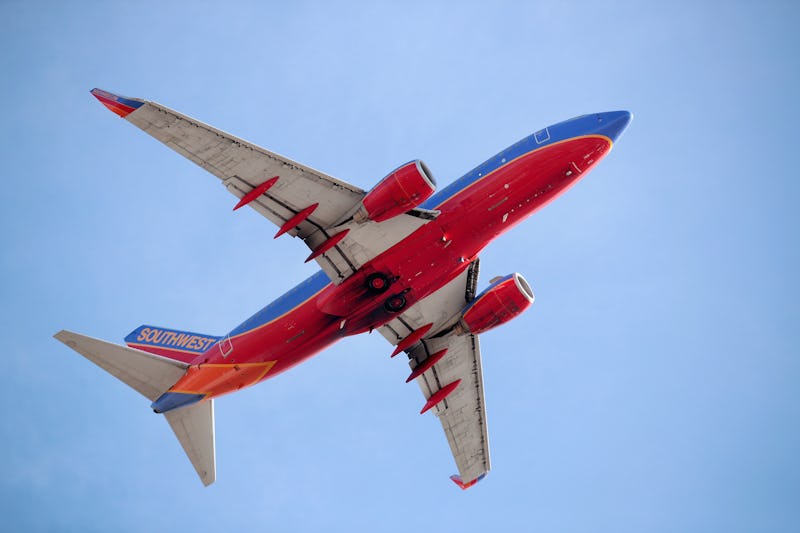 Scott Olson/Getty Images News/Getty Images
If you're itching to get out of dodge, but you're low on funds, Southwest Airlines has your back. Yep, Southwest Airlines fare sale is offering $49 flights so you can book that much-needed vacay ASAP. And — wait for it — this bananas-low price also applies to some international flights traveling to Costa Rica, the Bahamas, and Jamaica. You're probably wondering what the catch is. While there are a few rules for this deal, they're not unreasonable. You just have to book your flight by April 19, 2018, and buy your tickets 21 days in advance. There are some blackout dates, so be sure to check the Southwest website before booking your ticket.
If you haven't been to the beach in a while, and you're feeling kind of dark and twisty after this never-ending winter of discontent, then take advantage of these practically free flights right freakin' now because the beach is actually good for your brain. "Staring at the ocean actually changes our brain waves' frequency and puts us into a mild meditative state," Clinical Psychologist Richard Shuster told Inc. You can plan a girls beach getaway to San Juan, Puerto Rico, and score affordable flights from April 24 to May 17, and Aug. 21 through Halloween (as long as you book your tickets by April 19).
It's no secret that a lot of people don't use all of their vacation days, because taking time off often means returning to eleventy million emails and an insurmountable pile of work. However, taking a vacation can actually make you happier at work, and can even make you better at your job. Project Time Off reported that a survey found that 90 percent of people said taking time off of work helps them relax and recharge, 88 percent claimed that vacations give them the opportunity to do what they enjoy, and 85 percent noted that time away from the office makes them happier.
Apparently 15 percent of people are super happy being at work all the time. Who are these people? For the 85 percent of people who do like to get away, 65 percent said their concentration and productivity at work improves when they use their vacation days, and 61 percent reported greater satisfaction at work after taking time off. Because, you're meant to do more with your life than work and pay bills, even if it doesn't feel that way sometimes. If you live far away from your family, and you haven't been home in awhile, these discount fares are a great way to surprise your parents for Mother's Day or Father's Day.
A $49 flight is basically the same price as a dinner out or a tank of gas, and it's way cheaper than your phone bill. While flights from every city won't be $49, most departure cities offer fares well below market rate. Though it's worth noting that these $49 fares are one way online, so you'll need to look carefully at your return flight options, Condé Nast Traveler noted that most domestic flights are to be had for less than $200 round trip — not too shabby for a quick getaway.
Southwest is known for being an out-of-the box airline. They offer things like live in-flight pop-up concerts, they've partnered with pet rescues to fly dogs out of post-Hurricane Puerto Rico, and they provide air travel for patients through a medical transport grant program, which means you can feel all warm and fuzzy about booking a flight with this airline.
If you need a few more reasons to book those cheap flights, the website Take Back Your Time reported that taking a vacation can prevent illness, relieve stress, and even improve your sex life. "Studies have shown that high cortisol levels associated with stress create a negative feedback loop in the brain and lower levels of sex hormones like testosterone, contributing to loss of libido," Take Back Your Time noted. "Surveys indicate people who vacation regularly reported feeling sexier, with greater romance in their relationships which equates to better sex!" So, confer with your besties or your BAE, request time off work, and book yourself some well-deserved down time. After all, hardly anyone gets to the end of their life and wishes they'd worked more and vacationed less. #YOLO