This Airline Is Hosting Mid-Flight Concerts Because Literally Nothing Is Sacred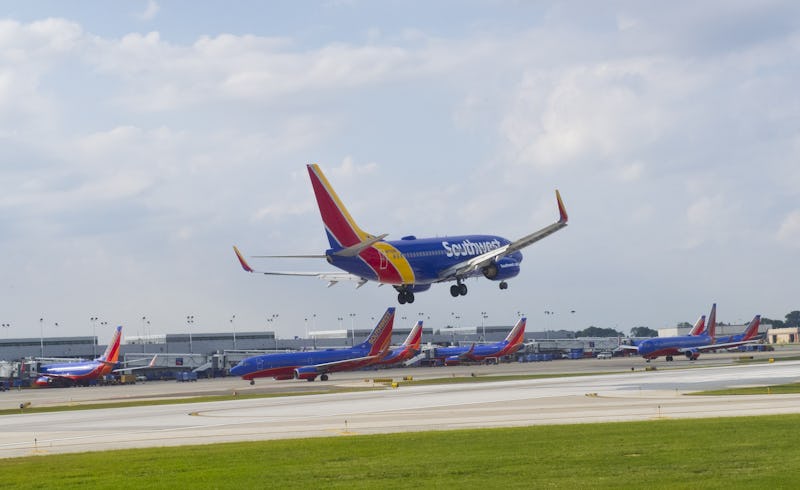 KAREN BLEIER/AFP/Getty Images
You might have heard of those concert cruises, where you and your favorite band sail around the Caribbean for a week and they play live music for you every night. Now, the same concept is happening on planes, except unlike on a gigantic cruise ship, there's no way to escape. Southwest is the latest airline offering live, in-flight entertainment, which appears to be a disturbing trend designed to make your time in the sky even less enjoyable. Billboard recently announced a partnership with Warner Music Nashville and Southwest Airlines to bring live music to a plane cabin near your, whether you like it or not.
While new bands used to debut music in places like Cleveland, they've finally found a place where there's literally no way to leave at intermission. The partnership is a continuation of Live at 35 in-air concert series and the Opry at the Southwest Porch at Bryant Park series of summer concerts, Billboard reported, and apparently, it's wildly popular.
Now, don't get me wrong. I love live music and concerts. I dare you to try to drag me off of a plane where either Lady Gaga or Stevie Nicks decide to strut through the economy section and sing in the aisles for all of the poor passengers packed in like sardines. However, for non-Gaga or Nicks fans, I totally understand that being surprised by a pop-up concert on a plane, where the sound will more likely than not permeate your noise-cancelling headphones, might be less than ideal.
But, I guess some people like this sort of thing. I mean, if it's your favorite band, I'm sincerely happy for you, but, let's be honest, how likely is that to happen? "To celebrate the announcement, Atlantic Records/WMN artist Devin Dawson performed to a capacity crowd aboard a Southwest flight leaving Nashville for Philadelphia one Sunday afternoon as the latest member of the Live at 35 family of musicians," Billboard noted.
It sounds like they're comparing plane-cabin capacity to a sold out show at Madison Square Garden, but, my friends, there is a big difference between MSG and an oversold flight to O'hare. But, hey, if it's a short flight and they're throwing in free drinks to really make it feel like a tiny dive bar concert, I suppose it could maybe be fun once.
Honestly, flying is pretty unenjoyable for most people. In order to make it less awful, people usually have their own little routines that might include books, a downloaded show to marathon while in the air, a nap, alcohol, or meditation. But, if a burgeoning band needs to find its audience, I guess throwing them in front of a group of people who literally have nowhere to go is one way to do it.
And, what about babies, and dogs? Just how loud is this airplane concert — do the babies and dogs get earplugs? What if a baby or emotional support pet doesn't like country music — then you'll have surprise live music and screaming toddlers/howling dogs, and maybe even some crying grownups too.
I think it's pretty safe to say that travelers have a long list of other demands they'd rather have instead of a surprise plane concert. But, hey, who cares what passengers want, right?
Apparently, also, there was an equipment failure for Dawson's first 35,000-foot show for a literal captive audience, but if you think that stopped the madness, think again. "With an equipment failure (a bad amp) forcing one of his accompanying guitarists into the role of second cameraman for the staging, Dawson performed his debut single ('All On Me') as well as a few songs off of his upcoming album Dark Horse, due to drop on Jan. 19," Billboard reported. "After the concert in the clouds wrapped, the young singer walked the aisles, handing out souvenir guitar picks and compact discs to his audience."
While many people aren't thrilled with this new "amenity," others clearly think it's pretty boss. And the airplane musicians really feel like they're providing a service to crabby travelers. "You know, some people don't really enjoy flying; some people get very nervous and don't like it," Dawson told Billboard. "I hope that something like this [performance] is just a cool surprise for some [passengers] that helps them forget about their everyday woes, and I'll just play a couple of songs to make them smile."
Smiling, crying? Who can tell the difference these days.
But if your airplane concert does make you cry, and not in a good way, I get it. Hurtling through the sky in a steel tube with bad food and live instruments is not everyone's idea of a treat. Please take comfort in knowing that you're not the only one.