Southwest Airlines Flew Animals Out Of Flood-Ravaged Houston & The Photos Are Heartwarming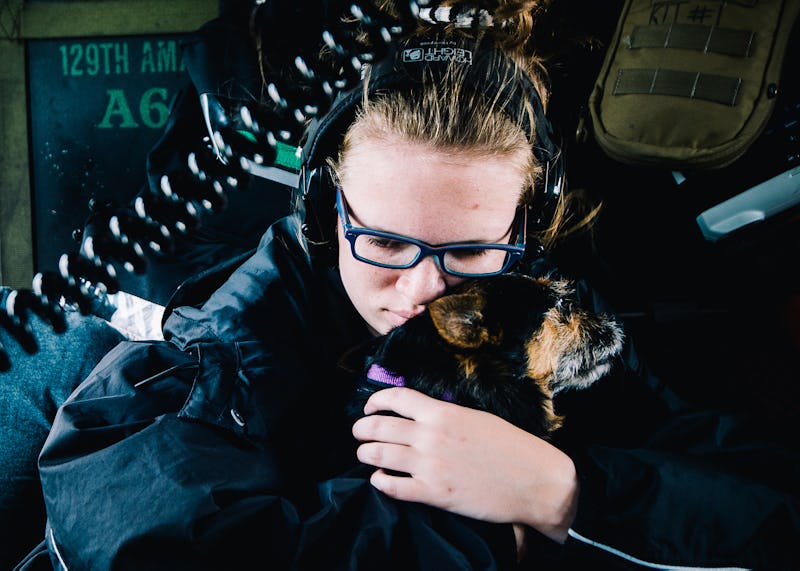 Handout/Getty Images News/Getty Images
Hurricane Harvey wrought enormous devastation on south Texas, particularly in Houston, the fourth largest city in the United States. As residents and volunteers work to repair the damage caused by Harvey's torrential rains and subsequent flooding, many displaced Houstonians have been forced to temporarily place their pets in local shelters. In a city with a population of 2.3 million, overcrowding ensued at shelters that were often already at capacity. To help relieve some of that burden, Southwest Airlines flew shelter pets from Houston to San Diego after teaming up with several animal rescue organizations.
Before panic sets in over worst-case scenarios involving devastated hurricane victims losing their furry friends, please note that all of the pets relocating to sunny southern California had been sheltered prior to Hurricane Harvey.
With that clarified, it's time to celebrate the overflow of generosity and cuteness that made this particular westbound flight a reality. The rescue effort was made possible in part by the Helen Woodward Animal Center, where the 64 furry Houston passengers will get a new home. This isn't the first wheels-up rescue for the San Diego-based animal shelter, either — they took in shelter pets impacted by Hurricanes Sandy and Katrina as well.
Also crucial to the rescue effort were Southwest Airlines and Operation Pets Alive! The airline has worked together before with the Helen Woodard Animal Center, to ensure that pets are not forgotten during a natural disaster. And Operation Pets Alive! is no stranger to flying animals out of danger. The Texas-based nonprofit organizes "rescue flights" as part of its mission to make Montgomery County a no-kill zone for shelter pets.
In a statement on on their "paw-some" commitment to helping relocate the shelter animals, Southwest Airlines Chief Communications Officer Linda Rutherford said:
We're so happy to partner with the Helen Woodward Animal Center to extend hope to Houston by transporting shelter animals to a new home in San Diego, while making additional space for family pets whose humans are currently displaced. Our Employees care so deeply for our Customers and all those impacted by Hurricane Harvey, including our sweet little four-legged friends.
That sentiment was captured on camera during the animals' flight to their new home.
The relocation of shelter pets in the wake of Hurricane Harvey is a commendable achievement, but remember: These pets still need permanent homes. For those in or near San Diego, the Helen Woodward Animal Center is a great place to start. Those closer to Houston can adopt a pet in Texas, or even just donate to the people and organizations helping to take care of these animals.