9 Sparkly Dresses For NYE To Make 2019 As Bright As Your #OOTD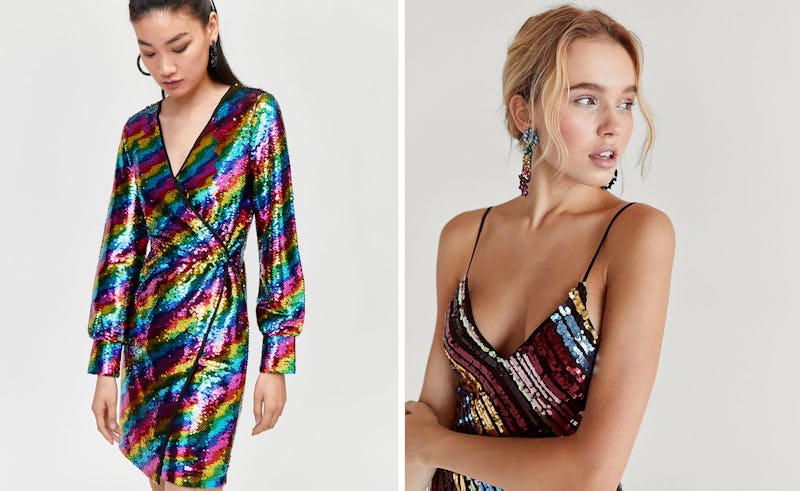 Left: Warehouse / Right: Stradivarius
Whether you're in London or Edinburgh, sparkly New Year's dresses are a staple and you'll see many decked out in them as they welcome the year to come. I've definitely worn a few sequinned dresses on NYE in my lifetime and I'm all for them. Honestly, if you can't make a major fashion statement on the last day of the year - when can you? From sequins to beads and shimmery fabric, there's loads of options this year to sort out the fashion forward in a number of styles.
One of the trickiest things I've found with bulkier bits like sequins is making sure I feel really confident in what I'm wearing, which is why I picked a tailored silver blazer dress from Stradivarius this year. I got a little ahead of myself and wore mine out for a few snaps, paired with thigh high boots (my favourite Black Friday purchase) and a bright red lip. The waist tie belt and double breasted detail really just helped give it the kind of shape that I could be totally on board with.
Sadly, this dress has just sold out but I've found a similar one below in a deep green hue.
There's a few really sweet rainbow pieces this year from the likes of Topshop and Warehouse, the latter of which has really pulled out all the stops this year. (I literally wanted every sparkly piece they had online.) If you're not about that rainbow life though, there's a trend-appropriate snakeskin one and delicate beaded piece ideal for a toned down dinner with the family.
If you're opting for a bolder, more colourful piece, I'd recommend keeping your accessories and make-up relatively low-key. A sequin dress is a major statement and while you shouldn't shy away from them, I'd personally want people to bask in the glory of one rather than getting distracted by all the other bits and pieces. If you're going for something like Mango and Missguided's monochrome pieces however, you can afford to play around with a deep berry lip or dramatic eyes to really take your look to the next level.
I've put together a list of my favourites on the high street at the minute, whether you're going to be dancing 2018 away in a nightclub or popping champagne at a classy do with the family. Have a great 2019 everybody, may it be as glam as #OOTD.