Heath Ledger's Getting A Documentary On Spike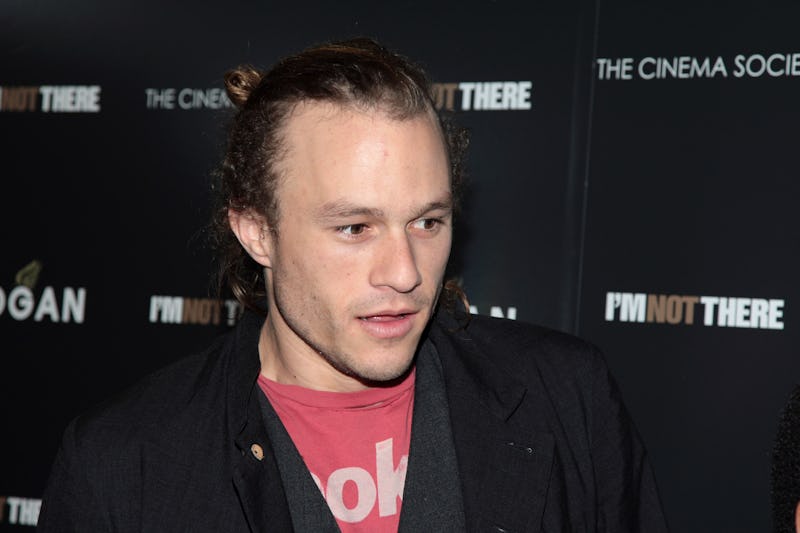 Stephen Lovekin/Getty Images Entertainment/Getty Images
If you're a fan of the Brokeback Mountain star, you might be intrigued to hear that Spike TV is releasing a documentary about Heath Ledger in May, titled I Am: Heath Ledger. It's part of Spike's documentary series granting a deeper look at public figures via interviewing members of their inner circles and previous installments have focused on figures like JFK Jr., Steve McQueen, Bruce Lee, Evel Knievel, and Chris Farley.
Ledger tragically passed away at the age of 28 after an "accidental overdose of prescription medications that included painkillers, sleeping pills and anti-anxiety drugs." Given the wealth of films he made in such a short time and his undeniable talent as an actor, it's no surprise that he's been considered worth the subject of his own documentary. But what will the documentary cover? There's no further information from Spike TV as to what moments in his life we'll get to hear about in the documentary, but I still believe it's possible to make an educated guess.
It would be strange if the documentary didn't cover Ledger's pre-Hollywood acting career. After all, he started working in Australia, not Hollywood, launching his career with parts in shows like Sweat (in which he pre-empted his work in Brokeback Mountain, playing a gay cyclist) and one of Australia's most successful soaps, Home And Away.
Since he first grew internationally famous while still in his teens thanks to his role in 10 Things I Hate About You, a modern-day reworking of Shakespeare's The Taming of the Shrew, and given that it was Ledger's first American film, it would be surprising if the documentary skimmed over this part of his life. Since the film boasted Julia Stiles' first on-screen kiss (which was with Ledger), I'd be surprised if Stiles wasn't interviewed about her time on the film, especially as she's spoken before about working with Ledger.
The actor would then make a decision that would characterize his distinctively varied roles: he passed up the variety of romantic comedy leads offered to him and kept passing until he got to star alongside one of his childhood heroes, Mel Gibson, in The Patriot. He would go on to tell The New York Times, "I feel like I'm wasting time if I repeat myself." Again, it would be surprising if this extremely distinctive aspect to Ledger's character and career was passed over. I could imagine the documentary would interview his then-agent or cast from The Patriot to discuss the way Ledger's career choices were never predictable.
But Brokeback Mountain was the film with which the world began to take Ledger extremely seriously as an actor. Ledger won "Best Actor of 2005" awards at both the Golden Globes and the San Francisco Film Critics Circle for his performance as Wyoming ranch hand Ennis Del Mar, who has an affair with Jake Gyllenhaal's Jack Twist. In an incident of life mirroring art, he would also meet his wife, Michelle Williams, who played his character's fiancée and then wife, while on the set of the film. Given the significance of the film to both his career and personal life, it's hard to envisage a documentary that wouldn't interview those involved in making the film about Ledger's experience on set.
Perhaps less well-known is the fact that Ledger had ambitions to become a director. The last work he did as a director prior to his death were music videos for Modest Mouse's song "King Rat" (which he didn't complete, but which the band finished without him, remaining true to his vision) and for Grace Woodroofe's David Bowie cover "Quicksand." Given that this would shed light on another side to the actor, I could imagine the documentary might contain interviews with Modest Mouse and Woodroofe about collaborating with Ledger, especially since the actor was instrumental in Woodroofe's career, bringing her to L.A. from Australia to help her develop her sound after hearing a demo from her.
Finally, given that critics were unanimous in praising his performance as The Joker in The Dark Knight, with Ledger winning a posthumous Oscar for Best Supporting Actor for the role and given that this was the last film he made prior to passing away, it would be a very weak documentary indeed if it didn't cover this time.
So, get set for May. If the documentary does Ledger justice, we should be able to reach a much more nuanced, deeper understanding of the star than ever before.