Spotify Will Now Let You Generate A Playlist Based On Your AncestryDNA Results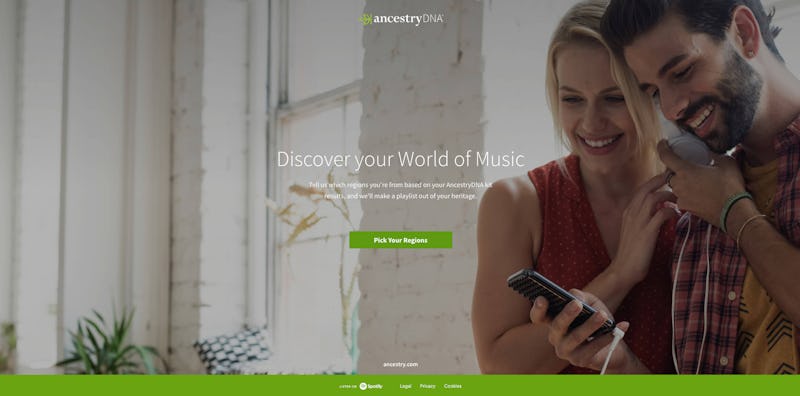 Spotify
AncestryDNA has joined forces with Spotify to create the ultimate personal playlist curation experience. And by "personal", I mean the playlist that this partnership offers you will resonate with you very deeply — aka, the music is literally tuned to your DNA. Yes, using your AncestryDNA results, Spotify will put together a collection of songs that are based on your heritage. If you're in the market for a closer connection to your music library, this special feature will definitely hit the spot. I mean, how much closer can you get than sharing DNA?
Starting on September 19, customers who have received AncestryDNA test results can turn to Spotify to find carefully selected playlists that correspond with their ethnic background as disclosed in their DNA test results. If you've just recently discovered something new about your heritage, you'll enjoy this creative way of exploring it musically. There's so much we can learn about a place from the music that comes from it, so you can look to your DNA playlist as not just entertainment, but also an educational resource. If you found out that you have a DNA connection to a place in the world that you're not familiar with, or have a limited knowledge about, listening to various musicians from that region will help introduce you to its culture and its history and its people!
If you haven't yet participated with AncestryDNA, you can still enjoy other aspects of this partnership. Available now is a new Ancestry-sponsored feature that will allow you to look into the DNA of the music you already love and listen to. You can trace back your favorite Serge Gainsbourg songs to France, your favorite Lykke Li songs to Sweden, and your favorite retro rockers back to England. Additionally, you can pick a region and find music from musicians who comes from it. You can use this Ancestry feature to broaden your musical taste, region by region, and learn about what types of music each region influences. Regardless of how you interact with this new feature, you're bound to learn something new and most importantly, listen to something new.
Essentially, this Ancestry and Spotify partnership makes learning about music history really fun and creative. You'll literally never run out of ways to find new music, and if you haven't already taken an AncestryDNA test, you'll want to order a kit ASAP. Not only will you get a free custom playlist from Spotify, but you'll also get to connect with people from your past and learn about the history of you and your family in an extremely precise and insightful way. To explore the new public feature that's available for all users, simply head to Spotify and search for Ancestry's user page. There, you'll find a collection of regional playlists that you're free to explore. If you haven't yet taken a DNA test, you might want to create your own prediction playlist based on the music that Ancestry has shared. Once you get your results, you can see if the music that you were drawn to was actually in your DNA the whole time.