Spray-On Headbands Could Be The Rainbow Hair Accessory Of Your Dreams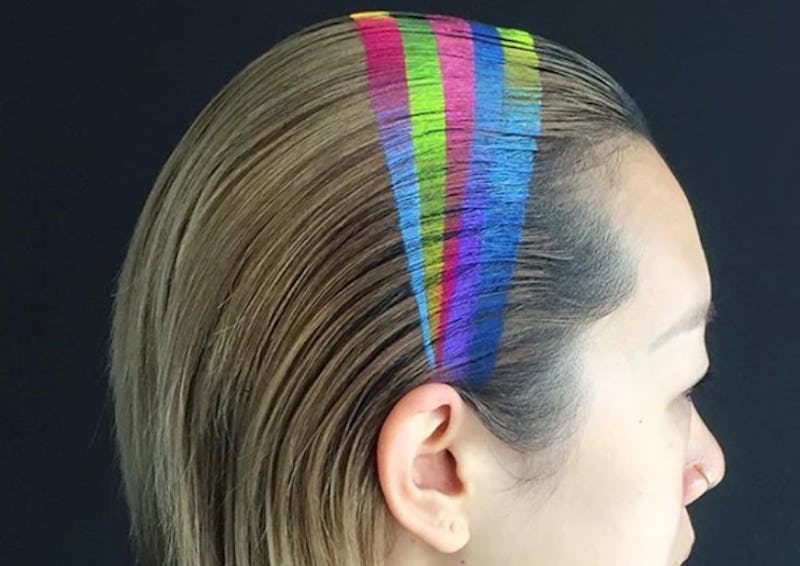 The rainbow hair trend has been around for years now, with no hints of slowing down. But as we're exposed to a parade of pastel hair colors and muti-dimensional streaks and highlights, it becomes harder and harder to find something that feels original. That is, until the spray-on headband caused a stir on Instagram feeds everywhere. While everything from rainbow roots to sunset hair are definitely creative and stop-in-your-tracks beautiful, they all seem like a slight reiteration of each other. The spray-on headband, though, is something excitingly different because it's not meant to really mimic a hairstyle, but a hair accessory.
The look was originally created by a Bumble and Bumble stylist named Allen Thomas Wood, who debuted the look on his Instagram account. But while the headbands might look complex and intentional, he shared that the idea was actually created by accident. "Wood explained to Vogue that he originally intended to make a monochromatic stenciled headband as an experiment, but he just kept layering on colors until the style took on a rainbow effect," Teen Vogue reported.
If you take a moment to inspect the headband creations, you can't help but be completely blown away. They carry a kind of patchwork feel, where the bands experience an ombre effect. One stripe might move from a dusty blue to a deep indigo, where another one will go from an oxblood shade to a highlighter yellow hue and back down to a dark mint green.
Another version of the headband opted for a more smooth transition of color, skipping the patchwork feel and letting the colors blend seamlessly together.
However, there is a catch to this look. "A word to the wise if you try to copy this look; because Wood used easy-to-wash products, the headband would be ruined if it were to get wet," Teen Vogue reported.
But don't worry: If you want to spend money at a hair salon to get this look yourself, there are precautions you can take to make it last longer than a day or two (and really help you get your money's worth.)
One interesting idea is to preserve it with hairspray. "You can spray the surface with a strong hold aerosol hairspray to set it," Wood shares with Bustle.
Bumble and bumble Strong Finish Hairspray, $29, Sephora
While another suggestion is to use dry shampoo in lieu of washing your hair, another not-so-well-known tip is to avoid using products with high oil content, like frizz serums and shine oils. "The way these oils are meant to work is they push moisture into the hair, but in turn they also end up pushing out the color molecules. Because of this, they actually make your color fade faster. In fact, they fade color faster than even routine washing," Luis Valdez, a stylist at Chicago's Salon Salomé with nine years experience, shares with Bustle.
Keep these tips in mind and you can be rocking your own spray-on headband this summer.