Georgia Candidate Stacey Abrams Said Trump's Attack On Her Shows The GOP Is Scared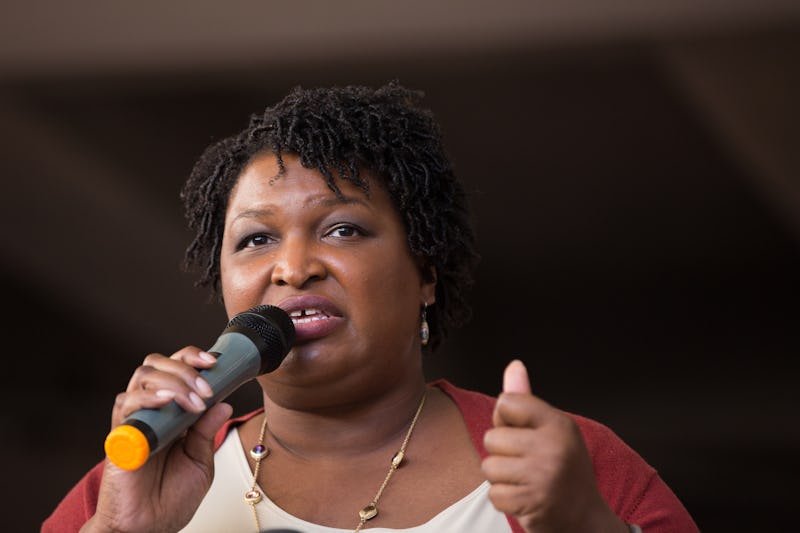 Jessica McGowan/Getty Images News/Getty Images
President Donald Trump has been stumping hard for GOP candidates in the run-up to the midterm elections, including Georgia's Brian Kemp, who's vying to become governor. The president has also had some nasty words to say about Kemp's Democratic opponent; but on CNN's State of the Union on Sunday, Stacey Abrams responded to Trump saying she's unqualified with dismissive confidence.
"Desperation tends to leads to comments that aren't necessarily grounded in reality," she said. "I think they're getting scared," she added, referring to Republicans on the other side. She said "they can see the same numbers we are seeing." Georgia is experiencing extremely high early voter turnout, which some analysts believe could help Democrats.
During a Q&A session with reporters on Thursday, Trump was asked about the Georgia election and Oprah Winfrey's journey to the state to campaign for Abrams, who would be the nation's first female black governor if she wins. "She is not qualified to be the governor of Georgia," the president said of Abrams. "Not qualified." He added evidence was found in "her past" and "what she wants to do and what she has in mind for the state."
"He's wrong," Abrams declared on Sunday. "I am the most qualified candidate running. ... I've been Deputy City Attorney. I was the Democratic leader for seven years. I've been successful as a businesswoman, as a writer, and as a tax attorney. I know what I'm talking about and I have the plans to prove it."
Many progressives have asserted that Trump's remarks about Abrams being "unqualified" were racist and sexist. They've also noted that her legal and elite education background (she has a Master of Public Affairs from the University of Texas and a Juris Doctor from Yale) exceeds that of the president.
On NBC's Meet the Press, Abrams spoke even more harshly of Trump's comments: "I find his assessments to be vapid and shallow." In general, she's declined to overtly attack the president while campaigning, according to The Atlanta Journal-Constitution.
On State of the Union, Abrams also brought up the support she received from President Barack Obama earlier this week. He traveled to Georgia to campaign on her behalf on Friday. "She is the most experienced, most qualified candidate in this," he told the crowd at Morehouse College.
Obama also blasted Kemp, who is currently Georgia's Secretary of State, for delaying the voter registrations of more than 50,000 people (mostly minorities) and engaging in other tactics that he said constituted voter suppression. "How can you actively try to prevent the citizens from your state from exercising their most basic right?" Obama said.
The race between Abrams and Kemp is extremely tight. A Thursday poll from Channel 2 Action News and The Atlanta Journal-Constitution found that she was leading Kemp by just 0.2 points, which was well within the margin of error. The poll result was declared a "statistical tie."
Still, Abrams said multiple times during her CNN interview that she's confident that she'll win the race on Tuesday. She declared that Kemp's "voter suppression ... will not work in this election."
"We're going to outwork him," she said, "we're going to outvote him, and we're going to win."