Don't Get Too Upset About The 'Star Trek' Delay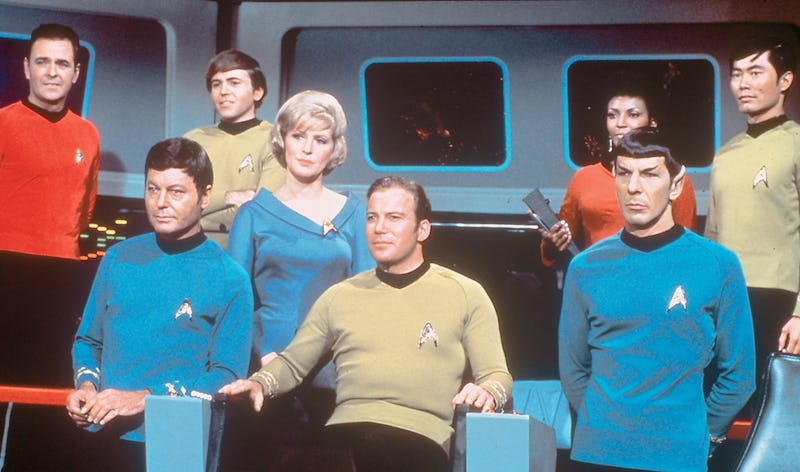 CBS
You can't always get what you want. That's not just a great Rolling Stones song, but also a sensible mantra to meditate on when digesting the fact that Star Trek: Discovery's release date has been delayed again. I know, right? Entertainment Weekly reported that the show will not drop in May as previously announced. So, what gives? If you've been following Discovery news closely, you might recall that The Walking Dead's Sonequa Martin-Green was recently cast as the lead in Star Trek: Discovery. According to EW, this poses some scheduling difficulties, since reportedly CBS is concerned there would be "marketplace confusion," if the network were to start promoting her as the lead in a sci-fi show while The Walking Dead is currently on air.
But this isn't the only reason for the delay. It's actually delayed for kind of a great reason, EW reported, which is that the production is still deliberating on all the tiny details of making the show completely perfect — from directors, to set design and special effects, which sounds a lot like when you're in a job interview and they ask you to tell them what your weakness is, and you're like, "Well, I'm a perfectionist." But still, from the sounds of things, there's no clear premiere date yet.
CBS Television Show shared the following statement with EW:
Production on Star Trek: Discovery begins next week. We love the cast, the scripts and are excited about the world the producers have created. This is an ambitious project; we will be flexible on a launch date if it's best for the show. We've said from the beginning it's more important to do this right than to do it fast. There is also added flexibility presenting on CBS All Access, which isn't beholden to seasonal premieres or launch windows.
The fact that production hasn't started yet might make you wince. But this isn't the first time the show has suffered from delays — let's take a trip down memory lane, so you can understand how we got here.
Sept. 2016: Star Wars: Discovery Premiere Date Is Pushed Back From February To May
The debut date was moved to May in order to give the creative team more time to perfect the series and to ensure they didn't feel rushed or under pressure to meet a deadline. A previously announced Good Wife spinoff would take its place instead.
Oct. 2016: Bryan Fuller Steps Down As Showrunner
Fuller stepped back from the showrunner role, reportedly to focus on the two other shows he was juggling, according to Variety. Fuller was not just a showrunner on Star Trek: Discovery, but also simultaneously working on shooting and post-production duties on Starz's American Gods and prepping a reboot of Amazing Stories for NBC.
But on the bright side, Fuller had reportedly already hammered out the story arc and mythology for the show. He even appointed executive producers Gretchen Berg and Aaron Harberts as joint showrunners fairly speedily, so this shouldn't have slowed things down too much. He even gave the pair a ringing endorsement on Twitter:
Jan. 2017: The Show Gets Pushed Back Again
As reported above, Star Trek: Discovery will reportedly no longer air in May and no new air date has been provided. But there is a bright side here: Along with the announcement of the delay comes news that Spock's father has been cast. Spock's father Sarek will be played by the very accomplished James Frain who has taken on plenty of other roles: Theo Galavan/Azrael in Gotham, Ferdinand Chevalier in Orphan Black, Lieutenant Kevin Burris in True Blood, and Eric Renard in Grimm. Sarek will reportedly be a major character.
Besides that, it's also worth getting excited about since, as previously reported, it will include Star Trek's first openly gay character, a Starfleet Science Officer called Lt. Stamets, who will be played by Anthony Rapp, who presumably stars (!) on the show, thanks to Fuller, who on being appointed as showrunner promised more gay representation.
So while the delay news may be disheartening, don't give up yet. There's still so much to be excited about — and so many old Star Trek episodes to binge on to fuel your enthusiasm until it's back on the small screen.