Starbucks Just Dropped More ban.do Merch For The Holidays & You'll Want Every Piece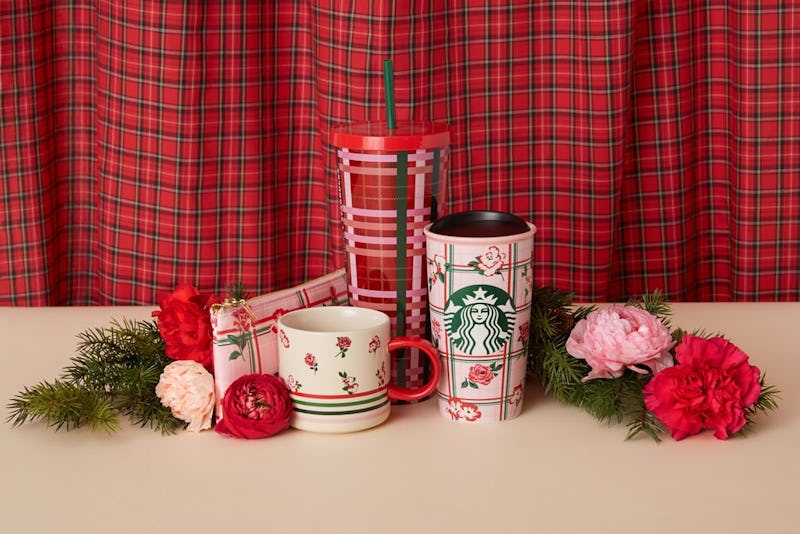 Starbucks
Sometimes holiday wrapping paper is prettier than the present itself. Starbucks' latest collaboration with ban.do happens to be both the present and the pretty wrapping, so you can have it all without the waste. Get ready for holiday shopping because Starbucks and ban.do have released another holiday collection. Needless to say, you'll want to bump this collection to the top of your wish list.
With peppermint taking over for pumpkin spice, there are plenty of hot drinks to fuel up on now through the new year. And because 'tis the season for dressing ~everything~ up, your coffee cup is getting a festive makeover. Starbucks and ban.do's holiday collection launches Nov. 27. And the launch is global. Participating stores in the US, Canada and Asia Pacific Starbucks stores, including participating locations in Australia, Cambodia, Indonesia, Singapore, Thailand, Taiwan and Vietnam, will carry the five-piece collection.
While you're picking up another round of Peppermint Mochas or Hot Chocolate, get some holiday shopping done. Or ~treat yourself`~ to an early present. The collection includes a traveler mug, a cold cup, a mug, pencil case and pencils. 'Tis the time to stock up. And with patterns this eye popping, you'll have a difficult time finding prettier paper. This collection is a stuff in stocking as is situation.
You might notice some holiday thematic colors in these cups, but you won't find anything ordinarily festive. The Starbucks and ban.do holiday collection is a unique and refreshing take on the season. What you won't find are reindeer or snowflakes. Instead, pink is involved and so are florals instead of pine wreaths. So, what inspired the red, green and ~pink~ collection?
Ban.do's creative director of art and design, Ali LaBelle, said in a press release, "It has become well-known that one of our favorite methods of finding inspiration is to go vintage shopping." She continued, "LA is known for its great flea markets, which are filled to the brim with incredible Christmas décor from the '50s and '60s! When designing for this collection, we were drawn to patterns that felt reminiscent of those patterns we see in vintage wrapping paper."
In turn, the collection becomes an exciting addition to any stocking. These gifts, with their inviting designs, can't be dated to a singular season. Carry the Starbucks and ban.do pink, red, and green traveler's mug from the snowy days of January through August and then back again. Plop down at your local Starbucks in May to study for a final with your Starbucks and ban.do pencils and then whip them out again in September without feeling like the person who never takes down their Christmas lights.
The holidays are all about fun, and so is ban.do. You might not have even known that you wanted a coffee mug until you saw this one sparkling in its sweetness on a Starbucks shelf. Turn up the holiday tunes and rock around your local Starbucks. Gift giving festivities have begun. And this year Starbucks is providing so much more than Peppermint Mochas thanks to their eye popping, prettier-than-wrapping-paper holiday collection with ban.do.