Here Are All The Seasonal Treats Hitting The Starbucks Menu This Fall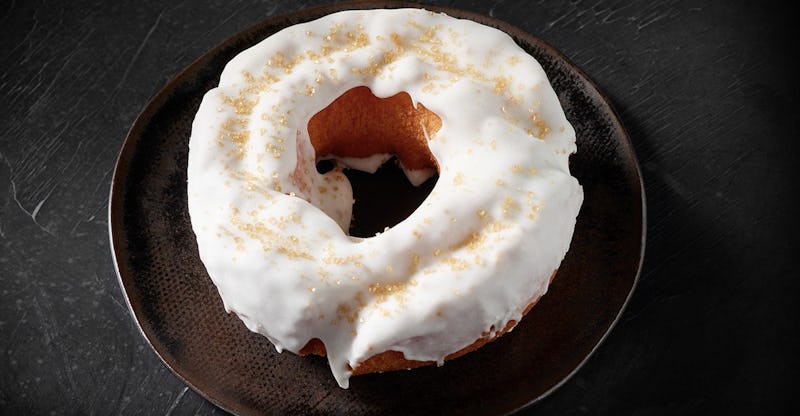 Starbucks
Now that the dust has settled on the annual earthquake caused by people rushing to Starbucks for their first Pumpkin Spice Latte of the season, we can appreciate that, though delicious, the PSL is far from the only blood sugar spike worth getting hype about this fall. Starbucks' seasonal baked goods also quietly dropped in the midst of the delicious chaos — and the flavors are, unsurprisingly, autumnal as heck. If you're a fan of pumpkin, almond, maple, or apple cider, now is your sweet tooth's time to shine.
First, friends, a moment of silence: it appears as though the Pumpkin Cheesecake Bar will not be returning to the Starbucks bakery menu this fall. But all pumpkin-shaped wounds heal with time, and if you were a fan, odds are something of the returning and new items will float your gourd.
The most buzzed about bakery item Starbucks recently released is the Apple Cider Doughnut, which is described on its website as a pastry "slathered with sweet vanilla icing and a dusting of turbinado sanding sugar for a lovely crunch". It looks similar in texture and construction to the Old-Fashioned Glazed Doughnut, a longtime underrated gem on the bakery menu. A recent review from Instagram account JunkBanter confirmed this, writing, "with a sweet vanilla icing and some sanding sugar, this more or less amounts to a glazed old fashioned cake donut of moderate quality."
Another new offering is the Maple Pecan Muffin, a combo of pecans and maple syrup "perfectly blended in this muffin to create this treat that is perfect for the cool days in Fall," according to Starbucks. It seems to be the fall equivalent of the Morning Muffin, which includes rolled oats, carrots, zucchini, coconut, raisins, walnuts, and pumpkin seeds.
Returning to the menu this year is fan favorite, the Pumpkin Scone. Although the Pumpkin Bread is a year-round offering to keep the pumpkin stans at bay, nothing quite compares to the glazed icing and crunch of one of these babies. Just like last year, it's a "spiced pumpkin scone with sweet vanilla icing & a pumpkin spice drizzle," according to Starbucks.
Also, although it isn't strictly seasonal, I feel it is my civic duty as a person of the internet to inform you that there is a cat-shaped cake pop at Starbucks now; it features vanilla cake with white chocolate icing, and according to Starbucks, "It's pretty much the cat's meow."
Anyway, you don't need me to tell you that all of these would pair perfectly with one Pumpkin Spice Latte — but perhaps you do need a gentle reminder that its frequently overshadowed fellow fall drink, the Salted Caramel Mocha, would also do quite nicely. In case it has previously escaped your notice, Starbucks describes it: "Mocha sauce and toffee nut syrup are combined with coffee and milk, then topped with sweetened whipped cream, caramel drizzle and a blend of turbinado sugar and sea salt."
Basically, whatever flavor of fall treat you plan on taking to the face this season, Starbucks has got you covered. In the meantime, RIP, Pumpkin Cheesecake Bar; gone, but never forgotten.