Starbucks Just Revealed Its 4 New Holiday Cups — And They Hit Stores TOMORROW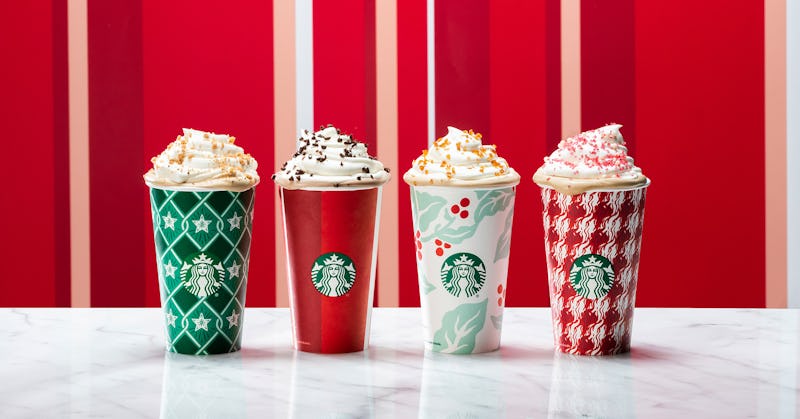 Starbucks
Halloween is over. RIP Halloween. Time to put away your spooks and scares and get out that holiday spirit. (It's in the closet next to where you keep your love of pumpkin spice for the better part of the year.) That's right, my highly caffeinated friends: the Starbucks holiday cups are back with four new festive designs that will keep your hands, hearts, and seasonal lattes nice and toasty.
Starbucks has revealed its four holiday cup designs, each inspired by words like "retro" and "nostalgic" and "is cute packaging the only thing that brings us joy anymore?" You won't have to wait long to sip your caffeinated nectar in the festive cups either: Friday, Nov. 2 marks the return of holiday cups and beverages and, thus, the start of winter. The calendar and change of the seasons are controlled by Starbucks now. It is science or capitalism or something but either way you will respect it accordingly.
Put on your coffee sleeves and gather 'round the espresso machine as we take a tour of the four new designs. Let's start with Stripes. She's light red. She's dark red. She has, as her name suggests, stripes. Lest you think the design boring and uninspired, Starbucks has a good reason for the Stripes design other than "because we wanted to and felt like it."
The design was actually inspired by Starbucks coffee fins, the sealed seam that runs along the back of each bag. "Starbucks has been adding a contrasting color along the fin as a design element for years, and the team found a way to bring that design element to center stage," a press release for the cups states. The colorful stripes include a bright red, a darker cranberry red, and a pale "rose gold." Ah, so Stripes is a millennial. That makes her perfect for whichever seasonal beverage upsets boomers the most. (Probably an old Pumpkin Spice Latte.)
Espresso Houndstooth is my favorite Downton Abbey character. It's also the name of the red and white pattern on the next holiday cup. This cup is the perfect container for your morning tea. So British!
Coffee is a fruit! Kind of. The next called design is called "Flora" and features red coffee cherries and light green leaves. It pairs perfectly with a soy latte and lying to yourself about how much fruit you're actually eating during the holiday season. (Does fruitcake count???)
Stargyle is the final holiday cup design, and she's a Christmas sweater, hun! This pattern features interlinking diamonds in classic Starbucks green. Is she the flashiest design? No, but she does have a pun in her name which deserves your love and attention. I'm not sure which drink Stargyle cups are best suited for but I do know they're meant to hold a latte of it.
...I'll see myself out.
With the return of holiday cups comes the arrival of six fan-favorite holiday beverages: Peppermint Mocha, Toasted White Chocolate Mocha, Caramel Brulee Latte, Chestnut Praline Latte, Gingerbread Latte and Egg Nog Latte. The Peppermint Mocha is coming back for the 16th year, which means our lil minty bb is old enough to drive a car, go through the Starbucks drive-thru, and get her very own Peppermint Mocha. These holiday beverages will also be available Nov. 2, the same day as the cups.
If you order a holiday drink on Friday, Nov. 2, you'll take home one of their limited-edition red reusable holiday cups for free. (Free! Christmas has come early!!!) Customers who purchase one of the holiday drinks, refilling their reusable cup, anytime after 2 p.m between Nov. 3 and Jan. 7 will also get $0.50 off their drink. All the more reason to stay festively caffeinated.