Starbucks & McDonald's Are Teaming Up To Develop A More Eco-Friendly Cup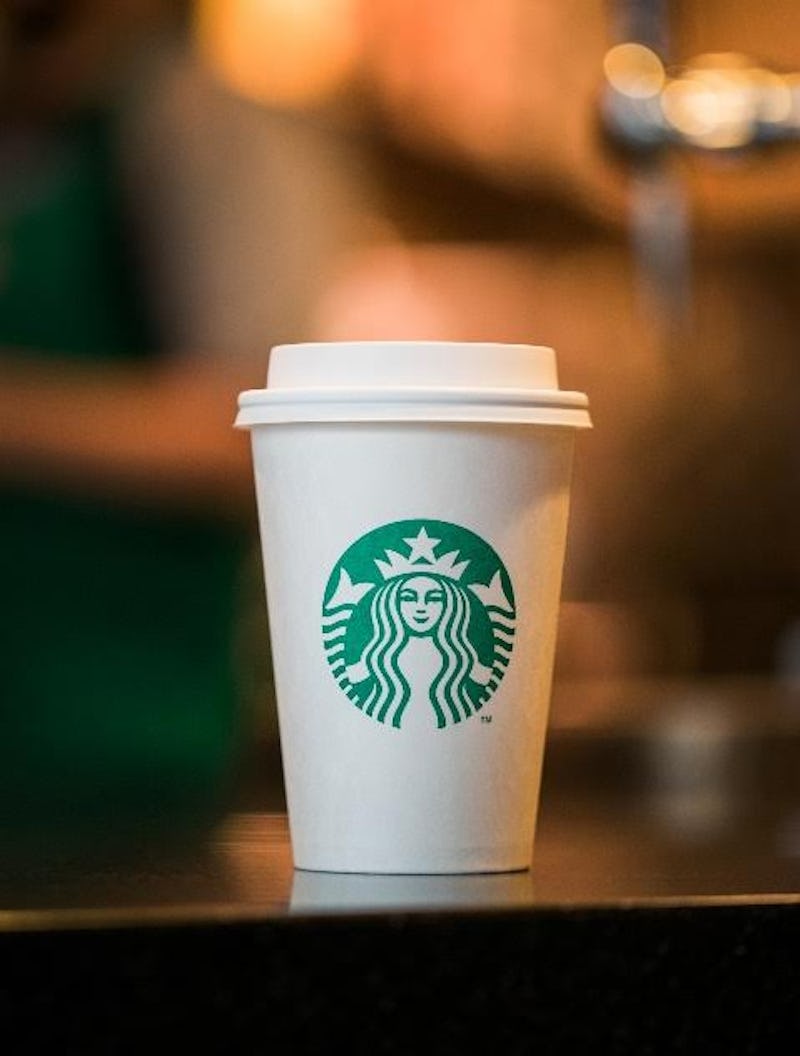 Courtesy of Starbucks
It's easy to drink your morning coffee and ditch the cup without considering the consequences, but those consequences can be dire. According to the International Coffee Organization, more than 600 billion paper and plastic cups are produced worldwide each year — and that's a hell of a lot of potential landfill waste. Now, Starbucks and McDonald's are teaming up for an initiative that takes aim at reducing global cup waste. A representative for the new partnership tells Bustle via email that Starbucks is heading up the NextGen Cup Consortium, which aims to dramatically slash waste via the development of compostable and fully recyclable cups. The consortium is working to revamp how single use plastics are produced and disposed of, and is developing "environmentally friendly single use hot and cold plastic cups." Other objectives for the program include incentivizing and encouraging reuse and recycling, minimizing the use of raw materials, and creating cups that folks would be able to compost.
According to a recent press release, McDonald's is committing $5 million towards the Closed Loop Partners sustainability project — bringing the contributed total up to 10 million dollars — and is joining forces with Starbucks to find real and lasting solutions for our global plastics crisis. Both companies recently vocalized their commitments to the development of more sustainable packaging, and this partnership further solidifies those efforts. The press release further states that the NextGen Cup Challenge launches in September 2018, and "invites innovators, entrepreneurs, industry experts, and recyclers to submit their ideas for the next generation of recyclable and/or compostable cups."
The press release states that the Closed Loop Challenge is open to anyone with a "promising solution," to global cup waste, and that awardees will receive up to one million dollars each in funding to develop their ideas. The press release also says that the primary goal of this challenge is to overhaul the production of "the fiber based hot and cold cup," and to develop and launch "a fully recyclable and/or compostable cup system in North America."
The release further states that Starbucks is not only committed to the development of more sustainable cup technology, but also aims to ensure that these efforts become the global industry standard moving forward. Andy Corlett, director of packaging R&D for Starbucks, said via the Starbucks press release that the new packaging solutions will be "open source", so that others can utilize and expand upon the development of more sustainable cup solutions, and that "Anything that gets us closer to that goal is not something we want to keep to ourselves." Corlett also noted that, "The idea of environmental sustainability in packaging is not just a Starbucks issue. It's a global issue, and also said that "We want to make sure this technology is available to everyone because it's the right thing to do."
In a press release sent to Bustle via email, Closed Loop Partners stated that the partnership had received over 1,000 inquiries from individuals and companies interested in participating in the challenge, which is super encouraging. Kate Daly, Executive Director of the Center for the Circular Economy at Closed Loop Partners, was quoted in the press release saying that the partners expect "some exciting and impactful proposals." Daly also said that the partners "are working with consortium members to build a robust shared set of technical, performance, environmental criteria that we will announce later this summer."
It's worth noting that the NextGen project also aims to improve upon cup components like lids and straws, but first things first — the partnership is initially focusing on the "fiber-based hot and cold cup, as this is the most significant challenge faced by the industry," the press release further notes. Following Starbucks' recent announcement that the coffee chain would phase out single-use plastic straws, its encouraging to see further commitment to eco-friendly changes in some of the most popular brands in the country.