Starbucks Just Expanded Its Secret Fancy Lunch Menu & You'll Be Obsessed With The Options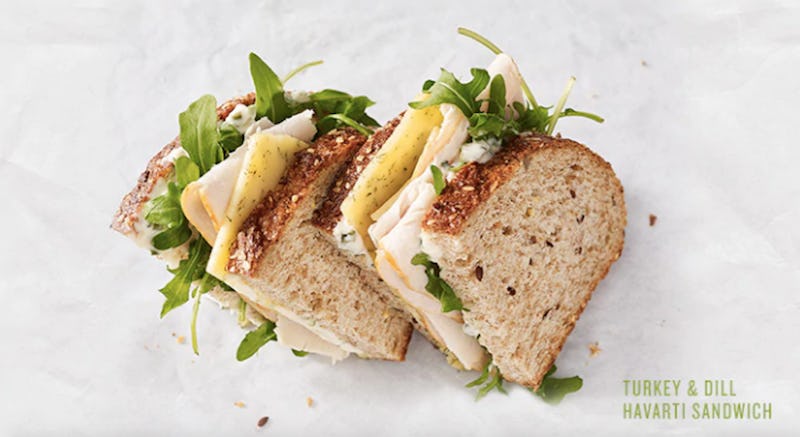 Starbucks
For years now, Starbucks has been a go-to spot for millions when it comes to much-needed coffee fixes, pastries, breakfast bites, and study sessions. Whether you're in a rush to get a Very Berry Hibiscus refresher and be on your way or plan to spend a couple hours on your laptop taking notes at a table, Starbucks is often the place to be. With its Mercato lunch menu, Starbucks has expanded its options tenfold, going beyond the pastry case to offer customers a variety of full meals — and the Starbucks' Mercato lunch options are coming to the East Coast.
Starbucks customers in Westchester, Queens, Long Island and Brooklyn, are among the first on the East Coast to see the Mercato lunch menu — which has already been available since 2017, in select locations — at their local cafes. There's something for everyone: grab-and-go salads, sandwiches, sides, layered fruit bowls, and more. All of the menu options are made fresh daily, and Starbucks commits itself to using "handpicked, natural ingredients" when it comes to dairy products, produce, and bread alike to ensure that customers can enjoy hearty, delicious meals. The Starbucks-developed Mercato lunch recipes are prepared in a local kitchen and delivered to locations daily for the hungry customers that await. Even better? All items on the Mercato menu are priced under $10 (selections vary by location).
The full Mercato lunch menu offers a pretty wide variety of options, like the Za'atar Chicken & Lemon Tahini Salad, Roasted Turkey & Dill Havarti Sandwich, and Grilled Chicken & Cauliflower Tabbouleh. They also offer classics like a Cubano Sandwich, Crispy Grilled Cheese Sandwich, and a summery melon salad. If you're feeling creative, you might go for the Almond Butter, Strawberries & Jam Sandwich, or Honey BBQ Sriracha Chicken Sandwich (this one looks really, really good). Just looking for a refreshing pick-me-up? Go for a Blueberry & Muesli Yogurt Bowl, Mango & Coconut Yogurt Bowl, Strawberry & Toasted Almonds Overnight Grains, or a Farmers' Market Protein Box (which includes salami, aged white Cheddar, fresh snap peas, apples, seeded crackers and almonds). I just ate and I'm hungry all over again.
You might be in a place where Mercato lunch items are already available, but you just haven't noticed — the menu is offered to customers at over 1,300 Starbucks locations in Seattle, Chicago, Sacramento, San Francisco, and Los Angeles (here's how to find out if it's available at one near you). Extra lunch food at the East Coast locations where the Mercato menu just debuted will be donated nightly to the Food Bank of New York City through Starbucks' FoodShare program. Each night, food that hasn't been sold at Starbucks locations is collected in refrigerated trucks and distributed to local food rescue organizations, like New York-based City Harvest. City Harvest CEO Jilly Stevens reports that the donations from the 45 participating locations in New York will translate into over 164,000 meals each year. When Starbucks expands its FoodShare program to 300 additional stores next year, food donations will annually create more than 1 million meals.
New Yorkers, if you find yourselves struggling to decide where to grab a quick lunch one afternoon, head over to your local Starbucks — the Mercato menu awaits.