The Surprising Ingredient In Starbucks' New Latté Will Leave You Shook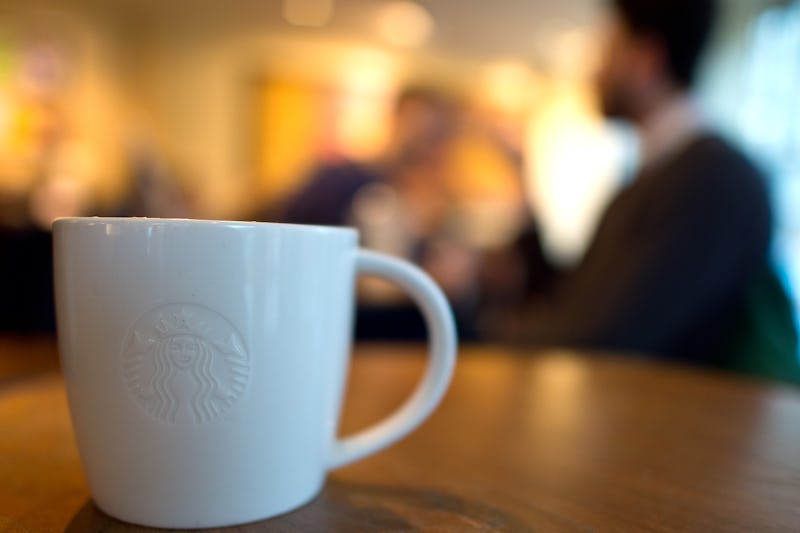 Ben Pruchnie/Getty Images News/Getty Images
You know what turmeric is right? That yellowish powder that tastes bitter, smells like ginger, and is mixed into lots of healthy drinks and foods? It's super anti-inflammatory, and super good for you to boot. That's why I was beyond excited to hear the news that Starbucks is serving a turmeric latte, but unfortunately, there's a catch.
C'mon guys, there's always a catch! It's either a limited availability, a limited location, or some strange condition. And in this case, it's only available across the pond: That's right, for now, the Turmeric Latte is only available in Starbucks locations in the United Kingdom. But honestly, keep your fingers crossed it makes it way over to the U.S. soon, because it sounds absolutely amazing.
Turmeric was named a breakout ingredient star in 2016 because of its potential health benefits (anti-inflammatory qualities, and antioxidant qualities), in addition to its powerful color and flavor. So it's not that surprising that Starbucks jumped on the trend. It's both healthy and aesthetically pleasing — and if there's anything we learned from the Spriulina and Sweet Potato color agents in the Unicorn Frappuccino, it's that Starbucks likes to test out health trends and play with colors. So turmeric is actually a very obvious choice. Plus, according to the press release from Starbucks themselves, the color of the turmeric makes for some epic instagrammable latte art. See the her in all her golden glory here:
To make the Turmeric Latte, baristas first make the classic golden milk recipe which is just turmeric powder dissolved in steamed milk. Then, they pour the spicy golden milk over espresso and it turns into this creamy, spicy, warming, energizing, perfect-for-fall drink.
To ease your devastation about the drink being available, but not to us, here's an idea: make yourself a cup of golden milk, with a twist! Go out and get yourself some powdered turmeric — something tells me you'll get a lot of use out of this. Then warm up some milk on the stove. Once the milk gets steamy, add a teaspoon of the powder into the milk and stir until dissolved. Add honey, vanilla and cinnamon to taste. You can sip it while it's hot, or wait for it to cool down a bit and drink it like a glass of milk. While it's caffeine free, it's good for you, and warming. It's the perfect hold over until you get your hands on Starbucks' gorgeous version.