The Starbucks Pumpkin Spice Latte Twitter Account Is Up To Something...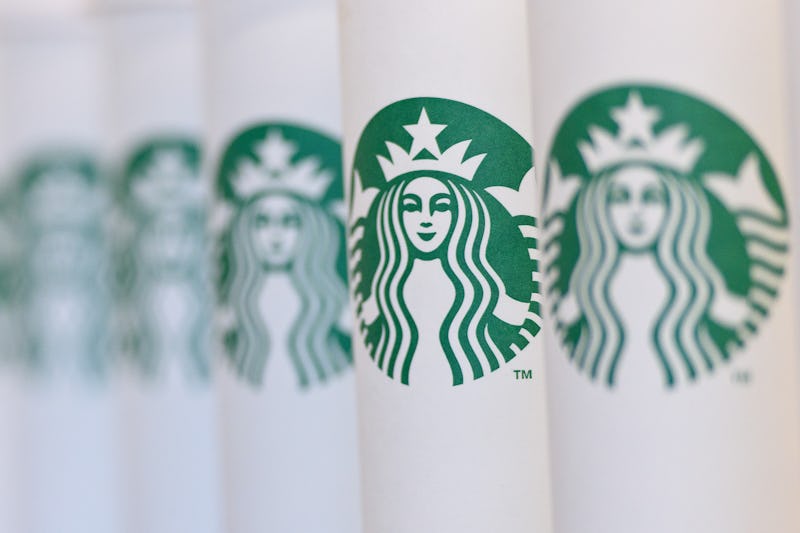 Ben Pruchnie/Getty Images News/Getty Images
Starbucks tends to be really cryptic about their new beverage releases, especially the ones we're most anticipating, like the Pumpkin Spice Latte. So when their official Pumpkin Spice Latté Twitter feed posted a not-so-cryptic announcement about something happening on Sept. 1, we all knew deep in our hearts that it's a sign that the PSL is going to be hitting the fall menu at Starbucks real soon. I know, I'm literally waiting with baited breath, too. I'm so ready for that pumpkin, and I'm so ready for that spice — I'm so ready for a change of season at Starbucks.
If you're one of those fall-avoiders who hates when people rush the end of the summer by talking about sweater weather, and black nail polish season, and spiced coffee drinks, I'm sorry but you're just going to have to come around to it. You cannot beat us pumpkin enthusiasts, so just join us already! With temperatures dropping, even Starbucks knows we're heading into an early fall, which is clearly why they're releasing our favorite fall drink in advance. Last year , the PSL came out officially on Sept. 6, making it the perfect tailend summer drink. I mean, it can be ordered on ice, after all!
TBH, I'd rather than a PSL over ice or blended with ice than wait another day for it. Sure it's a fall-themed drink but let's be real, it tastes good year round. Which is also probably why Starbucks has made so many PSL items available at grocery stores because, well, we want our fix when we want our fix!
But OK, back to the tweet in question: On Monday, the beloved PSL account posted this:
Using my advanced daytime TV crime show watching skills and learned sleuthing and decoding abilities, I think we can deduce that Starbucks is planning something huge for the return of the PSL. They clearly aren't ready to let the masses know, but they're letting PSL's biggest fans know — you know the people who love the drink enough to follow its personification on Twitter.
Mind you, this Twitter account has more than 110k followers, so that really says something about the PSL fandom. And the feed, which features a combination of PSL-related news updates and pictures of a PSL cup wearing glasses and doing fun seasonal things, gets thousands of retweets and likes on every post. The PSL has grown a rockstar following, so it would make sense for Starbucks to offer a hint about the re-release of the seasonal drink.