Starbucks Releases New Spring Pastel Cups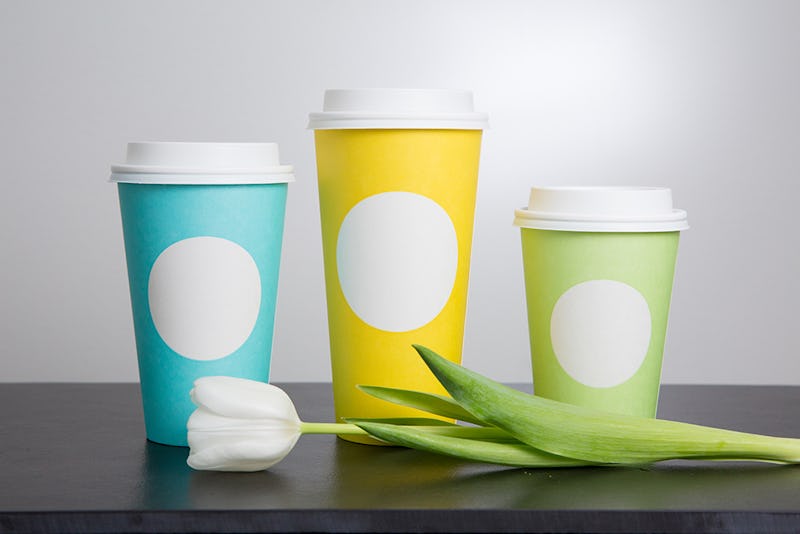 Starbucks
Get ready seasonal Starbucks cup fans, because I have some great news for you all. Brace yourselves: In 2017, Starbucks will officially release their first pastel-colored cups to kick off spring. The new Starbucks spring cup lineup will officially be released in stores across the U.S. and Canada on Mar. 16. This is the first time that Starbucks is offering a spring collection after 20 years of holiday cups, and occasionally even designs during the autumn and summer seasons.
The cups come in bright spring pastel colors: blue, green, and yellow. Each size cup — the tall, grande, and venti — gets their very own color. The cups simple colors and design not only feel refreshing and clean (because, you know, spring and stuff), but they also are the perfect palette for drawing and daydreaming with a sharpie after your morning cappuccino. And don't worry, other cups will also feature some hand drawings inspired by the season.
Along with these cups, Starbucks has released two new macchiato beverages for the Spring: the Coconutmilk Mocha Macchiato and the Cinnamon Almondmilk Macchiato. Both are served iced and hot (so you can take advantage of these gorgeous spring cups), and are perfect for basically every single Instagrammer alive.
According to the press release, the colors chosen for these bright cups were actually based on Pantone's spring 2017 trend reports. Surprisingly, the colors chosen for this trend report were based on spring 2017 designer collections seen in New York Fashion Week. So, not only are these colors bright and happy, but they will even match your outfit. Plus their minimal design makes for the perfect pop of color to your outfit if you love wearing simple and neutral tones.
So mark your calendars and grab your sharpies, because on Mar. 16 you'll finally be able to get your hands on one of these puppies, and can design it to your heart's content.