'States Of Undress' Highlights Fashion For Social Change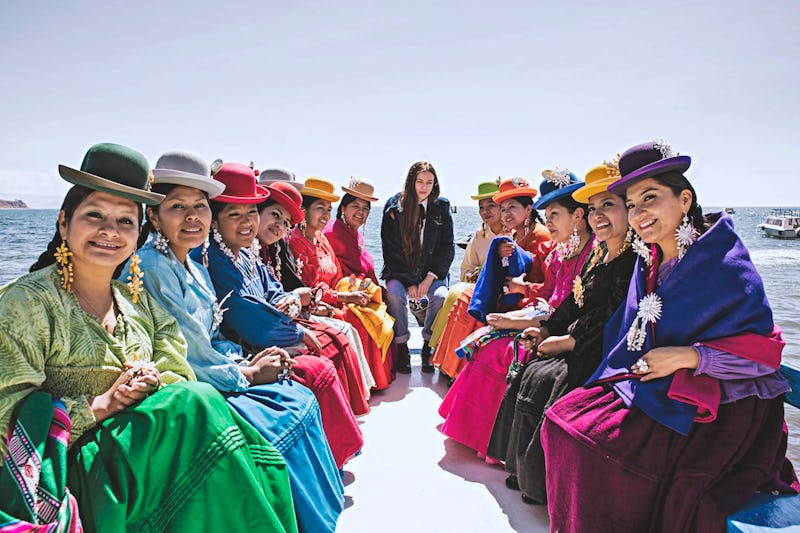 Courtesy of Viceland
As a form of self-expression and creativity, fashion can often contain messages that reflect political or cultural dissonance. Unfortunately, there's not a level playing field for designers of all races, genders, and class to put their vision out into the world. The fashion industry's glaring diversity problem still needs to be addressed in a big way, but the docuseries States Of Undress could have the impact of advancing that discussion. Fashion is more than just clothes, of course. But does fashion have the ability to change the world? The VICELAND series looks at the industry through a social justice lens.
Season 2 of States Of Undress once again provides journalist Hailey Gates with the opportunity to explore alternative — and overlooked — narratives within the fashion industry. The first two episodes of the season lead up to fashion shows with a distinct purpose. In the case of "Packing Heat in Heels," the purpose of the fashion show is to illustrate how many women are part of the concealed carry gun community. In "Clothing and Corruption in Liberia," organizers produce the "Fashion Week Liberia" exhibition to help female creators and designers establish themselves.
In recent years, fashion has moved past traditional runways and become a place for female entrepreneurs to establish representation for their communities. "Packing Heat In Heels" puts a spotlight on the male-dominated, gun accessory industry. The lack of feminine accessories available inspires the "Concealed Carry Fashion Show" where female designers showcase holsters, concealment leggings, and cross body bags.
In an interview with NPR, Carrie Lightfoot, CEO of The Well-Armed Woman, expressed the physical need for feminine gun accessories. Lightfoot said, "For example, a 32A bust could not conceal a Glock 19 very well — nor would a 42DD or a larger tummy allow for effective cross-draw carry." Products designed for men do not do the trick here.
And that's not the only gendered difference among concealed carry gun owners. According to Marie Claire's "Women and Guns" piece, "77% of gun-toting women said protection against strangers was a main reason they have a handgun."
When Gates sits down with her interview subjects in the States Of Undress premiere, she finds this to be true, but to be split among race and socioeconomic status. For most of the white women she speaks with, self-defense is a major factor in owning a gun, but ownership is also a social activity. However, when Gates asks African-American women in East Cleveland about their weapons, they claim that self-defense is a factor, but so are fears of police brutality, an increase in hate crimes, and potential neighborhood threats of drugs and gangs. The stark contrast between the two groups begins to dissipate when they come together to design accessories, model them, or just attend the fashion show.
The second episode of this new season highlights the disparities between race, gender, and class in Liberia. Designer Archel Bernard is featured in the episode, and prides herself on buying material from Liberian female street vendors and employing Liberian woman, who've been displaced from war and Ebola, to make her clothes.
According to a New York Times article on Bernard and her fashion line, the 2014 Liberian Ebola outbreak had a disastrous effect on most businesses. So the American-born Bernard closed the shop Mango Rags that she opened in her parents' home country to return to the United States. Just a few months later, Bernard returned and reopened the boutique as The Bombchel Factory. ("Ebola or no Ebola, I was ready to come back home," she told The New York Times.) Bernard's status as Americo-Liberian informs the link between her high fashion line and what she hopes to accomplish for Liberian women — namely, empowerment through expression.
In States Of Undress, "Fashion Week Liberia" event organizers, Serina Cooper and Vanette Tolbert also arrive in a postwar, post-Ebola Liberia. Although they make a point of using Liberian designers and models in the show, most of the participants for this ticketed event are upper and middle-class citizens. Though the organizers have a desire to contribute to Liberia's cultural scene, the event is forced to ignore the population it claims to represent. And an unexpected setback suggests that not everyone in the country is pleased that the show has been organized at all.
A myriad of challenges face individuals who are trying to change the industry and utilize its full cultural power. Yet, in mixing performance art, body transformation, and aesthetic, the fashion industry has the potential to break down prescribed structures of of race, class, and gender. Consumers may find that there is a power to purchasing fashion that makes a political or cultural statement. For example, this year's New York Fashion Week featured resistance-inspired designs, from items celebrating the Women's March to Christian Siriano's "People are People" tees. But it's still tough for people outside of a privileged demographic to break through in this field, regardless of good intentions.
According to an article in Business Of Fashion, out of a sample of 50 major fashion brands, only 14% are run by women. The New York Times reported in 2015 that only 12 of 470 members of the Council of Fashion Designers of America are African-American, and non-white designers are still the extreme minority at New York Fashion Week. And prospective designers of high economic status can open doors with connections and cash.
States Of Undress exposes the privilege of fashion with regards to gender, race, or socioeconomic status by adding a new layer of awareness to the influence fashion can have on the rest of the world. The storytelling aspect of the art form and the incorporation of designers' roots into their work could allow for increased representation, were it not for entrenched circumstances of established privilege.
States Of Undress Season 2 premieres on VICELAND on June 6, with an eye towards exploring the global impact and purpose of fashion — and how both of those may be changing for the better.