Jaina Lee Ortiz From 'Station 19' Wants People To Stop Slut Shaming Her Character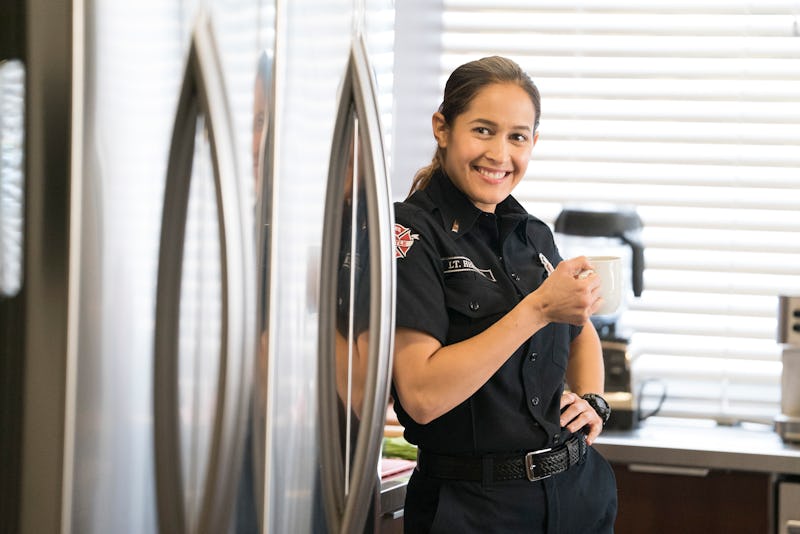 Eric McCandless / ABC
Being cast as the lead in a new Shondaland series could get to anyone's head, but Jaina Lee Ortiz, who plays Andy on Station 19, is still down-to-earth about starring in the Grey's Anatomy spin-off, which returns for Season 2 on Oct. 4. A former professional salsa dancer from the Bronx, Ortiz, 31, already had an impressive resume of kick-ass female characters before she took on Andy (she's been a marine on Shooter, a detective on Rosewood). And now she, tells Bustle, she feels responsible for breaking stereotypes about women in traditionally male fields like firefighting.
In Season 1, which premiered last spring, Ortiz's character, Andy Herrera grappled with balancing intense career pressure along with the added complications of love and sex. The tough, together, Type-A daughter of the fire chief, Andy spent her life in Station 19. Now a lieutenant, she wanted to step up to take her dad's place after his cancer diagnosis forced him into retirement. Ultimately, she wound up sharing the role with her sparring partner and semi-secret boyfriend, Jack Gibson, which definitely caused some TGIT drama. Season 2 will further explore how Andy balances her professional and personal lives, all while also having to prove herself in the field.
Understandably to anyone familiar with Shonda Rhimes' legacy, Ortiz agreed to Station 19 the minute she heard Rhimes' name, and has had zero regrets since. Ortiz tells Bustle that "being in Shondaland is a dream come true," in large part because of the complex roles for women available. Even her husband is feeling the magical lure that emanates from Rhimes's television empire. She adds, "My husband is a writer, and his goal is not to be like the next Aaron Sorkin — which is amazing, don't get me wrong — but he now aspires to be the next Shonda Rhimes and that's fantastic."
The physical stress of playing a firefighter is definitely arduous — she told Variety she had to pass the CPAT, which is a test of physical fitness all firefighters need to complete. But for Ortiz, an even bigger trial is reconciling the drama of making a TV show with the very real struggles that most female firefighters actually face in real life. And struggles she faces, too, as an actor in these roles.
She tells Bustle, "I feel like one of the biggest challenges for me is separating TV drama from reality. I know that we have to make the stakes higher [on TV], but I also want to pay respect to and show as much dignity as I can toward female firefighters. Because there's a lot of stigma toward female firefighters in general, and their role in the fire department. How they are discriminated against, and how they are treated unfairly."
Even Andy, Ortiz's onscreen counterpart, hasn't managed to totally escape that stigma during Season 1. Ortiz explained that she's had to field some criticism from those that think Andy isn't an "ideal" female character, especially when it comes to her sexuality.
"I remember someone tweeting like, 'Oh Andy's great, I love her character, she's so smart and tough and strong, but why do they make her look like such a slut?' And that hit me hard. I responded with 'For so many years, we have been programmed to think that men on screen can date as many women as they want and be the hot, sexy guy, but when a woman does it, she's a slut.'"
It's the kind of tired trope you'd hope was a thing of the past by 2018, (especially given that one little love triangle hardly seems to be pushing the envelope when it comes to sexy storylines) but it illustrates just how necessary it is to show realistic female characters like Andy on TV.
Ortiz adds, "For me, it's all about taking ownership and really being proud of the fact that I am playing a woman who is goal oriented and all about succeeding, but at the same time, she can do whatever she wants. If she wants to sleep with this guy then that means she has every right to, because she's an independent alpha female."
Ortiz now says she feels a sense of responsibility to keep bringing strong, well-developed female characters to life onscreen. "Now that I have established a reputation for playing these strong characters, I feel like it's my responsibility to continue to choose characters who represent those same qualities," she says. "I feel like in this political climate there's a stronger need to represent powerful women in this industry, and what better way than to play them on screen?"
Despite having one whole season of playing the lead in her own Shondaland show under her belt, Ortiz still doesn't feel like she can rest on her laurels — and probably never will. She says, "To be honest, [the success of her primetime show] still hasn't hit me. My parents, and my mom especially, keep me as grounded as possible, so I never think that I've 'made it' or like that's it, I've done it. So keeping that in mind, and reminding myself where I came from and how I started, it makes me feel super grateful and appreciative of this journey." After the (literally) explosive finale of Season 1, there's no doubt that Andy and Ortiz both have an exciting journey ahead of them.