Stephen Colbert Is A Familiar Kind Of Awards Host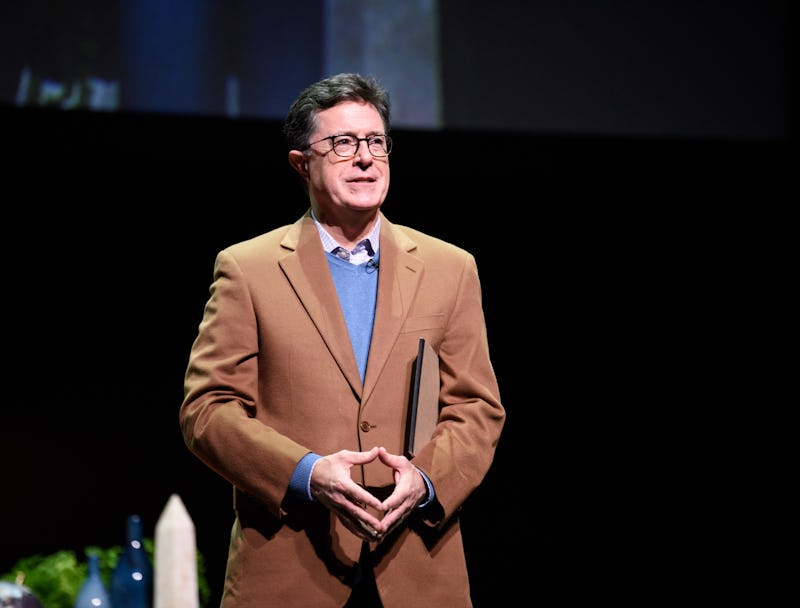 Dave Kotinsky/Getty Images Entertainment/Getty Images
Well, well, well, what do we have here? It would appear that another late night host has been tapped as awards show host for their network's big event. The latest in this trend is the CBS announcement that Stephen Colbert is hosting the 2017 Emmys in September. Depending on who you are and your subsequent worldview, it may be either a total surprise or not a surprise at all that another straight, white man is hosting an awards show. Heck, in just 2017, we've had Jimmy Fallon host the Golden Globes and Joel McHale host The People's Choice Awards. Jimmy Kimmel is due to host the Oscars in February. Colbert definitely fits right in lineup, however snooze-worthy it may be.
Listen, I get it: It's beneficial to the specific network airing an awards show to hire a host within the network's "family" of talent. In this case, CBS is airing the Emmys, so they would naturally source from within the CBS lineup. Colbert easily tops the list of candidates. But, another white guy? Really? When it would be just as easy to break with tradition this one crucial time and pick someone daring?
Even if you were to go the late night route, CBS could have called on Samantha Bee, Trevor Noah, or even Larry Wilmore. Outside of the late night possibilities, CBS could have brought on any number of female hosts or hosts of color (or both!). The Emmys are on Sept. 17; there's enough time to see that previous hosting patterns, replete with whiteness, needed to be broken.
Now, that's not to say that he won't do a thorough and excellent job with this hosting gig. Hello, it's Colbert we're talking about. Infamous political satirist, down-to-earth interviewer, kind-hearted nerd, Colbert has proven time and again he's just about the best darn guy for any hosting gig; the Emmys is all the better for having him. In a CBS press release announcing the Colbert-Emmy pairing, Television Academy chairman and CEO Hayma Washington stated, "We are thrilled that Stephen Colbert will be bringing his Emmy-winning comedic talent to hosting this year's Emmy Awards. He's a formidable showman and we are delighted to begin working with him and the entire CBS team."
I suppose if we must have another straight, white guy host, Colbert is the guy to do it. The Emmys will air in September, allowing plenty of time for Colbert to pull together an amazing opening monologue. Something tells me he may give a heavy dose of the political to his hosting gig; he's been unafraid when it comes to calling out President Trump on his late night show, so by the time September rolls around, chances are high even more horrifyingly hilarious things will have happened for Colbert to comment on.
No matter what, Colbert will surely bring his trademark fearlessness to the 2017 Emmys.