Stephen King Has TWO New Books Coming Out This Year & They Sound Shocking AF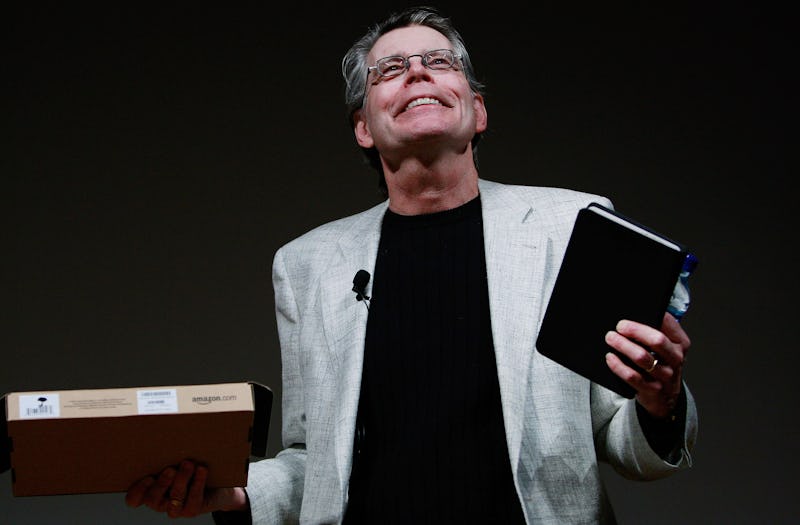 Mario Tama/Getty Images News/Getty Images
Last year alone, the Master of Horror released two new works, including the #1 New York Times bestseller Sleeping Beauty, had four of his books adapted into movies, and another two novels transformed into television shows. Just when you thought the mega bestselling author couldn't fit anything else on his plate, Stephen King announced he has not one but two books coming out in 2018, and fans are going to want to make sure they have room on their shelves for both of these titillating titles.
At 70 years old, Stephen King doesn't seem to be slowing down or thinking about retiring his title of Master of Horror, at least not anytime soon. Previously, the Carrie author announced he would be releasing The Outsider, a new horror-suspense novel, in May 2018. Now, he is giving fans another reason to get excited for this year in books by sharing his plans to release a second, brand new title this year called Elevation.
A short but eerie novella, Elevation, which is slated to hit shelves in October, is set in King's now-famous small town of Castle Rock, Maine. It tells the story of Scott Carey, who finds himself struggling with a mysterious illness that has bizarre effects on his body. Although it doesn't look like it on the outside, Scott is rapidly losing weight, but that isn't the only strange thing: the scale registers him at the same weight, whether his clothes are on or off. While he struggles to understand the odd phenomenon with the help of his trusted doctor, Scott is also forced to confront his own misguided beliefs about his lesbian neighbors who become the victims of their small town's prejudices.
A book that the publisher is calling a "timely, upbeat tale about finding common ground despite deep-rooted differences," Elevation is sure to be another satisfying read from the master storyteller, even if it isn't as terrifying — or as long — as his usual horror epics.
For King fans craving his more traditional narratives, The Outsider is slated to hit shelves in May, five months before Elevation. A lengthy novel coming in at just under 600 pages, it tells the story of Terry Maitland, a beloved coach and teacher whose entire life is turned upside down when his fingerprints are discovered on the violated corpse of an eleven-year-old boy. No one in Flint City can believe one of their most popular residents could commit such a heinous crime, least of all Terry's wife or two daughters, but all the evidence — DNA, fingerprints, and even witnesses — points in his direction. Is Terry a "nice guy" with a dark side, or is he being blamed for the crimes of another? Like the best King stories, The Outsider promises readers are promised a shocking ending.
The Outsider by Stephen King, $15, Amazon
There may still be several months before either of these new books are released, but there is plenty of Stephen King content to keep fans occupied in the meantime. On Netflix alone, there are seven adaptations to watch, including The Mist, 1922, and Gerald's Game, all Netflix originals. The most recent adaptation of It, starring everyone's favorite Stranger Things nerd Finn Wolfhard, has also been released on DVD. If you missed seeing Pennywise on the big screen, now is your chance to scream in the comfort of your own home.
Later this summer, King superfans can finally feast their eyes on Castle Rock, the J.J. Abrams-helmed Hulu original all about the fictional town in Maine where many stories, including the upcoming Elevation, takes place. Will viewers get a peek at Scott Carey's character on screen before they meet him in the pages of King's new novella? Only time will tell, but one thing is for certain: if you are a Stephen King fan, 2018 is going to be a great year for you.