Hulu's 'Castle Rock' Is Your Next Horror Obsession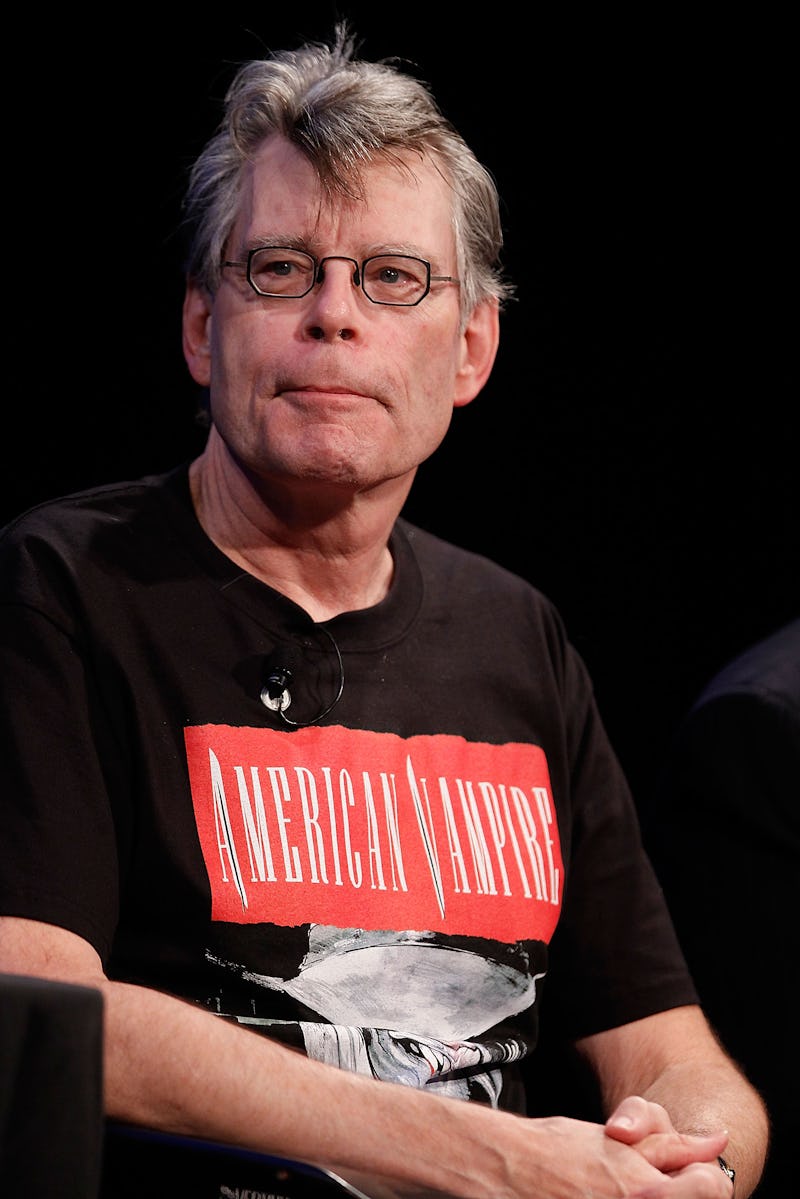 Joe Kohen/Getty Images Entertainment/Getty Images
TV's booming horror genre is about to get a new entry from the master of all things that go bump in the night and the king of mystery. On Friday, Stephen King and J.J. Abrams announced their new series Castle Rock, set to stream on Hulu sometime in the near future. In true Abrams and King fashion, the project is shrouded in mystery, appearing seemingly out of nowhere with a spooky teaser full of references to King classics like Misery, IT, The Shining, and Shawshank Redemption. Red lines snake across a map as dialogue from the famous film adaptations is heard. Ultimately, everything leads back to one town in Maine: Castle Rock. But what is Castle Rock? The nature of the series is a complete unknown.
Fans of King's work will know the fictional town of Castle Rock has served as home base for many of the author's tales of terror. Cujo, The Dead Zone, Needful Things, and a host of short stories all take place there. The town even pops up in stories set in other places — the town of Chester's Mill from Under the Dome is said to be nearby, and it is name-checked in everything from IT to 11/22/63 (another King/Hulu collaboration).
While information on what the Hulu series will actually be about is nonexistent at this point, I feel confident in saying it will be uniquely designed to terrify viewers. After all, King himself tweeted:
JJAbrams and I want to invite you to take a trip to Castle Rock. Soon. Be afraid.
The only other hint offered up came from Abrams' production company Bad Robot. On Twitter, they released an image asking, "What is the hoax in the forest?" The tweet included a link to the official teaser, but it offers no explanation about what "the hoax in the forest" could possibly be. My guess? It is a hint about the plot.
Anthology series chronicling a different event each season are huge right now, thanks in large part to Ryan Murphy's American Horror Story, American Crime Story, and Feud franchises. Perhaps, Castle Rock will use each season to tackle a different King story, pulling in characters from past seasons all centered around the town's penchant for attracting dark events. But that does not answer the question of what the hoax in the forest actually is, unfortunately.
Over the years, King has ventured into forests to explore the dark unknown within, most notably in The Girl Who Loved Tom Gordon, about a young girl lost in the woods who uses her wits and love of a baseball player to survive a series of supernatural events. Of course, there is always a chance Castle Rock will be a brand new story from the author. When I hear the phrase, "the hoax in the forest," I can't help but be reminded of 2016's clown epidemic. Having King put his spin on the strange hysteria that gripped America with his own story of creepy things lurking in the forest would definitely make for an amazing TV event.
One thing fans of both King and Abrams can be sure of is Castle Rock will keep them up at night, no matter when it arrives on Hulu or what it is ultimately revealed to be about.