Steve Bannon Is Mocking Ivanka For Condemning Child Molestation Now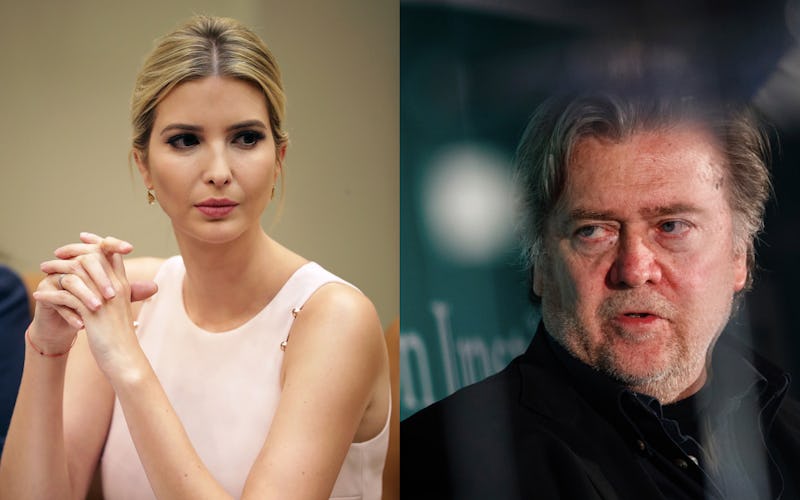 Chip Somodevilla; Drew Angerer/Getty Images News/Getty Images
During a final rally for Roy Moore on Monday night, Steve Bannon appeared to criticize Ivanka Trump in a thinly-veiled swipe at Republicans who revoked their support for the Republican candidate in Alabama's special election. "There's a special place in hell for Republicans who should know better," Bannon said, echoing Trump's remark about Moore, who has been accused by multiple women of sexually assaulting them when they were teenage girls. (Moore has denied all the allegations.)
In an interview with the Associated Press in November, the first daughter was asked for her thoughts about Moore and the allegations; Trump responded:
There's a special place in hell for people who prey on children. I've yet to see a valid explanation and I have no reason to doubt the victims' accounts.
Bannon, the White House chief strategist until August, made an apparent reference to the first daughter's comment about Moore in his speech on Monday. "There's a special place in hell..." Bannon said, pausing while the crowd cheered, "...for Republicans who should know better." Bannon also called out Senate Majority Leader Mitch McConnell and other Republican leaders who have criticized Moore over the allegations.
Supporters of Moore's opponent, Democrat Doug Jones, have used Trump's words to campaign against him. Last week, a group of activists parked outside of a Moore rally with a truck that blasted audio of her interview and displayed a billboard inscribed with her words.
In early November, The Washington Post published a bombshell article detailing the story of Leigh Corfman, who claimed that Moore assaulted her in 1979 when she was 14 years old and he in his 30s. Moore allegedly undressed Corfman, groped her, and made her touch him. In addition to Corfman, several other women have now accused Moore of initiating inappropriate sexual encounters when they were teenage girls.
A New Yorker investigation revealed that Moore was reportedly banned from a local mall sometime in the '70s and '80s after being known for preying on young girls there. Moore has denied all allegations of sexual misconduct, calling them "completely false" and saying that he does not know any of the women who have accused him.
Like the first daughter, Senate Majority Leader McConnell has said that he believes the claims of Moore's accusers. "I believe the women, yes," he said in November, even adding, "I think he should step aside." McConnell has since walked back that statement — notably, after President Trump expressed support for Moore — saying earlier in December, "At this point, we're just going to let the people of Alabama make their decision."
Throughout the barrage of accusations, Bannon has consistently been one of Moore's most vocal supporters. In fact, he's been among the strongest voices attempting to discredit Moore's alleged victims. Reporters at Breitbart — where Bannon is the executive chairman — have been sent to Alabama to discredit the initial Post article about the allegations. He had his reporters appear on Alabama talk radio shows to spout the same narrative, Bloomberg reported.
And his work seems to have paid off — a poll in early December found that most Alabama Republicans do not believe that Moore assaulted those women. Moore polled behind Jones in the immediate aftermath of their accusations, but has crept back up into the lead since then.
Alabama's special election will take place on Tuesday evening. Although recent polls have indicated that Moore has a slight edge over Jones, special election results are even harder to predict than normal election results. Both candidates have a good chance of winning.
Polls will close at 8 p.m. ET and most results will be in by 11 p.m. ET. If you'd like to watch the results roll in, here's how to do it.