Steve Irwin's Son Loves Animals As Much As His Dad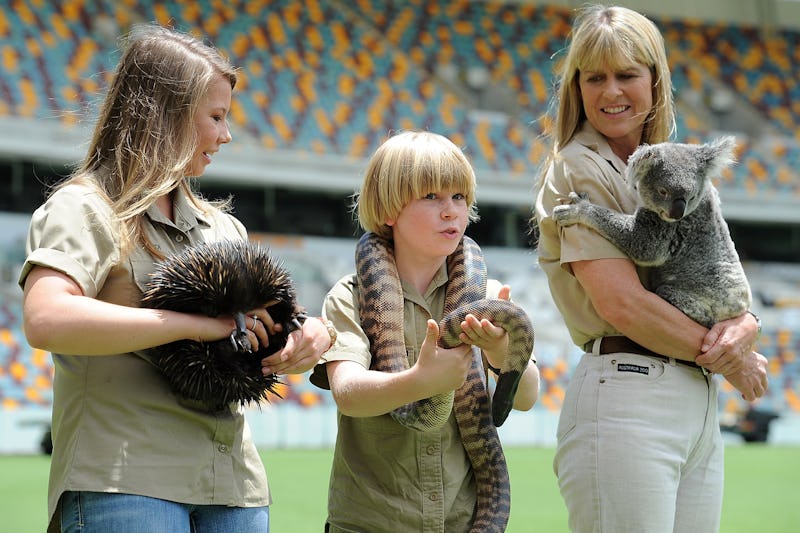 Matt Roberts/Getty Images Sport/Getty Images
Anyone who grew up watching the Animal Planet probably remembers seeing Steve Irwin and his hit show, The Crocodile Hunter. The goofy, Australian nature expert was a television staple, bringing the wild creatures of the outback into people's homes. The show was so important for environmentalists and conservationists, as it brought the power of nature to the public. The reverence and fearlessness with which Irwin and his wife Terri, also a naturalist, approached the natural world was unparalleled on television, and they brought that enthusiasm to the big screen. Steve Irwin passed away in 2006, but his children are carrying the nature-loving torch. Robert Irwin, Steve Irwin's son, appeared on The Tonight Show With Jimmy Fallon on Thursday night and brought some creatures with him. Irwin's son showed Fallon, and the world, that his father's love of animals is alive and well.
Robert Irwin appeared on Jimmy Fallon's show to talk about the Steve Irwin Gala in L.A., but also got to educate the show host out with a variety of reptiles and a couple of silly sloths. The resemblance between Steve Irwin's enthusiasm for the natural world and his son is striking, and even his sister Bindi was moved by the similarity. She was on set for the TV appearance, and Instagrammed this pic following the show:
Bindi captioned the pic: "Tears in my eyes. So proud of @robertirwinphotography. You are more and more like Dad everyday. I'm forever thankful to be your sister." The bottom still shows Steve Irwin on Jay Leno, where he famously brought a boa to freak the host out. Fallon's reptile freak-out face would surely have made Robert's father proud. The whole segment is available to watch online, and if you too are afraid of reptilian critters, there is some sloth cuddling at the end.
In the interview, Robert Irwin acknowledged how inspiring his father's story is to him, and how amazing it was to be appearing on the show. "My dad was actually on the Tonight Show quite a while ago," Robert told Fallon, "So it feels really nice to be able to follow in his footsteps." Much like his father, Robert genuinely loves animals and life at the zoo. "I actually grew up at Australia Zoo, so I think I'm the luckiest kid on planet earth."
Robert and his sister Bindi grew up in and around Australian zoos, and have already continued their father's considerable conservation efforts. The Irwin family actually owns Australia Zoo, which the family totally reinvigorated, and Bindi also took over the wildlife charity Wildlife Warriors. Robert already has his own show on Discovery Kids in Australia called Wild But True, and seems to want to be exactly like his dad. Both kids regularly post to their Instagrams, and some of the animals they work with are truly majestic.
Here is Bindi just having a casual hang with Rhinoceros. Many of the animals at the Australian zoo can be found in the Irwin kids Insta-pics, including some Kangaroos and a variety of colorful birds.
Instagram is just one way that Irwin's children are bringing a love of animals to the world. Robert Irwin will continue to honor his father at the gala in his honor in L.A. on May 13th, where he and his sister will raise money for Wildlife Warriors. Steve Irwin's shows and conservation work brought joy to viewers, zoo-goers, and animals alike. His passing was a great loss for nature-lovers everywhere, and it is moving to see his kids carrying on the Irwin legacy. Hopefully they will appear on television, sloths in tow, again soon.