'Making A Murderer' Shows How Steven Avery's Case Has Torn His Family Apart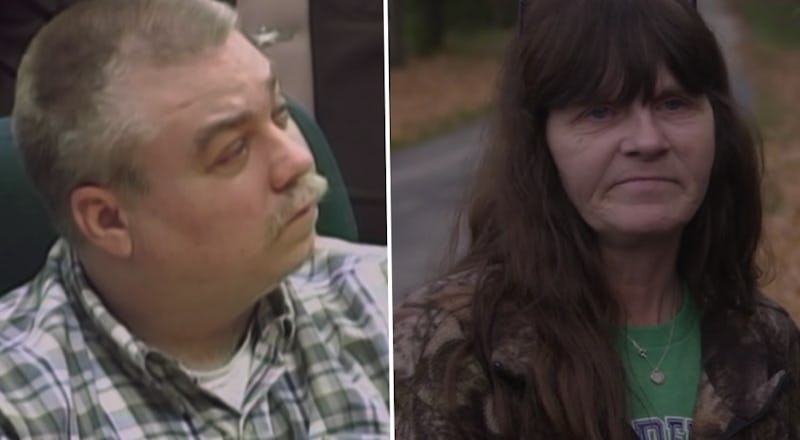 Netflix
Steven Avery is doing everything he can to get out of prison — and that's included throwing some family members under the bus. Avery was convicted in 2007 of Teresa Halbach's 2005 murder and sentenced to life in prison per the Appleton Post-Crescent. But he has always claimed to be innocent, and has been fighting for 11 years to get his conviction overturned. Part of that process has led to him and his lawyers naming alternate suspects, and so, in that way, the Making a Murderer case has taken the Avery and Dassey families and torn them apart.
As seen in Part 2 of Making a Murderer, Avery's lawyer Kathleen Zellner was permitted to introduce new suspects in the case, as long as they followed the precedent set by the 1984 case of State v. Denny. As Bustle reported, that precedent restricts who's allowed to be named a suspect. They need to have motive, opportunity, be connected to the crime via evidence, and been nearby the crime scene when the crime was committed.
Since Avery's property (the alleged crime scene) borders his sister Barb Tadych's, Zellner has targeted two of Tadych's family members as part of her Denny suspect list. According to Rolling Stone, Zellner alleged in a motion she filed that Barb Tadych's son Bobby Dassey and her husband Scott Tadych were allegedly nearby the location of Halbach's last recorded cellphone activity. Zellner also alleged that she had evidence that Barb's family computer had allegedly made graphic searches related to young women and death during a time when allegedly only Dassey was home. Zellner further claimed that Dassey allegedly lied in his initial trial testimony allegedly to cover up for himself.
As seen in the first season, Dassey said at trial that he'd seen Halbach walk towards Avery's house. But Dassey's brother Bryan later claimed that Dassey had told Bryan he'd seen Halbach leave the property.
Furthermore, Barb later wrote on Facebook that she'd allegedly spoken to Dassey who allegedly claimed to only have seen Halbach's car pull in before he left to go hunting with Scott and that he'd allegedly never seen Halbach walk towards Avery's house.
Scott has never been charged with anything in the case. Per the first part of the series, Scott's alibi is his stepson, Bobby Dassey. According to The Daily Beast, both men claim they saw each other while driving on their way to hunt. Tadych did not return Bustle's request for comment
Bobby Dassey was never suspected by law enforcement in the 2005 crime. Bustle's request for comment from Bobby Dassey's mother, Barb Tadych, about the ongoing case and his inclusion in the Netflix documentary was not immediately returned. However, Dassey did speak to law enforcement in 2017, a conversation featured in Part 2 of the docuseries, where he denied Zellner's accusations.
"Everything I told [during the testimony] was true. I had, I have no reason to lie," he said. "I'm at to the point where, you know, Zellner can blame me all she wants. Deep down inside, I know I didn't do it ... that's the only way I can keep going on every day, is 'cause I know I didn't do it." He then added that "It sucks that people are trying to pin it on me ... the one thing I want is for my name to be cleared."
When Zellner filed the motion that named Dassey and Scott, Barb called Avery in a rage. That conversation aired during the second part of Making a Murderer, and illustrated how difficult the case has been for both families.
"What the f*ck is going on? Why is [Zellner] starting up with Scott and Bobby again? ... She's gonna take down my f*cking family again," Barb said to Avery on the phone. Avery countered that he wasn't sure what the evidence would turn up or who it would point to, just that it wasn't himself who committed the crime — as he's long claimed. Barb snapped back that it wasn't Dassey or Scott either. "So [Zellner] better get it right out of her f*cking mind," Barb said.
Avery then asked about the alleged computer searches, and Barb denied even having internet at the time. Avery claimed she did and "the only time it was on is when Bobby was there alone ... I just want to get down to the truth and see who did it." Barb replied that she also wanted to get to the truth, "but you should know f*cking better that it wouldn't be my f*cking kids ... or Scott."
That's when Scott, who was listening in, started loudly yelling at Avery in an attempt to defend Dassey and himself. "F*ck Steven Avery. He is a piece of sh*t, he's been all his f*cking life," Scott said. "The only evidence they got is against him and he's trying to gasp for air and blame it on somebody else. He's a f*cking loser. I wasn't even on that property that day, you godd*mn idiot."
Scott then threatened that if Avery ever did get out, Scott would "kick [his] f*cking a**." The phone call ended when Barb's son called on the other line, but not before Scott accused Avery of ruining his life and shouting, "I hate him!" Meanwhile, Barb could be heard crying, saying, "This needs to stop now ... like I said, you will end up with a dead sister because I can't take this sh*t no more."
So, yeah, the Tadych/Dassey family didn't take well to Avery's lawyer turning up every stone she could in an attempt to get Avery's conviction overturned. And Avery, desperate for her to succeed, just needed the evidence to point to anyone but himself. But it caught two families in the crosshairs of the legal system, and nobody wins when that happens.