Why You Need To Know What A Denny Suspect Is Before Watching 'Making A Murderer' Part 2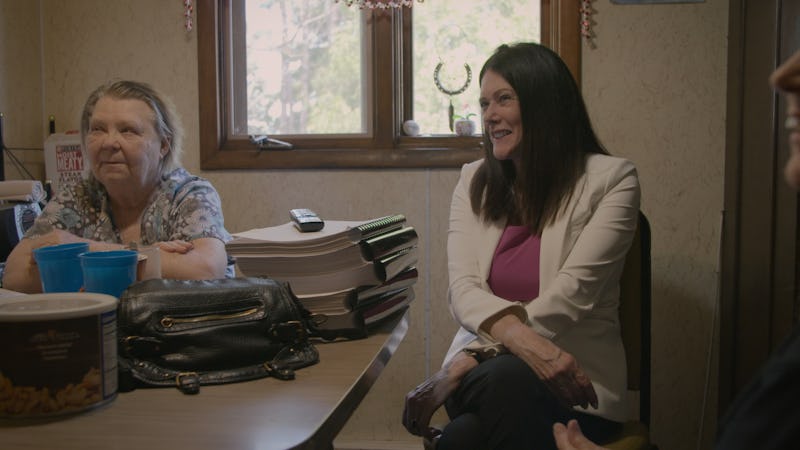 Netflix
Spoilers ahead for Making A Murderer Part 2. One doesn't need to have a comprehensive understanding of the criminal justice system to enjoy Making A Murderer, but it certainly helps. In Episode 5 of Making A Murderer Part 2, Steven Avery's current defense attorney, Kathleen Zellner, begins her search for a Denny suspect — something she believes will be key in her quest to get Avery exonerated. (Avery was convicted for the 2005 murder of Teresa Halbach, but has firmly maintained his innocence). Those unfamiliar with the intricacies of Wisconsin law, however, will likely be wondering what the heck that means.
After Zellner takes Avery's case, one of the first things she does is start looking for other potential suspects. In order to present these suspects in court, they must meet a precedent set by 1984 case State v. Denny. The ruling states that "as long as motive and opportunity have been shown and as long as there is also some evidence to directly connect a third person to the crime charged which is not remote in time, place or circumstances, the evidence should be admissible." The ruling continues, "where it is shown that a third person not only had the motive and opportunity to commit the crime but also was placed in such proximity to the crime as to show he may have been the guilty party, the evidence would be admissible."
In short, State v. Denny mandates that the defense in any trial cannot suggest other suspects for the crime the defendant is accused of without being able to support that accusation with a possible motive from the new suspect, a proven opportunity for the suspect to commit that crime, and the ability to place them within proximity to the crime scene. So, if Zellner wants to introduce a new suspect and can find someone with a motive, but not opportunity, then they do not meet the Denny standard. The same goes for a suspect with opportunity, but no motive or proximity to the crime scene.
According to Rolling Stone, Zellner filed a motion in July suggesting Bobby Dassey, Avery's nephew, as a suspect. It's important to note, however, Bobby was never suspected by law enforcement in Halbach's murder, and Bustle's request for comment from Bobby's mother, Barb Tadych, about the ongoing case and his inclusion in the Netflix documentary was not immediately returned.
Per Rolling Stone's report, Zellner claimed in the motion that new CD evidence, which was not shown to to Avery's defense team in his 2007 trial, allegedly includes images depicting sexual violence found on Brendan Dassey's computer. (Brendan, Bobby's brother, was convicted in connection to Halbach's murder and sentenced to life in prison, but has long maintained his innocence). Also according to Rolling Stone, a computer forensics expert reportedly signed an affidavit claiming that most of these alleged images were accessed at a time where only Bobby would have been able to access Brendan's computer. Rolling Stone reported in the same piece that Zellner planned to use the CD evidence to argue that Bobby has an interest in sexual violence and that this alleged pre-existing interest could serve as a motive for killing Halbach.
With all that said, as NBC reported in September that Avery was denied a new trial based on this CD evidence, it seems as though she'll have to look for a new potential Denny suspect.