The 'West Side Story' Remake Is Moving Forward & Fans Don't Know How To Feel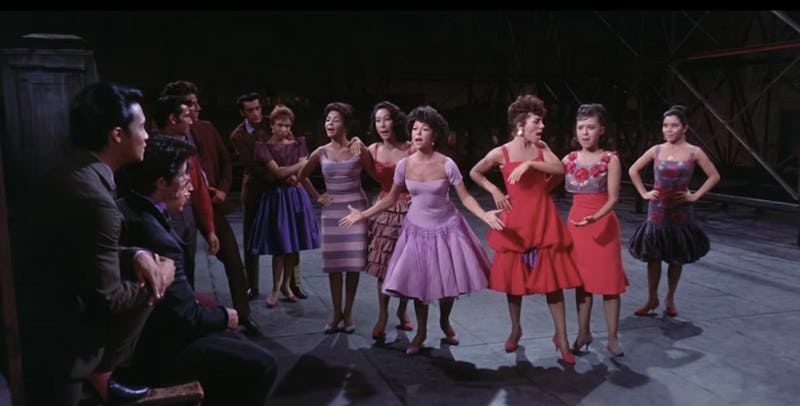 YouTube/United Artists
It's the era of remakes, and fans are beginning to question which classics should be modernized and which should be left alone in their iconic glory. Well, director Steven Spielberg released a West Wide Story casting call in search of fresh new actors for his upcoming remake of the 1961 classic musical. No one can deny that the approach to this casting is refreshing, unique, and a special nod to theater. But should West Side Story be remade over 50 years later? That's where fans are split.
According to Entertainment Weekly, most details about West Side Story are being kept under wraps. Spielberg will obviously be at the helm while Lincoln and Munich screenwriter Tony Kushner will write the film. The casting call seeks singing and dancing skills and also elevates the original film by calling for Latinx actors to play Latinx characters Maria, Anita, and Bernardo (who were originally played by Russian and Ukrainian Natalie Woods, Puerto Rican Rita Moreno, and Greek George Chakiris, respectively) and a white male for Tony (played by Richard Beymer). Thus, the remake cast seems poised to highlight the racial tensions between the Jets and the Sharks that was depicted in the original, with actors of color playing all the characters of color.
While EW points out that Speilberg hasn't directed a musical (the closest he came to it was Temple of Doom's "Anything Goes" opening sequence), he's talked about wanting to for the last three decades.
So fans aren't necessarily questioning the iconic director's capabilities or the casting call itself, but whether or not West Side Story should be touched at all even with the potential for a cast this good.
Some Fans Can't Wait
West Side Story adapted for a new and modern generation? Yes, please. It's not hard to understand why fans would be expected about the idea. The beloved 1961 movie was made in, well, 1961 — which is a long time, considering how eager Hollywood is to make a remake out of anything and everything. We've had Ghostbusters, we're about to have Ocean's 8, and Spider-Man is always getting a reboot every few years or so. Considering the success of musical movies like La La Land, Into The Woods, and The Greatest Showman, it's really a wonder it took this long for the West Side Story remake to move forward. Besides which, the recent lack of Latinx representation in the 2018 Oscar nominations makes it clear that movies like West Side Story are very much needed to turn the Academy's head.
But Others Are A Bit More Skeptical
No matter how awesome the cast, these fans are unwilling to even consider a remake. After all, the original West Side Story set an incredibly high bar for the remake to beat, especially when it comes to the choreography. And, anyway, does everything need a remake? The modern generation can watch an older movie just as easily as they can watch a watered down modern version of it. (After all, despite the emphasis on cyber bullying, Chloe Grace Moretz's Carrie remake has got nothing on the Sissy Spacek version.) West Side Story might be one of those films that should just be left alone.
The fact of the matter is, when it comes to a beloved film like this one, of course fans are going to be unable to make a decision about whether or not they're excited about the movie. But at least we can generally agree that the casting is going to be lit, because it's the earliest and easiest way that the remake has the potential to be better than the original. At least in terms of good representation, something that's still very much needed in Hollywood.