Stormy Daniels' Lawyer Is Teasing More Explosive New Claims About President Trump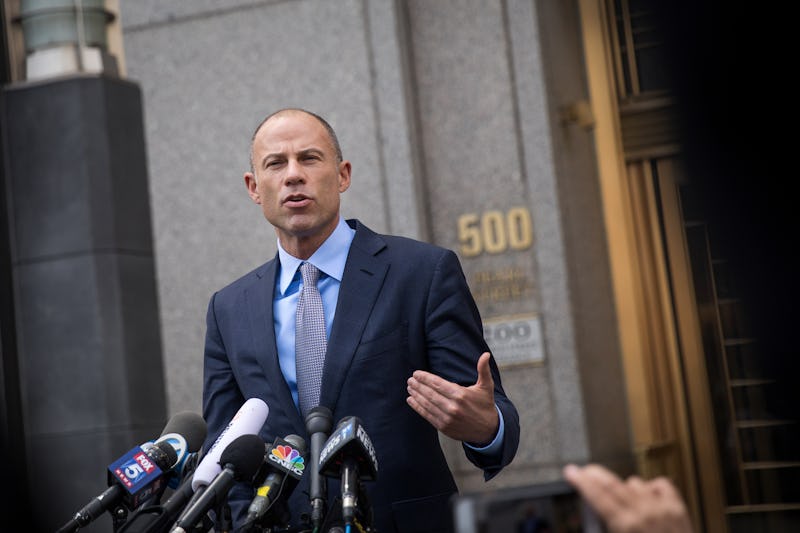 Drew Angerer/Getty Images News/Getty Images
Stormy Daniels' lawyer made yet another dramatic claim on TV on Thursday. Speaking on MSNBC's Morning Joe, Michael Avenatti alleged Trump had more affairs with women who signed nondisclosure agreements. These are relationships that haven't yet been made public, he claimed, but two of them will be revealed soon.
"There's at least two that I think are on solid ground," he told Morning Joe. "As the evidence rolls out in the coming months, disclosures are going to be made that my client was not alone as it relates to these payments."
Trump has denied any and all allegations of extramarital affairs, and Avenatti is known for making explosive claims about Trump before their accuracy has been verified. But this isn't the first time he's alleged that Daniels, along with former Playboy model Karen McDougal, are only two of many women with whom Trump has had illicit flings.
In the middle of March, Avenatti claimed he had spoken to six women who had comparable stories. At the time, he declined to comment on the mystery individuals' identities or any other details. He also suggested that he might consider representing them but wasn't yet sure.
The big news, then, is that two of these women who allegedly had affairs with Trump might come forward "in the coming months." Avenatti claims that he's still vetting the stories of additional women, but that these two, while "not fully vetted" yet, seem to be "on solid ground." The fact that he can't yet speak to the authenticity of the others' claims doesn't mean that they're false, he noted. He indicated that a long and thorough vetting process is normal under these circumstances.
"Michael Cohen was not a 24-hour, 7-day-a-week fixer for the sole purpose of taking care of Stormy Daniels," he told the hosts of Morning Joe.
When pressed on whether the two women to which he was referring made legal agreements with either Donald Trump or Michael Cohen, Trump's lawyer, Avenatti said, "Correct." He confirmed that these alleged agreements were intended to keep the women from speaking out about sexual affairs they claim they had with Trump.
Avenatti also said that these women were paid even larger sums of money than Stormy Daniels was given to keep quiet. Michael Cohen arranged to give Daniels $130,000 as part of her nondisclosure agreement. When host Mika Brzezinski asked Avenatti how big these other payments were — "Much larger? Like are we talking about over a million dollars?" — he refused to say more.
But Avenatti insisted that these two new women's stories seem to be accurate. "They appear to be [documented]," he said, referring to the agreements, "but we have not verified the documentation yet."
Avenatti said that he is "working with" these women, but that they are "technically not" his clients yet. He noted that he is still considering representing them.
But none of these women is sure whether or not she wants to make her identity public, he said. "We don't know yet," he admitted. "That's a big issue for them."
If it can be proven that the Trump campaign was responsible for paying Daniels the $130,000, that payment could be found to have been made in jeopardy of campaign finance law. Avenatti indicated on Morning Joe that the nondisclosure agreements Cohen or Trump made with these other women could put the president in even further legal jeopardy. He said that the timing of the payments, as well as the means by which Trump went about reporting them (or failing to do so), "may prove to be problematic."
Well, Avenatti has teased us again. To learn more, we'll just have to wait for the information that apparently could surface "in the coming months."