Stormy Daniels Took Part In A Protest Against A Louisiana Law That Could Harm Strippers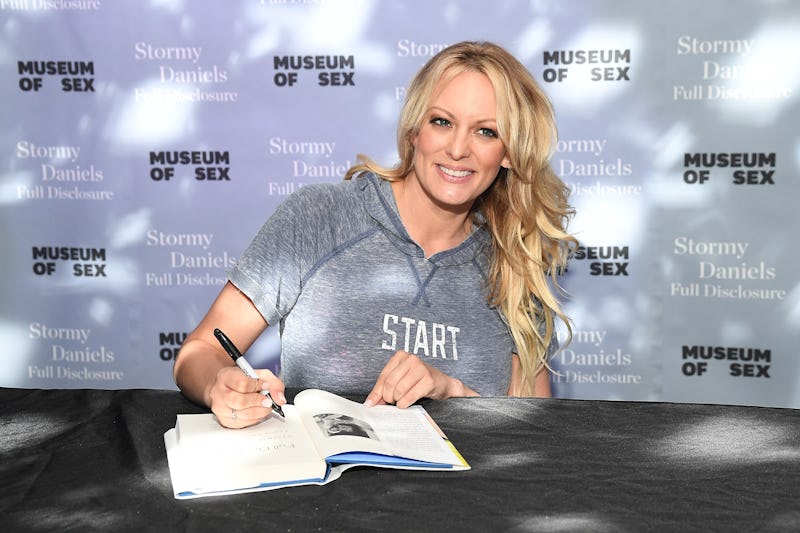 Nicholas Hunt/Getty Images Entertainment/Getty Images
One of America's most well-known adult entertainment stars ripped into what critics call Louisiana's "baby stripper law" on Sunday. Stormy Daniels protested the state's new law related to female exotic dance performers at the Louisiana State Capitol over the weekend, according to BuzzFeed News, traveling back to her home state to do so.
"Not only is the law unconstitutional, it's f*cking sexist," Daniels said in front of a crowd of protesters. "It specifically targets female dancers, not male entertainers."
The controversial measure took effect on Monday. The law would require female strippers to be at least 21 years old in order to perform in Louisiana. In 2016, the bill was authored by Sen. Ronnie Johns as an effort to reportedly fight human trafficking in the state. According to Newsweek, however, activists against the law cautioned that it could end up removing a vital source of income for young women and possibly push them into prostitution.
Before it took effect, the bill faced some hurdles. The Fifth Circuit Court of Appeals initially ordered a stay on the law, but then reversed its decision in November. As Louisiana does allow not full nudity, the law would also prohibit dancers from "displaying of the pubic hair, anus, vulva, genitals, or nipple of the female breast."
"How such a law can get passed in this day and age is mind-boggling and insulting to every female out there," Daniels said at the protest, "whether you work in the adult entertainment industry or not." Activists joining Daniels on Sunday said that the law would affect female strippers on New Orleans' Bourbon Street, according to BuzzFeed News.
In indirect terms, Daniels spoke of her own experience growing up in the state. "If this law had gone into effect when I was 18 here in Louisiana," she said, "I would have missed out on many of the opportunities that were afforded to me to become a successful businesswoman and to escape the very dangerous situation I grew up in."
Speaking of her past in her book, Full Disclosure, Daniels wrote about experiencing sexual abuse when she was nine. It is possible that Daniels may have been referring to such an experience when she mentioned the "dangerous situation" she was raised in. "The deck has always been stacked against me," Daniels wrote in Full Disclosure. "I own my story and the choices I made."
Daniels became something of a household name in the past year when she came forward alleging that she had an extramarital affair with President Donald Trump years ago. In March, she was interviewed on CBS News' 60 Minutes about her alleged relationship with Trump, who has repeatedly denied the allegation.
Daniels wasn't alone in her protest on Sunday. Other dancers joined her, including a dancer named Charley who spoke with BuzzFeed News. "If I would never have had dancing in my life, I wouldn't be in the best place," she said. "I have younger siblings who are my main concern, and I have put my life on hold so they wouldn't have to continue the abuse that I had to go through."
The fight for empowering women in the adult entertainment industry seems far from over for Daniels, who has repeatedly criticized this law. Before her protest on Sunday, Daniels tweeted on Dec. 5 about the legislation, declaring that it "targets adult entertainers and infringes on the constitutional rights of women."