Stormy Daniels Quit 'CBB' On Launch Day & The Details Are Dramatic AF — Exclusive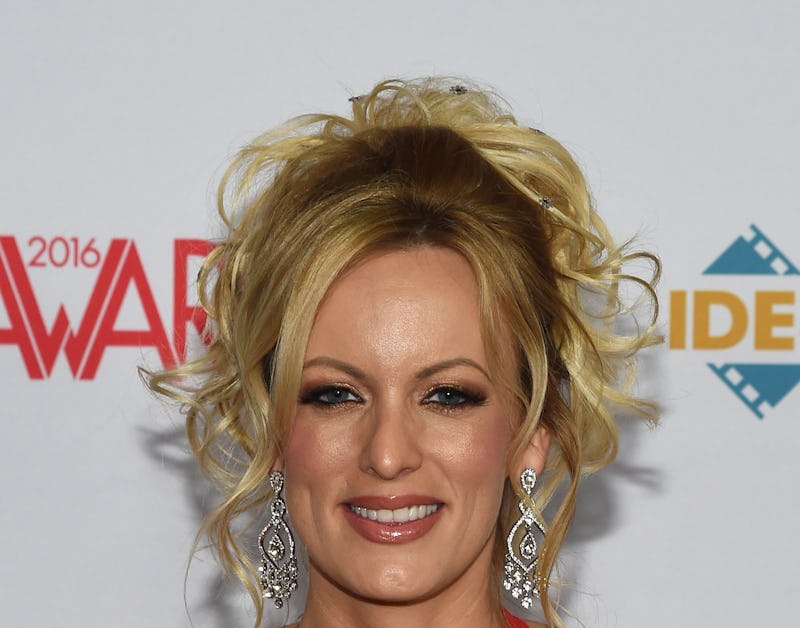 Ethan Miller/Getty Images Entertainment/Getty Images
Celebrity Big Brother fans were waiting anxiously for Stormy Daniels to enter the house on Thursday night. They waited, and waited, and waited. But walk out she did not. So, what happened? Did Stormy Daniels quit Celebrity Big Brother before the series even started? Or did she never actually sign on the dotted line to begin with?
I reached out to Celebrity Big Brother to find out. A spokesperson for the show tells me that for once, the rumours are totally true. The adult film actress was all set to enter the house. In fact, she had been booked as a housemate months ago.
On launch day, Daniels was actually staying in a top-secret hotel (which had been organised by the show), getting herself ready to enter the house as planned. However, at the last minute, everything went pear-shaped. The rep tells me: "Hours before the show was due to go live, [she] informed the production team that she no longer wished to enter the house as previously agreed."
Apparently, Daniels was not happy with the terms and conditions she had originally signed up for. As she was threatening to pull out just hours before the show went live, show bosses tried to negotiate with the American star. However, they weren't able to talk her round. "Producers discussed a variety of options with her but were unable to agree any acceptable conditions for her entering the house," the spokesperson tells me.
Daniels suddenly pulling out of the series with such short notice could not have been easy for Celebrity Big Brother bosses. However, the Channel 5 team are now planning to move forward without Daniels. "Our focus is now on making a brilliant series with our fantastic celebrities," the rep adds.
The show rarely makes comments on speculative stories; however, a spokesperson made the decision to set the record straight after the situation was discussed on Loose Women on Friday. Presenter Jane Moore told viewers that Daniels was due to join her as a guest on the panel. In fact, the presenter claimed that actress has been in the studio with her backstage earlier that day, however, Daniels had to pull out at the last minute for that show too.
According to Moore, Daniels told her backstage that she decided against entering the house because an urgent family matter involving her seven-year-old daughter had cropped up. Moore said:
"There was a custody development with her daughter late last night. She suddenly thought, I can't commit because being a mother comes first...She wanted to go on the [Celebrity Big Brother] live show and explain [what had happened] and that was all agreed, she says, and then suddenly they said, 'We don't want you to do any of it.' It has now become a legal situation and she says she has been told she can't come and talk. She says she is furious and wants to be sat here."
According to The Sun, Daniels dropped out of the show after she allegedly "fell out with CBB staff and said she'd only go in if they gave her an extra £100,000 on top of her record £750,00." However, sources close to Daniels tell me that her decision not to go ahead with taking part in Celebrity Big Brother was not due to money.
I have contacted Daniels' rep for her side of the story, however, her spokesperson is yet to provide any comment.
Celebrity Big Brother is on Channel 5, weekdays at 9 p.m.