'CBB' & Stormy Daniels Could be Teaming Up For The Ultimate Reality TV Twist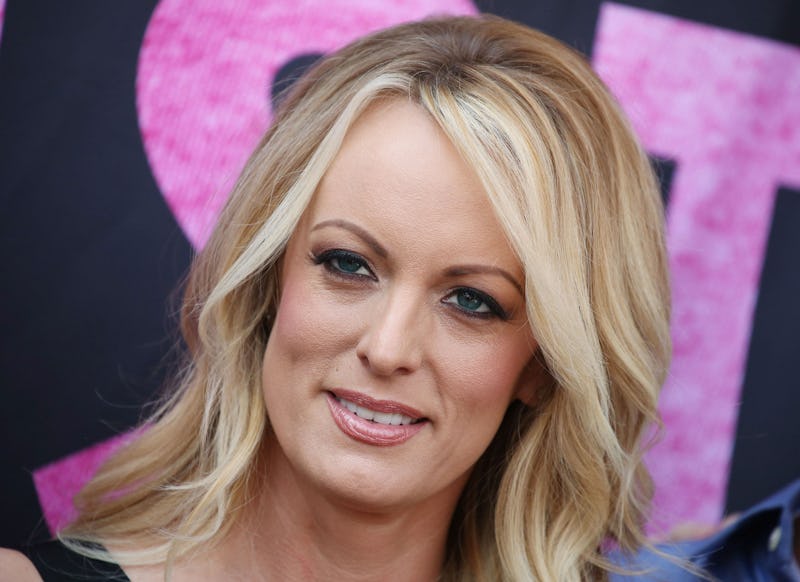 Matt Baron/Shutterstock
Celebrity Big Brother is finally back on our screens, and for that, I'm grateful. But secretly, I'm kinda low-key devastated with the line-up. Obviously, Channel 5 has managed to sign up some great name, however, there is a certain someone that was rumoured to be entering the house yet didn't. So, erm, where is Stormy Daniels? Anybody?
For weeks, Celebrity Big Brother fans everywhere were in full Sherlock mode, trying to figure out which stars might be stepping into the house in Borehamwood — and Daniels' name was at the top of everybody's list. Even the papers seemed to confirm that the porn star and unexpected political personality was supposed to be a housemate. However, launch night came and went, and there was no sign of her. So, what's the deal? Did something happen?
According to The Sun, Daniels is actually still set to enter the house. Despite the fact that she wasn't at the launch with the others, a show insider has told the tabloid that she will be appearing on the show as a late arrival — a shock twist that producers like to throw in pretty much every series. But is this true? I reached out to the CBB rep to find out, however, they have not commented.
Personally, my fingers and toes are crossed that this is true because I was so looking forward to watching Daniels in the house as she has the most interesting backstory.
In case you're not familiar with who Daniels is exactly, let me fill you in. Her real name is Stephanie Clifford, however, she changed her name after making it big in the adult film industry. She started her career by working in a strip club, but before long, she found herself working in the porn industry, both behind and in front of the camera. You see, the actress not only starred in the films, but she directed them, too.
She then went on to start working on major Hollywood films. In fact, legendary producer Judd Apatow was so impressed with her work ethic that he cast her in several of his own movies, including The 40-Year-Old Virgin, Knocked Up, and Pineapple Express. During an appearance on American talk show Conan, Apatow said of Daniels: "She's very nice and super smart and great to work with, so we kept asking her to be in all of our movies."
However, it's not so much Daniels' career that has thrust her into the spotlight recently, but rather her claims about U.S. President Donald Trump. The actress had alleged that she had an affair with Trump and was paid $130,000 (£102,000) by his lawyer Michael D. Cohen to keep quiet about it, as reported by the Wall Street Journal. Cohen has since acknowledged that he did pay Daniels the lump sum in question, but insists he used his own money to pay her, the New York Times reports. Trump has denied the affair ever happened, though he has disclosed that he reimbursed Cohen for the payment to Daniels.
Now, the president is taking legal action against Daniels for breaking the terms of the non-disclosure agreement, reports the New York Times. However, she is countersuing him, as she claims that the NDA is invalid due to the fact that Trump didn't actually sign it, according to the Hollywood Reporter.
Well, if Daniels does enter the Celebrity Big Brother house and decides to reveal even more details about what she claims happened with the president, this already messy situation could get even worse.
Celebrity Big Brother is on Channel 5, daily at 9 p.m.