Here's What Stormy Daniels Said About Her Lawyer's Arrest For Domestic Violence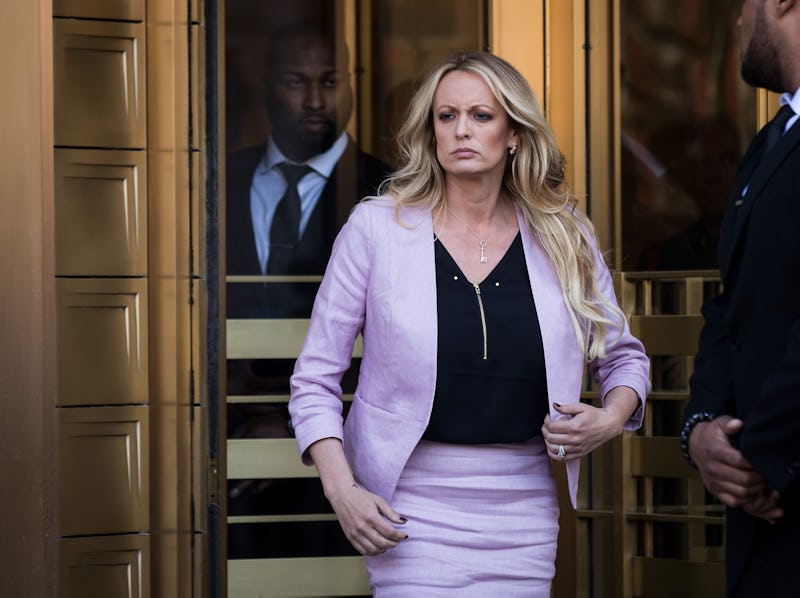 Drew Angerer/Getty Images News/Getty Images
The Los Angeles Police Department released a statement on Wednesday announcing Michael Avenatti's arrest on suspicion of domestic violence. Avenatti, a lawyer who garnered national attention by representing adult film star Stormy Daniels in her legal battle against President Donald Trump, has denied the allegation. On Thursday, Stormy Daniels responded to Avenatti's arrest, stating that she'll find "new representation" if the allegation is true, per New York Magazine.
In a statement to New York Magazine, Daniels described the allegation against Avenatti as "troubling," but added that she would reserve judgement until after an investigation.
"These are serious and obviously very troubling allegations, but right now that is all they are: allegations," Daniels told New York Magazine. "We should all reserve judgement until the investigation — an investigation Michael has said he welcomes — is complete, and that's what I'm going to do. But of course I do not condone violence against women and if these allegations prove true I will be seeking new representation."
According to BuzzFeed News, the alleged incident involving Avenatti took place on Tuesday. Avenatti was arrested Wednesday, and was subsequently released on a $50,000 bail. A police spokesman, Tony Im, told the Associated Press that the other individual in Avenatti's alleged case had visible injuries, but Avenatti dismissed this allegation in a statement as "completely bogus" and "fabricated and meant to do harm to my reputation."
Following his release, Avenatti — who has previously suggested that he would run for president in 2020 — told reporters that he has "never struck a woman," and that he expected to be "fully exonerated" following an investigation.
"I've been an advocate for women's rights my entire career and I'm going to continue to be an advocate," Avenatti told reporters, per Politico. "I'm not going to be intimidated from stopping what I am doing."
According to Politico, Avenatti's ex-wife and estranged wife released statements through his law firm while he was in police custody. Both women reportedly stated that there had never been any domestic abuse or violence in their relationships with Avenatti.
Daniels is not the only client Avenatti has represented as part of his efforts to oppose the Trump administration. Earlier this year, he represented Julie Swetnick when she leveled an allegation of sexual misconduct against then-Supreme Court nominee Brett Kavanaugh. Kavanaugh denied the allegation and was subsequently confirmed. Last month, however, Senate Judiciary Committee Chairman Chuck Grassley referred Avenatti and Swetnick to the Department of Justice for an investigation, on the grounds that they allegedly made false statements about Kavanaugh.
But it was Daniels' case that brought Avenatti into the national spotlight. Daniels has alleged that she had an affair with Trump in 2006, and that his former attorney Michael Cohen paid her $130,000 in hush money ahead of the 2016 presidential election so that she wouldn't discuss the alleged affair. Daniels sued Trump and Cohen to void the non-disclosure agreement, and also alleged defamation, per USA Today. Trump has denied having an affair with Daniels, and said earlier this year that he would not attempt to enforce the agreement.
Although Avenatti was released on Wednesday, he has already faced backlash following the domestic abuse allegation leveled against him. According to The Washington Post, the Vermont Democratic Party announced that it would be canceling all future events with Avenatti in light of his arrest.