Why Stormy Daniels Says She's Not A Feminist (And Doesn't Care If That Makes You Angry)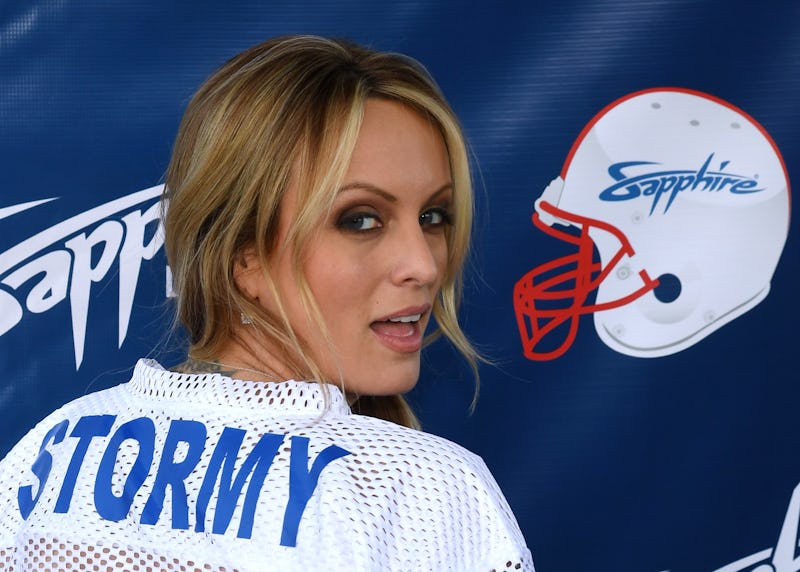 Ethan Miller/Getty Images Entertainment/Getty Images
In the months since adult entertainer Stormy Daniels, who claims to have had an affair with Donald Trump years ago, launched her lawsuit against the president, she's been touted as something of a feminist icon. In March, both The Hill and The Independent published columns celebrating Stormy Daniels as a feminist hero. In August, The New York Times ran an op-ed titled simply, "Stormy Daniels, Feminist Hero." But now, in an interview with New York Magazine's The Cut, Stormy Daniels has said she's not a feminist.
"I don't think I necessarily try to help women, I just try to help people," Daniels said in an interview with Olivia Nuzzi for The Cut. "I'm not a feminist."
Daniels went on to say she didn't think "what's between somebody's legs" should matter.
"I just don't think that it should matter," she said. "I used to be really annoyed that people would be like, 'Oh, Stormy Daniels is the best female director.' And I'd be like, 'What does my vagina have to do with it? She hasn't directed shit.'"
Even "hero" is a label Daniels said she's had a hard time accepting. "I started this just because I wanted to set the record straight and not be bullied," she said. "I really just wanted to save my own ass. Now I'm in charge of saving the world. What the f*ck? No pressure, Stormy. It was very hard for me."
Daniels jumped into the public eye after claims broke earlier this year that former Trump lawyer Michael Cohen had paid her $130,000 to keep quiet about an alleged extramarital affair she had with Trump in 2006. President Trump has denied the affair, calling Daniels' claim "false and extortionist accusations." In March, she sued the president for the right to speak publicly about their alleged affair on the grounds her non-disclosure agreement is invalid because Trump allegedly never signed it.
But in speaking to The Cut, Daniels didn't just dismiss the feminist label that's been attached to her — she also appeared to distance herself from the #MeToo Movement.
"In the beginning, when people tried to attach the #MeToo movement to me, I was like, 'Abso-f*cking-lutely not,'" she said. "I'm not #MeToo. No one forced me. I'm not a victim."
Daniels went on to say she found it "annoying" when people attempted to paint her as a #MeToo victim. "It takes power away from the people who've been assaulted or raped or sexual-harassed by their boss," she added.
She also appeared to express sympathy for the men having to live in a #MeToo world. "I feel sorry for men right now. It's not a good climate to have a penis," the adult entertainer said. "It's actually sexist to accuse men as a whole of something, you know? It's just — I don't know. A guy can't even open a door for a lady without being called a pig."
But Daniels isn't concerned about the people she might anger by throwing off the "feminist" label that's been placed on her.
"There will be women who read this and be very angry," Nuzzi told Daniels as their interview wrapped.
"Finally I'll have good tweets," she replied.