Here's What Convinced Stormy Daniels To Finally Speak Out About Trump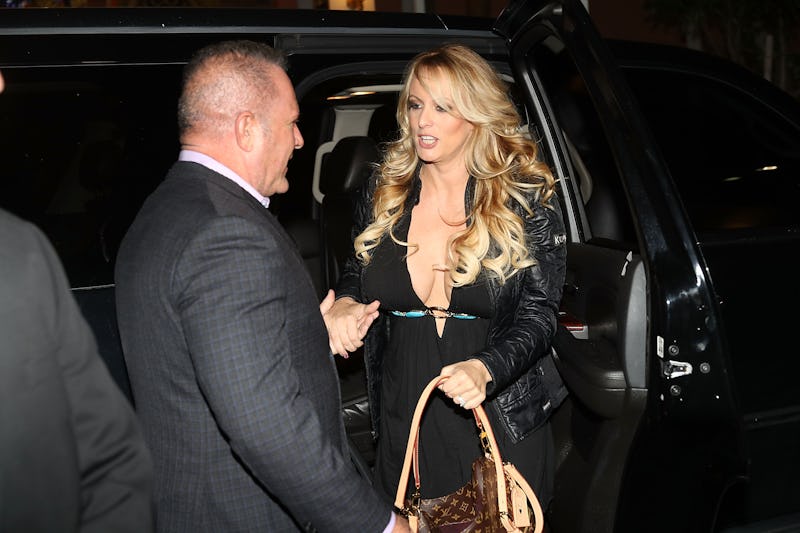 Joe Raedle/Getty Images News/Getty Images
For months, an adult film actress who allegedly had an affair with Donald Trump between 2006 and 2007 has given interviews where she deliberately and consistently talks around the subject. Presumably, this is because of a nondisclosure agreement (NDA) she reportedly signed in the weeks leading up to the 2016 presidential election, which barred her from speaking publicly about the alleged relationship. That changed on Sunday, in an interview with Anderson Cooper on 60 Minutes. But why is Stormy Daniels speaking out now? The actress says she wants to clear her name.
Trump has not ever addressed the alleged affair publicly, but his lawyer Michael Cohen has consistently denied the allegations on his behalf.
"People are just saying whatever they wanted to say about me, I was perfectly fine saying nothing at all, but I'm not okay with being made out to be a liar, or people thinking that I did this for money and people are like, 'Oh, you're an opportunist,'" Daniels, whose legal name is Stephanie Clifford, told Cooper during Sunday night's interview. She conceded that the increased attention has been good for business, but argued that that was not the point.
"Yes, I'm getting more job offers now, but tell me one person who would turn down a job offer making more than they've been making, doing the same thing that they've always done?" she asked.
Indeed, Daniels has seemed increasingly agitated by the barrage of negative comments and accusations directed her way, many of them attacking her appearance or sex life. Increasingly, she has become combative with such negativity, especially on Twitter. Routinely, she tells naysayers that what she is saying matters, and suggests that she believes it will impact the 2020 election, when Trump is up for reelection.
"Take a DEEP breath and hold it. I'll be back to check on you in 2020," she tweeted in response to a user who told her that her "15 minutes are up."
In her 60 Minutes interview, Daniels balked at the idea that the media attention has been pleasant, even if she has been getting more job offers. Early on in the interview Cooper said he wasn't "100 percent sure" why Daniels was speaking on the record, especially when she's facing another lawsuit. More specifically, that lawsuit seeks to fine her $1 million every time she speaks about her and Trump's alleged affair in public. In response to Cooper, Daniels cut to the chase. "Because it was very important to me to be able to defend myself," she said.
Previously, Daniels has explicitly denied ever having a sexual or romantic relationship with Trump. In January, she even signed a document saying that one never existed.
"The fact of the matter is that each party to this alleged affair denied its existence in 2006, 2011, 2016, 2017 and now again in 2018," the statement read, according to The Washington Post. "I am not denying this affair because I was paid 'hush money' as has been reported in overseas owned tabloids. I am denying it because it never happened."
However, Daniels has officially changed her tune, claiming that she denied her and Trump's alleged affair ever happened because she felt cornered. This also comes as she and her lawyer, Michael Avenatti, are suing Trump in an attempt to release Daniels from the NDA, arguing it was invalid because Trump, himself, never signed it.
"I felt intimidated and [honestly] bullied," she told Cooper. "And I didn't know what to do. And so I signed it. Even though I had repeatedly expressed that I wouldn't break the agreement, but I was not comfortable lying."
When Cooper asked Daniels why the public should believe her now, after she repeatedly said she never had a relationship with Trump, Daniels once again underscored that she was not truly benefitting from going on the record. "'Cause I have no reason to lie," she said. "I'm opening myself up for, you know, possible danger and definitely a whole lot of sh*t."
Even speaking out against the president, she said, could cost her fans who support him. But still, she said of the president, "He knows I'm telling the truth."
Read More About Stormy Daniels
Stormy Daniels' Lawyer Has Actually Gone Up Against Trump In Court Before
Stormy Daniels' Net Worth Shows She Probably Doesn't Need Trump's Alleged Hush Money
Stormy Daniels Might Have Dropped A Major Hint About Her Alleged Affair With Trump
Curious If Stormy Daniels Is A Republican Or Democrat? She Once Considered A Political Career
Transcript Of Stormy Daniels' '60 Minutes' Interview Details The Alleged Trump Affair Like Never Before